Future viability for a business
Value is the price that a buyer is willing to pay for an item. Added Value (AV) or Value Added (VA) is the difference between the price obtained by a business for a finished product made from purchased items and the price that the business has paid for the purchased items. VA is used to pay the expenses of the business, leaving retained earnings for re-investment.
Increasing climate change will provide some unknown and more 'known' disruptions and constraints in global supply chains. Ongoing changes to economies (as in 2020) are likely to provide erratic demand patterns for different products and services. With increasing uncertainty in economies and among end users, it will be less likely that prices for goods can be increased. Supply Chains will therefore play an increasingly important role in maintaining the net margins in your business.
The Supply Chains Strategy model diagram shown below, provides the steps towards achieving the required margins for your future business.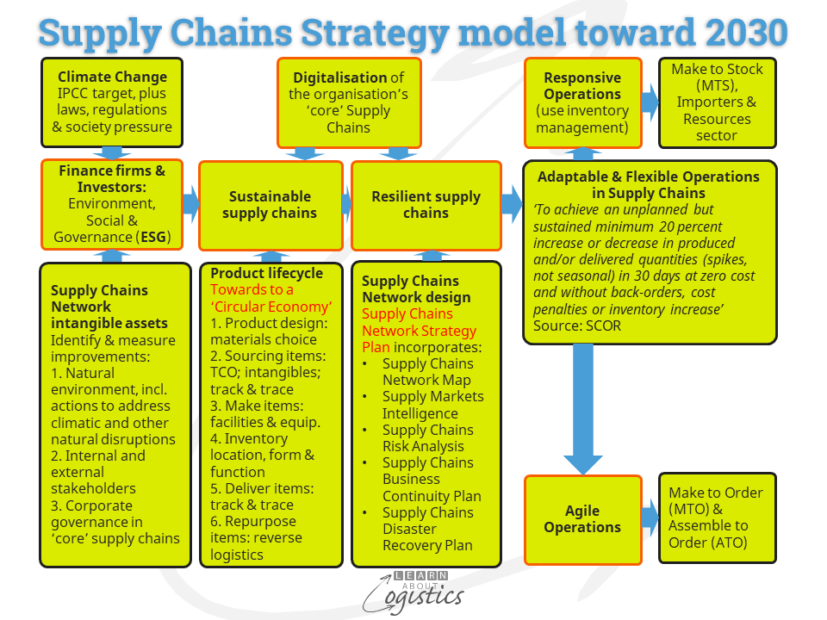 The model indicates that the requirement for sustainable and resilient supply chains in a changing geopolitical, commercial and environmental world means that an organisation's operations will need to be adaptable and flexible. This requires Visibility through your supply chains to enable a quick response to changes and disruptions. Building on the discussion in the previous blogpost, Visibility is provided at four stages through supply chains: Supply, Inbound Logistics, Outbound Logistics and End user markets.
Supply: Visibility of operations at suppliers (and supplier's suppliers) is unlikely. Above all, t is a matter of trust. Your Tier 1 suppliers know their supply chains are a competitive advantage and would be reluctant to reveal the identity contracts or other aspects of their tier 1 suppliers (your tier 2 suppliers). In some industries, past experience of 'open book' and 'cost down' approaches to buying would see a request for Visibility at a supplier as an attempt to reduce costs or rationalise suppliers.
Logistics (inbound and outbound): Track and Trace of items dispatched from links through a supply chain is likely to be a common feature between immediate links in supply chains. The extent to which this data would be published throughout a supply chain is doubtful, unless companies were willing to subscribed to a global tracking platform
End user markets: There is an increasing technical capability to gather data concerning buying habits and intentions. This should improve the development of sales forecasts. When consolidating 'outside-in' data into usable information, do so based on an improved outcomes objective such as DIFOTA – delivery in full, on time, with accuracy.
Value Chain is the vehicle for VA
As with many concepts in the world of supply chains, the terms Value Chain and Supply Chain are often used interchangeably. However, the terms are not in competition – they are complementary, requiring different skill sets to achieve an overall objective. The diagram below illustrates a Value Chain that comprises the inputs of a Demand Chain and a Supply Chain: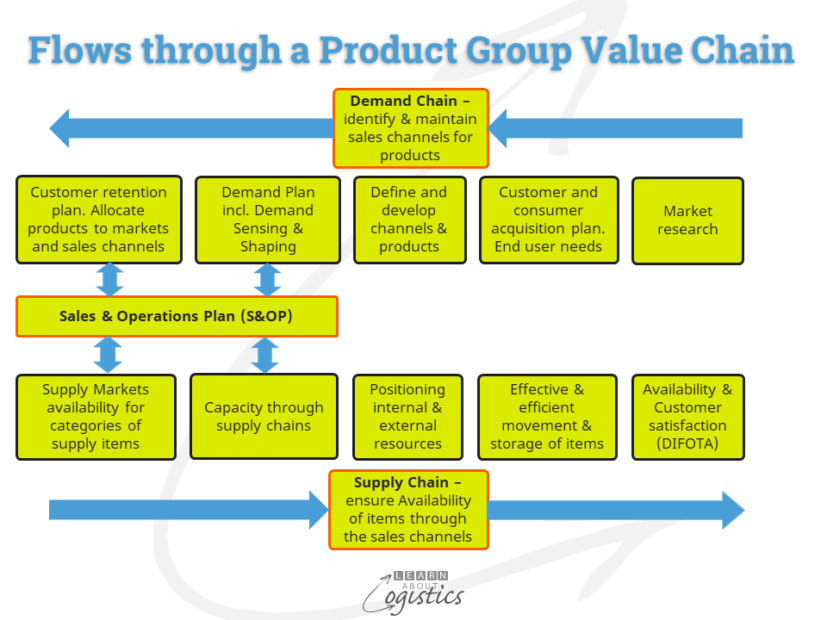 The role of Marketing is to create value for end users (customers and consumers) and generate demand. Demand Chains comprise a number of processes, the majority within the organisation. Market research by internal or external people; establishes the end user needs and develop a plan to acquire customers; define sales channels and develop products. With release of the product(s), there is effort required to gather external data concerning the market and sales (Demand Sensing) and Demand Shaping through the new product launch, promotional pricing, advertising and customer incentives in the sales channels.
The strength of an organisation's Supply Chains is developed through relationships with external suppliers, including logistics service providers, such as 3PLs, freight forwarders and transport organisations. To add value through supply chains requires:
Place and Time Value: The process to provide Availability of products for end users within each sales channel, in an effective and efficient manner (including speed, flexibility and reliability)
Function and Form Value: Total cost, manufacturing quality and location of service delivery
The Supply Chain group (Procurement, Operations Planning and Logistics) becomes involved at the time of product development; translating channel and product requirements into supply chain capabilities. The outcome is an agreement between Marketing and Supply Chains concerning the product range and its supply quantity and timing into the required markets.
Although Demand Chains and Supply Chains are shown in the diagram as two parallel lines, to be effective they must come together through the integrative planning process of Sales and Operations Planning (S&OP).
The Chains are equal
Demand Chains and Supply Chains must receive equal attention – each is reliant on the other for improved margins. At the conclusion of each period's S&OP process, Marketing (and Sales) meet with the Supply Chain group and Finance (plus others departments that 'need to know'). Here they arrive at an agreed and more integrated outcome to provide Availability of products and customer satisfaction.
Without an S&OP process, there will be internal competition between functional groups. Each group or department is measured (often associated with a bonus) on its efficiency, without reference to how effective is the business in providing Availability of product for customers. This is called an 'over the wall' relationship. Only when Marketing has completed a finished product specification are the details thrown 'over the wall' for Procurement, Operations Planning (and Production) and Logistics (working as three separate departments) to work out how to source, make and deliver the requirements, to a potentially tight timetable.
Relying on technology to be 'better' will not overcome the deficiencies in co-operation and co-ordination between the competing groups.. Enterprise Resource Planning (ERP) systems are backbone transaction applications – a necessary first requirement. However, they are not designed to improve the integration of commercial, operations, or improve the flows between parties through supply chains concerning items, money, transactions and information. This is the role of Supply Network Analysis and Planning (SNAP) applications.
The value to be added in Value Chains is the willingness of groups and departments to co-operate across functions. Co-operation leads to the need for shared data, which requires the internal co-ordination of data and information. Shared data will facilitate collaboration between functions, through shared information, building relationships and formulating joint policies. This provides the basis for an effective S&OP process.