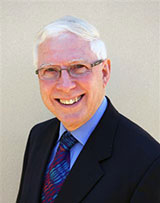 My name is Roger Oakden.
I am the owner of Learn About Logistics, the specialist online learning provider of practical learning in logistics, supply chains and supply networks.
My background as a practitioner, consultant and educator uniquely qualifies me to provide this service.
At RMIT University in Melbourne, Australia I developed and presented the largest supply chain post-graduate program in the Asia Pacific region; the program was presented at centres in Melbourne, Singapore and Hong Kong. While at the University I was appointed as the Ford Motor Company Procurement Fellow for a period of two years.
I was later engaged as the Deputy Director of the Institute for Logistics and Supply Chain Management at Victoria University in Melbourne.
My extensive consulting background includes significant high-level roles. As an Associate Director at a global consulting firm, I led teams that assisted clients to improve their logistics operations, strategic procurement and associated IT systems.
Earlier, at a multinational computer company I provided analysis of IT requirements for manufacturing industry customers and project management for implementing ERP/MRP software applications.
My industrial management experience covered industrial engineering, management accounting, purchasing and operations in the shipping, chemical, metals and food industries.
I am uniquely qualified to provide practical learning in supply chains and logistics and to help achieve improvements in learning outcomes...
I hold a Master degree in Logistics Management and a first class honours degree in Finance and Accounting. I am certified in Production and Inventory Management (CPIM) and a Certified Purchasing Manager (C.P.M). I am also certified in Assessment and Workplace Training.
I co-authored the book, published by McGraw-Hill in 2011, titled A Framework for Supply Chains – Logistics Operations with an Asia Pacific Perspective (in Australia and New Zealand it is titled A Framework for Supply Chains - Logistics Operations in the Asia Pacific Region). In 2007, I co-authored the book Working Capital: Business Success and Profitability.
I was a contributing author for the books Dynamic Supply Chain Alignment - a new business model for peak performance in enterprise supply chains across all geographies (John Gatorna Ed. 2009) and Supply Chain Management - a Procurement Perspective (Pieter Nagel Ed. 2003). I have written articles for the business press and presented papers at conferences in Australia, Asia and Europe.
I am a past president of APICS in Australia, now named ASCI - the Australasian Supply Chain Institute.