A Framework for Supply Chains
A Framework for Supply Chains – Logistics Operations with an Asia Pacific Perspective (the title in Australia and New Zealand is A Framework for Supply Chains – Logistics Operations in the Asia Pacific Region)
Written by Roger Oakden and Katia Leonaite and published by McGraw-Hill.
Throughout the book, we consider supply chains and the application of logistics operations in the Asia Pacific region, addressing issues that are not included in books written for the North American or European regions.
Our approach has been to provide a framework from which to understand the scope of supply chains and logistics and a foundation that informs the reader of the principles underpinning a topic. It is designed so the reader can understand where individual elements fit into the larger picture of supply chains and logistics, as they apply to specific business models and economies.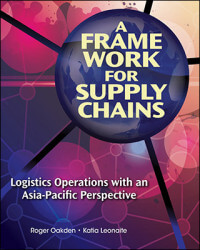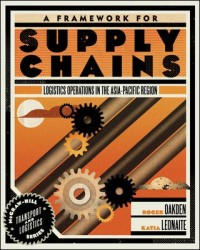 The main theme of the book is that supply chains and logistics ensure the availability of products and services for the customers of an enterprise. A second theme is that organisations have multiple supply chains, both internal and external. In reality these are a complex network of independent and possibly interdependent, product and service suppliers and customers. The result of working within a potentially global supply network are increased risks, limitations on actions and extended processes – these provide a heightened requirement for planning and flexibility. The book has four parts, which consider different themes and the four chapters within each part are linked. Each chapter serves as an introduction to the topic and can be selected as required. The key terms in each chapter help readers build their own electronic information pack on the topic, based on the framework provided.
Who should read A Framework for Supply Chains?
A Framework for Supply Chains is designed for readers from a variety of backgrounds: students new to the logistics discipline; those with experience working in just one aspect of supply chains who need to understand the broader concepts; and those who have worked and studied in other disciplines and have been promoted or transferred into a logistics role. It is also of value to those working in disciplines that interact with logistics and who need to understand why supply chains are important to the enterprise.