Learn About Logistics eBook PDFs, video training course downloads and tools are free and address specific topics, giving more information than can be written into a blog post.
Downloads can be used by educators, training professionals and consultants and all we ask is that you give recognition with the appropriate reference incorporated into the processes of your enterprise or learning in a class.
When we add new eBook PDFs, video training course downloads or tools, you will be informed via social media or in our weekly blog post to ensure you don't miss new information.
---
Supply Chains Operating Performance
A Financial Approach to Measurement
Reduction of costs is a necessary but short term approach to improving performance of your Supply Chains. But to gain recognition of value to the enterprise requires financial measures that boards of director and CEOs recognise.
This eBook outlines the four financial measures of value for Supply Chains – Operations:
1. Supply Chains Working Capital
2. Cash to Cash cycle time
3. Supply Chains Value Added (VA)
4. Supply Chains Return on Invested Capital (SC-ROIC)
The eBook shows how these metrics become part of a comprehensive portfolio of measures which define the value of Supply Chains. Use the proposal in your organisation and in business courses to test the approach and to start changes and improvements to the measurement of performance for your Core Supply Chains.
Supply Chains Operating Performance - Download Free PDF (468 KB)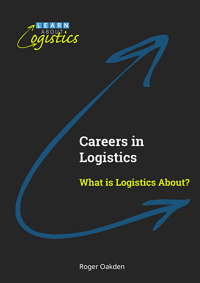 ---
Careers in Logistics
What is Logistics About?
Are you considering a career in Logistics, or wondering what Logistics is about? What do you think of when the word Logistics is mentioned?
The role of Logistics is to ensure that goods and associated services are available for customers and consumers to buy.
But, the word Logistics is written on the side of so many trucks. Does this mean that logistics is transport? Storing goods in warehouses and transporting them to customers are certainly part of Logistics, but they are only a part.
This eBook will help careers advisors and their clients to gain a comprehensive overview of possible careers in Logistics and the roles that Logisticians have in different industries and organisations.
Careers in Logistics - Download Free PDF (148 KB)
Free Video Training Courses
Scope of Supply Chains
We have developed an introductory video training course titled Scope of Supply Chains that provides an introduction to Logistics and Supply Chain topics over four modules. The learning is based on visual slides with voice over by Roger Oakden.
The topics contained in Scope of Supply Chains are:
Topic 1 Improve business flows
Topic 2 Logistics to Supply Chains and Networks
Topic 3 Challenges for your business
Topic 4 Support the Logistics strategy
To view a sample of the full course, watch the YouTube video below titled From Logistics to Supply Networks or download the full video training course:
Scope of Supply Chains Course - Download Free (86 MB)
Full course requires installation in Windows 7+ to run