Measuring non-financial improvements
The disruptions through your supply chains since early 2020 have been a learning experience for what is due to occur by 2030 and beyond. In 2018, the 'Intergovernmental Panel on Climate Change' (IPCC) published its report on the impacts of climate change. It stated that to limit average temperature rises to 1.5C above preindustrial times, by 2030, net global CO2 emissions need to be reduced by about 45 percent from 2010 levels. Emissions must be 'net-zero' before 2050.
However, 2050 is 29 years away – that will be a problem for another six CEOs! Announcing a 'net-zero' target without achievement measures at steps along the way, just 'kicks the can down the road'. As a consequence, the IPCC report was a catalyst for the emerging demands by financial firms and investors to have a measurable, non-financial approach for investments. Required was a means to identify companies with a better long-term risk profile and therefore a preferable organisations for investment. This focus is called ESG – Environment, Social and Governance.
Environment: How a business evaluates any environmental risks it may face and how it is managing those risks
Social: The organisation's business relationships with suppliers in its core supply chains. Working conditions of its employees and at suppliers and their suppliers (the extended supply chains). Wider community living conditions at supplier locations. The loss of bio-diversity – include the cost of nature in financial decisions and think of nature the same way as capital investments
Governance: The organisation's leadership structure, independence of directors, executive remuneration, internal controls against illegal and unethical practices
In the global economy, the value chains (GVC) of transnational corporations (TNC) account for about 80 percent of the $20 trillion in trade each year. However, the disruptions experienced over the past 15 months has highlighted that even large companies do not comprehensively understand their supply chains, particularly relating to country and location risks.
Emissions reduction pledges made to the UN by individual countries are dramatically less than required by the IPCC report, it will therefore be action taken by businesses in response to ESG requirements that provides hope for improvement. However, businesses cannot have a full ESG regime without input from ESG metrics in their supply chains.
Steps through a new model
As financial firms and investors increasingly require TNCs to implement ESG in their organisation and supply chains, the TNCs will require the same of their suppliers. In turn, these suppliers will require ESG compliance from their suppliers and so on – your organisation's reporting of ESG performance is only a matter of time.
The linkage from climate change, through ESG to supply chains requires a new model for the structure and non-financial measurement of supply chains. The diagram below shows the Learn About Logistics model for future supply chains.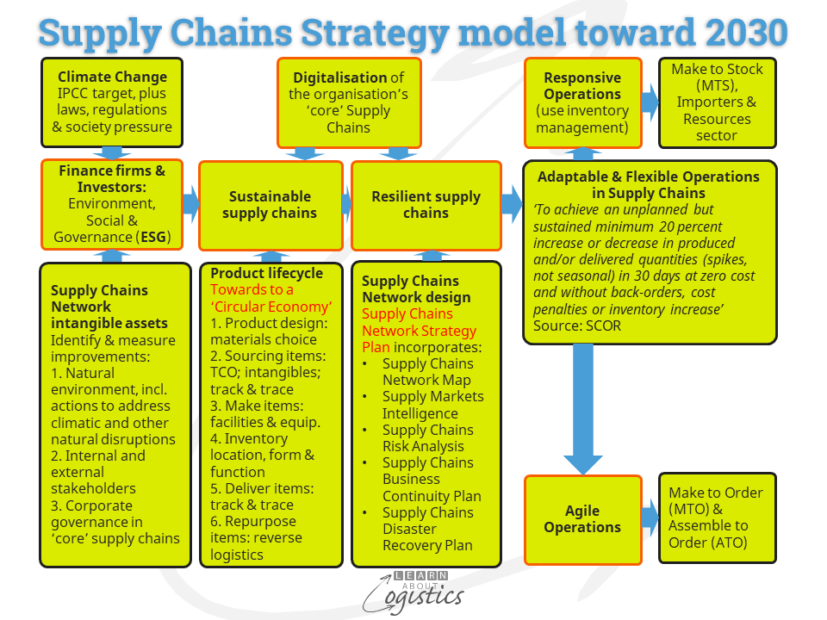 The flow of the diagram commences with Climate Change – the driver of future changes for organisations and their supply chains. As discussed, this influences the risk appetite of financial firms and investors and the development of ESG requirements for businesses.
While ESG identifies and measures criteria established by senior management of an organisation, the Supply Chains group needs to identify and measure the ESG metrics along each supply chain and integrate them into the corporate ESG metrics. Sustainability in supply chains is the process by which the ESG targets will be achieved.
For supply chains to be Sustainable, they also need to be Resilient. That is, a capability to provide continuity of operations caused by disruptions in supply chains. The diagram indicates six main processes that the Supply Chain group of in your organisation should implement. This recognises that the processes actually comprise a complex network of risks that interact with each other in unexpected ways and with emergent (not planned) results.
The triangle of Sustainable and Resilient supply chains is completed with Digitalization, defined by the research firm Gartner as: 'The use of digital technologies to change a business model and provide new revenue and value-producing opportunities'. In the scenario discussed, Digitalisation is the identification and implementation of digital technologies that support Sustainable and Resilient supply chains. ESG data collection and reporting becomes part of the supplier and supply chains risk management processes.
Although Visibility through supply chains is currently a popular 'solution' for challenges in supply chains, it is not included in the model. Full Visibility of suppliers is unlikely; only the Track and Trace of items dispatched at links through a supply chain is possible. Tier 1 suppliers know their supply chains are a competitive advantage and would be reluctant to reveal the identity of their tier 1 suppliers (your tier 2 suppliers). In some industries, past experience of 'open book' and 'cost down' approaches to buying would see a request for visibility through the supply chains as another way to reduce costs or rationalise suppliers.
Given the unknowns in supply chains associated with climate change, the flows of items, money, transactions and information must operate in an Adaptable and Flexible manner. The definition provided in the diagram is one that can be modified to suit your organisation's circumstances.
The ability to be Adaptable and Flexible will depend on the business model for Availability of the goods and services provided, For example, companies in the resources sector and those in volume production (make to stock or MTS) need to be Responsive, using inventory management techniques that enable the shortest customer order process cycle.
Companies that can adapt pre-designed products using defined options (this is Make to Order or MTO) or construct products to order (discrete or non-discrete 'mix and stir' process, called Assemble to Order or ATO) should structure their supply chains to be Agile; that is, minimizing the impact of Variability through the Operations.
Risk factors in supply chains are likely to increase, as will ESG requirements and government regulations. As a result, your organisation's Supply Network results need to be more than just improving commercial outcomes. The LAL model provides a basis for selling to senior management the proposition of supply chains as a 'value adding' part of the business. The challenge is for supply chain professionals to be capable of leading this critical change process.