A Sourcing Plan is part of the process
To stay in business, suppliers must keep selling to current and prospective buyers. Concurrently, Procurement must decide which supplier of an item is the 'best' and whether the 'best' is the right supplier.
Procurement therefore requires a process which removes as much subjectivity as possible from the buying decision. Supply Planning is that process.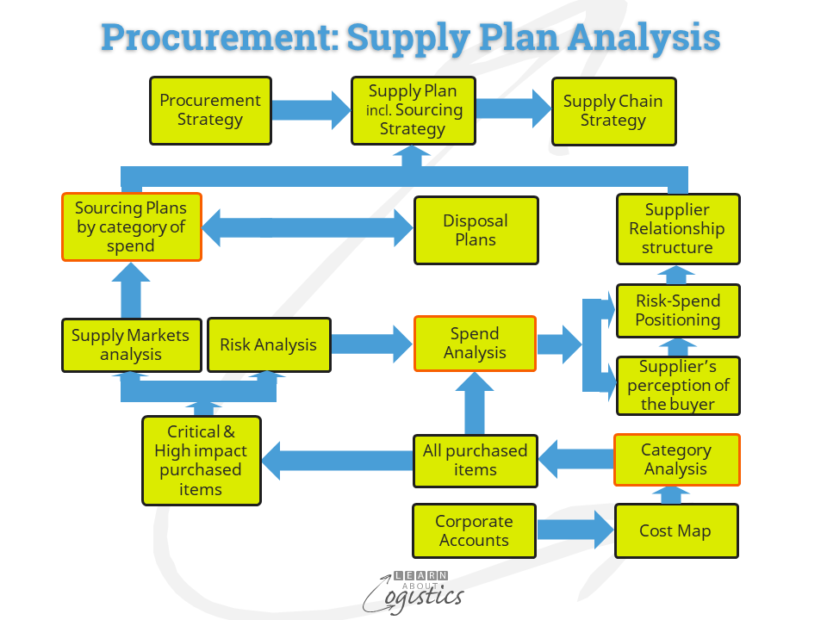 The three linked elements of Supply Planning are
Category Analysis segments items within a logical structure
Spend Analysis evaluates the criticality by category and therefore the relationship required with the selected supplier(s) and
Sourcing Plans evaluate the competitiveness of the supply market for each category of spend
The most recent blogposts have discussed Supply Planning, Category Analysis and Spend Analysis.
Develop Sourcing and Disposal Plans
A Sourcing Plan is intended to provide Procurement with at least the following detail:
The organisation's internal requirements for the item

trends for orders and inventories

The supply market

Main suppliers currently in the market

Other supplier businesses

Major buyers for the item or sub-category

Supply market influences and risks

capacity of suppliers and possible future availability of the item
technology developments in the industry
likely expansion by incumbents and new entrants
buying challenges for suppliers

Competitor activity for the item

uses for the item and its derivatives
potential trends and changes in usage patterns

Historic price movements

their causes and expected future price trends
A Supply Market Analysis (also called Supply Markets Intelligence) is a structured approach to provide inputs for the Sourcing Plan. The requirement is to build an understanding of a supply market, such that Procurement professionals are credible in negotiations with suppliers. Supply Markets Analysis has five elements within two criteria:
Supply Markets Analysis

Evaluate the current and future capability and capacity of countries that host possible suppliers – the supply market (use P.E.S.T.L.E analysis)

Identify the logistics capability of a country (use LPI)

Identify the key suppliers and their power to influence the supply market (use Porter's Five Forces analysis)
Evaluate the capability of suppliers most likely to satisfy the needs of the buyer (use Supplier Capability)

Structure Disposal Plans for the purchased items, where required
Completing the analysis of a supply market provides information which can assist sourcing decisions through identifying:
Constraints and potential threats related to an item, including actions undertaken by governments that influence trade
The potential influence of financial markets, exchange rates and price trends on final product costs
Security of supply issues, which could include 'conflict materials'
Potential alternative sources of supply
Technology developments, including potential alternative materials
Market risks (including possible future delays caused by material shortage and transport bottlenecks) for the item and its input materials
For new or redesigned physical or service items, the users in the organisation must provide a real and justified need; this provides a guide for Procurement researching the critical aspects of the supply market. Established items (e.g. production components for ongoing products or office supplies), where the current supply contract is nearing completion, could have a 'go to market' decision made. This may allow suppliers in other markets to be considered.
Due to their importance for the organisation, items that are 'Critical' in the Risk – Spend Positioning analysis should have greater investment of resources put into their Supply Market Analysis. This will include, where possible, visits to suppliers by the buying team, to assess the actual supply situation.
As noted above, there are four elements in Supply Markets Analysis:
A P.E.S.T.L.E (Political, Economic, Social, Technological, Legal and Environmental) analysis supports the 'big picture' review of a country, or multiple countries from where the items could be sourced and the factors that might influence a supply market decision.

This analysis is supported by the Logistics Performance Index (LPI) published by the World Bank, which ranks each country's logistics capability, based on six indicators

The Porter's Five Forces analysis is for industry level analysis and its principles can be applied to supply markets, The five forces affecting a supply market are:

Supply market competitors – rivalry among existing suppliers
Potential entrants – threats and opportunities from new entrants
Threat of substitute products or services and/or disrupting technologies
Bargaining power of suppliers
Bargaining power of buyers
For both analyses, templates and worksheets are provided on-line, which can be modified to address supply markets. Use the templates and worksheets as prompts to guide 'brainstorming' about the direction of discussions.
The output from these analyses helps to dispel assumptions concerning buying from particular markets and provides warnings of potential risks and threats that may exist in proceeding with a supply contract.
3. Supplier Capability statement. This standard is used to identify the business and operational capabilities of current and prospective suppliers. The buyer or analyst collects the base information about potential and incumbent suppliers through accessing company data and web searches for business and product information.
Different reporting requirements in countries mean that a buyer may lack knowledge about a supplier's financial situation and their risk of failure. Accepting the additional risk, buying organisations should have a process to minimise the consequences if a supplier from a country with lower transparency of financial accounts fails to deliver.
4. Disposal Plan: There are two types of Disposal Plan. One is for purchased items that remain within the business, such as production equipment. The second is where customers require suppliers to take-back/trade-in/buy-back and then re-market an item.
The Sourcing and Disposal Plans are combined with the selected Supplier Relationship structure to provide the Supply Plan for the item or sub-category. To be of value for the Procurement Strategy, the Supply Plan also contains the Sourcing Strategy.
The Sourcing Strategy considers future directions for sourcing and is developed from the analysis:
possible supply markets for future development
potential suppliers that can or should be engaged in the future
improvements to the purchaser–supplier(s) relationship development plan
improvements to the 'end-to-end' Procurement process (including contract management)
Implementing a Supply Plan regime is a substantial task, but with potentially good returns. Using the pointers provided in this and previous blogposts enables supply chain professionals to break the implementation task into its relevant parts, with a higher likelihood of success.
Reference blogposts
Supply Markets are the starting point for Supply Chains