Procurement process
A solution from one commentator concerning increased complexity was to automate the Procurement process, utilising Artificial Intelligence (AI). While IT applications can assist with the work, this suggestion illustrates a misunderstanding of the Procurement process.
There are three main elements within the sequence of Procurement:
Sourcing – understand and (where possible) influence supply markets
Purchasing – buying a supply of goods and services from selected suppliers
Contract Management of orders for supply
Of the three, Purchasing and Contract Management lend themselves to automation. But, if Sourcing is not approached in a professional manner, automation will make an organisation's current situation worse.
Ideally, organisations should be devoting about 66 percent of their Procurement time and resources to Sourcing. But instead, the high majority of time and resources are devoted to Purchasing and Contract Management.
Sourcing process
The objective of Sourcing is to understand and (where possible) influence supply markets and to identify suitable suppliers for critical items. The output is effective Sourcing Plans across the Critical and Tactical range of items required by an organisation. Consolidating the Sourcing Plans provides a Supply Plan for the organisation, incorporated into the Procurement Strategy, which in turn becomes part of the Supply Chain strategy. To successfully achieve this outcome requires a structured approach, so that steps through the process are transparent to all stakeholders.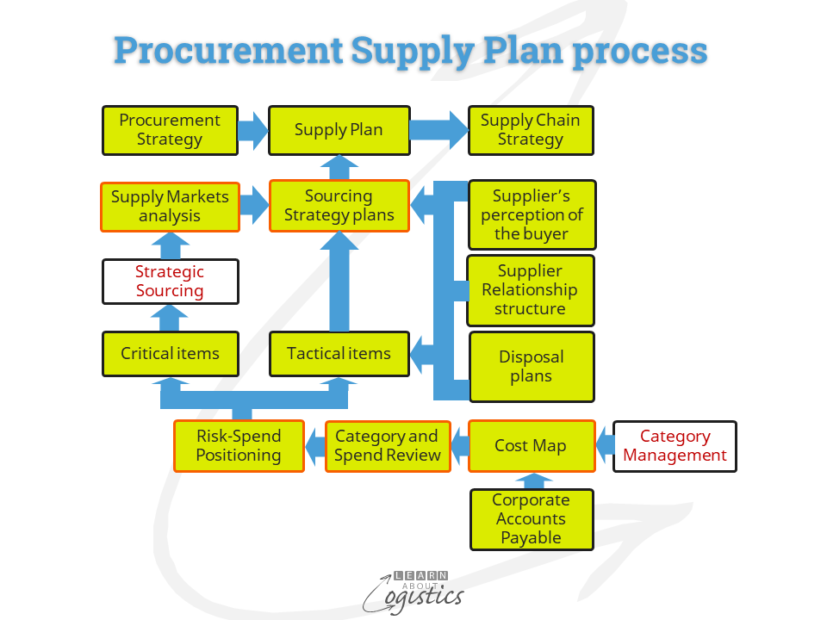 The process is applicable for organisations of any size; only the volume of data changes and the number of people engaged in the process.
The diagram identifies two Sourcing decision stages along the process:
Category Management, which contains
Strategic Sourcing
And, five action steps in the process:
Cost Map
Category and Spend Review
Risk-Spend Positioning
Supply Markets analysis
Sourcing Strategy Plans
Previous blogposts have discussed Category and Spend review and Risk-Spend Positioning
Sourcing Decision Points
Treating each supplier and purchase on an equal basis is not an effective use of resources. Instead, have an enhanced focus on purchases that are critical to the organisation (strategic alliance and strategic security segments). The structure for this approach is Category Management.
Category Management is a methodology to structure categories for managing the whole of life-cycle of goods and services, directing Procurement activities such as Strategic Sourcing and supplier relationship management (Future Purchasing)
Strategic Sourcing for items in the Critical segments. An enterprise will gain from the capabilities of its supply markets, through obtaining Supply Markets intelligence and developing Sourcing Strategy plans, to create and protect product knowledge and intellectual capability of the organisation.
Elements of Strategic Sourcing
As a buyer, you may not know that a speciality supplier at level 3 or 4 in a supply chain provides critical materials in the process e.g. speciality steels for instruments, special purpose adhesives or substrates used in packaging to prevent the passage of moisture and odours. These suppliers can stop supply to level 2 or 3 suppliers without you knowing the cause.
Supply Market Intelligence (SMI) is an activity to interact with supply markets, to understand the current and potential situation and how the organisation may influence a supply market (adapted from Steele & Court).
SMI provides an input to supply market risk analysis and Strategic Sourcing plans for items in the Critical segments (strategic security and strategic alliance) and less detailed plans for items in the Tactical segments It can also inform about critical materials and components that may require safety stock to be held – Just in Case!.
The supply market analysis identifies and attempts to answer:
non-Procurement uncertainties in a supply market; examples being:
Changes in global demand for the final product produced from items in the supply market
Natural and man-made disasters and potential effects on deliveries from the supply market
Trade influencing actions undertaken by governments that may affect the supply market locations
Volatility of financial markets and exchange rates that may affect contracts and supplier viability in the supply market
Potential mergers and acquisitions (M&A) in the supply market within and across borders
2. Procurement uncertainties in a supply market; examples being:
Raw material and component availability for the items produced in the supply market
Substitution possibilities or disruptive technologies likely to change demand in the supply market
Number of acceptable suppliers in the supply market
Attractiveness of suitable suppliers in the market to a closer business relationship
Production or service capacity currently available in the supply market from suitable suppliers
Share of current capacity controlled by suitable suppliers
Knowledge (at the buyer) of the product cost breakdown in the supply market
Knowledge (at the buyer) of suitable suppliers' pricing policy
Supply market logistics capability by required geographic region
Barriers in the supply market to a change of supplier
The value of information comes from the quality of its source; so government statistics in developed countries can be ranked high. Internet based data is very variable in quality and data provided by a 'friend' over lunch may be even less reliable (but should not be ignored).
SMI is a task best led by a specialist analyst (librarians and retired intelligence agency analysts can be good,); with those who engage across the wider business community (such as Procurement and Sales) contributing supply market data and information. Research about individual suppliers is a part of each buyer's job.
SMI and other input shown in the diagram are used to develop Sourcing Strategy plans for items in specific sourcing situations and not to a whole supply market. A plan enables Category Managers to approach a critical supplier or suppliers in tactical supply markets with some confidence concerning: the organisation's real needs and the potential of suppliers to provide the required item(s).
So, Category Management and effective Sourcing plans will only occur as part of implementing a Procurement Strategy. Automation incorporating AI will only be of value to the Procurement Strategy if there is an emphasis on an integrated process for Sourcing.