Range of LSP options
Providing Logistics services for shippers is now an established feature of business in many countries. The question to be asked by the Procurement function at a shipper (brand company) is 'what outcomes are required from outsourced logistics services?'
The outcomes will differ, depending on the type and size of the business that is buying logistics services. Along a spectrum, at one end is a updated contract for a 3PL to continue doing the same distribution of finished goods (but for hopefully a lower cost). At the other end of the spectrum is a situation similar to Amazon, which has recently decided that an increasing proportion of its Logistics requirements will be brought in-house, because it will add to Amazon's margins (but require an investment in logistics assets).
In the middle are the majority of businesses, requiring changes and improvements in Logistics outsourcing contracts. But, should the approach to all contracts be the same? The diagram illustrates the range of services available from Logistics Service Providers (LSPs).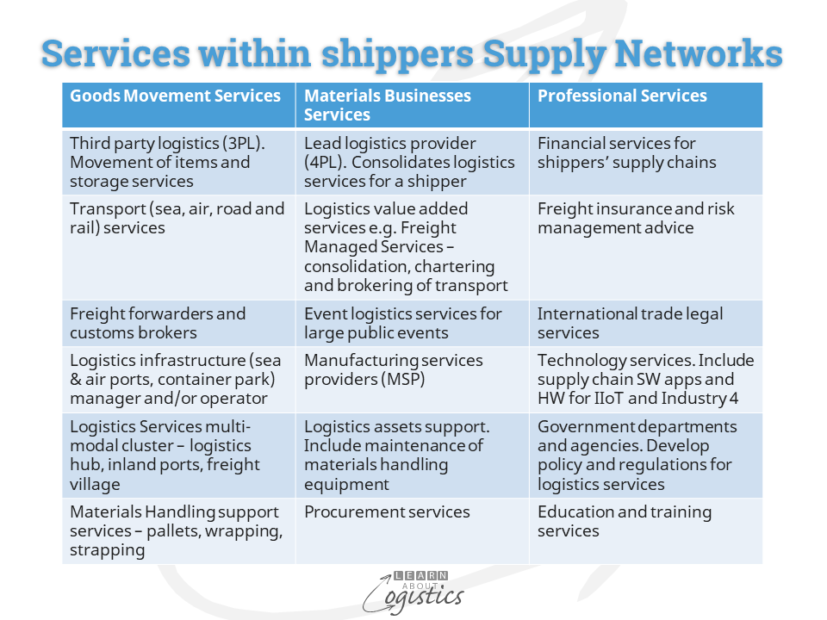 Goods Movement services relates to Operational Services. The main feature is that items pass through the service provider to their client's customer without change
Materials Business services support processes within the shipper's organisation
Professional services are functional services that could be performed in-house or outsourced, but should be integrated into the shipper's processes
What a shipper should know before talking with LSPs
Prior to discussion with current or prospective LSPs, a shipper needs to have a clear understanding of their business from three logistics aspects:
Complexity of their organisation's supply network
Mapping your supply chains and the interaction of relationships between your organisation and its tier 1 suppliers and customers (the core supply chains) is essential. In addition is an understanding of increasing complexities between your tier 1 suppliers and customers and the tier 2 (and further out) suppliers and customers (the extended supply chains).
The diagram illustrates the range of factors which can combine to increase the level of complexity of an organisation's supply network.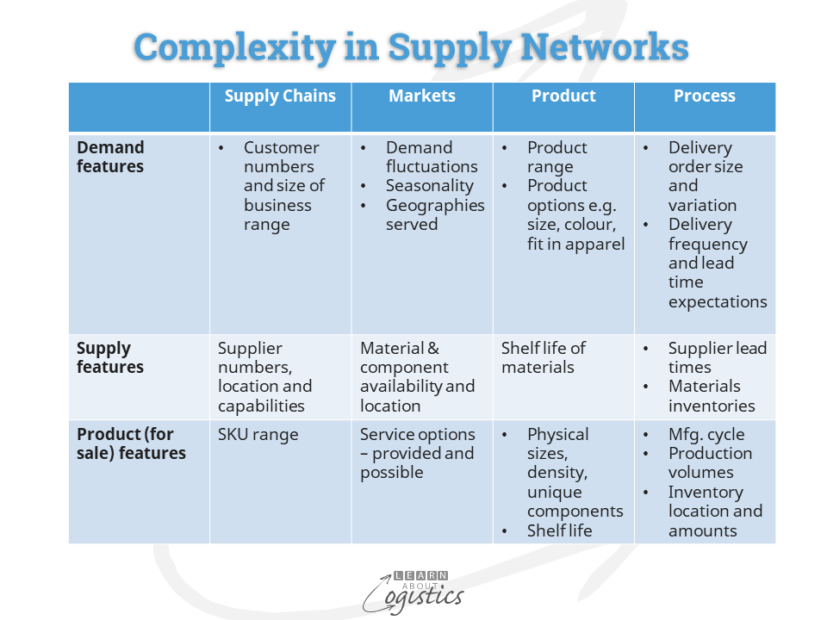 Use of logistics assets
An organisation's logistics activities may require facilities and equipment for specific uses, such as buildings that contain clean rooms or refrigeration or special purpose trucks with higher skilled drivers and technology assets such as specific software for planning applications. When asset specificity is high, assets are less able to be deployed by LSPs for other purposes .
Logistics transaction activity
Whether performed internally or externally, transactions transfer a good or service between parties. For a transaction activity to be successfully outsourced, the performance must be measurable, but it is more difficult to measure if there are high levels of uncertainty. For example, in supply chain planning, the efficiency of transactions is likely to be linked to technology changes.
Supply Market Analysis
Having reviewed the internal situation, the Procurement function should then undertake a Supply Market Analysis for whichever of the three LSP categories being reviewed. This was discussed in the recent blog Supply Markets are the starting point for Supply Chains
Supply Market analysts need to understand the category drivers, likely impact of future events, current and future government regulations and technology developments. This helps identify the organisation's spend/risk positioning in the selected LSP category, Research about individual suppliers is part of each buyer's input to Strategic Purchasing
The Supply Market Analysis should provide answers to likely questions within a shipper organisation, e.g.:
What is the likely market demand growth for the required LSP service?
Extent of the required LSP capability by geographic region
Substitution possibilities or disruptive technologies likely to change the supply market?
What is the service capacity currently available in the supply market from suitable suppliers?
What share of current service capacity is controlled by major suppliers?
Is the number of potential suppliers in the supply market acceptable
How attractive are the potential suppliers if a closer business relationship is required?
How complete is our (the buyer) knowledge of the LSP sector product cost breakdown?
What is the extent of our (the buyer) knowledge of potential supplier's pricing policy?
Market barriers to change of supplier at completion of the contract
Setting expectations
An essential question from a Supply Market Analysis and prior to negotiating contracts with LSPs is: 'What is the role of the prospective LSP business in the shipper's supply chains?' This does not refer to 'partners' or 'partnerships' – their meaning is 'the sharing of risk and reward', which rarely occurs in business.
For example, as consumer goods markets change, so will a brand company's' expectation of their LSP. This is more likely to occur in Goods Movement services as they get closer to the end user as brand companies profit from new product introductions, 'big wins' and promotions that build consumer relationships. In this situation, the outcomes required by the shipper is flexibility to respond to the product market and a continuous reduction of costs.
But flexibility is harder to achieve at an LSP, (specifically 3PLs) due to possible short-term transport and materials-handling capacity constraints. This is due to cost reduction initiatives such as operating fewer but larger units, especially trucks and ships. Also the move in distribution to centralise (where feasible) within countries and regions, to provide a 'hub and spoke' network. Fewer transport units and centralised distribution make for less flexibility.
To test the LSP market or to contract for LSP services, your organisation is now in a better position to understand complexity in its supply network, have knowledge of the supply market and the buyer's research inputs concerning individual suppliers. This provides a comprehensive background to approach the market with clear stated requirements and challenges.