Development of cities
It is likely that millions of people will move to cities over the next 30 years, but deliveries of their supplies will be constrained by the design of each city, traffic congestion and limits on vehicle use. So, where will warehouses and distribution centres be located?
The April 2019 edition of National Geographic magazine discussed the design and role of cities. It noted that the shape of cities and their outer built areas has occurred due to geographical limitations, such as oceans and mountains and the role of public transport, roads and real estate planning rules and decisions by governments.
If the priority of governments at all levels is building roads, then urban sprawl is the result, as roads can potentially extend outward, without limits. An example is Melbourne, Australia, a city and its suburbs built around a bay, where the north-south distance is more than 140 km and the east-west distance more than 100 km and they both continue to increase.
Combined with urban development is population density that, without sufficient public transport, increases congestion. The Greater Melbourne population density is about 450 persons per km2; compared with greater Shanghai at more than 3,000 persons per km2. As congestion in Melbourne has increased, so travel times have lengthened.
The logistics challenge of serving an extensive area is the requirement for additional warehouses, distribution centres and vehicles to support a high level of customer service over greater (and more congested) distances. This adds to costs.
The National Geographic magazine provided an illustration of what they call a 'resilient region', comprising a geographic area of urban hubs – dense developments connected by high-speed rail. The current Greater Bay Area (GBA), of Guangdong-Hong Kong-Macau is similar to this concept. The GBA is a cluster of 11 cities (nine in Guangzhou Province together with Hong Kong and Macau) over an area of nearly 43 thousand sq. km, with a total population of 70 million people – a consumer base within a three hour delivery radius of Hong Kong.
The risk of urban sprawl and increased logistics costs will be reduced if each city in the GBA remains as a defined area, with fast and regular transport links between employment and distribution hubs.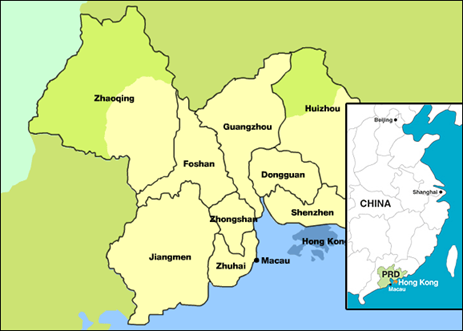 The conurbation has been enabled by investment in infrastructure, including the Hong Kong-Zhuhai-Macau Bridge (HZMB), which opened in Q4 2018. It is one of three major region infrastructure projects and was built to connect with three expressways to facilitate passenger and freight transport.
The benefit of this investment is reduced travel times and transport costs. The bridge is expected to reduce travel times between the Kwai Tsing Container Terminal and Zhuhai from three and a half hours to about 75 minutes and between the Hong Kong International Airport and Zhuhai from four hours to about 45 minutes. The development has brought areas with available land at lower cost into consideration for region warehouses to serve smaller distribution centres in the cities.
For a conurbation such as the GBA or cities of increasing size, the pattern of distribution for consumer goods will change, so start by identifying the role of a warehouse and distribution centre.
Warehouse and Distribution Centre
Although the terms 'warehouse' and 'distribution centre' have become interchangeable in their use, they are not one and the same, because the entities have a different role in providing customer satisfaction:
A warehouse is focused on storing finished products
A distribution centre (DC) is to satisfy customers' requirements for products through distribution. Inventory is not necessary, although it may be held for short periods of time

A DC that is able to quickly transform an inbound load of goods into a number of outbound orders, without the items being stocked, is called a cross-dock facility

The term 'store' typically refers to storing inbound materials and internal items:

materials for manufacturing
maintenance service parts
the intermediate storage of materials (work in progress (WIP)) between stages of production or awaiting dispatch to another site
bulk storage site – although there is not a building, the processes and inventory control are similar
The broad parameters of a warehouse and distribution centre are:
Warehouse
Storage: Fast-selling items less than 50 percent of total inventory. Stock turns less than 8 times
Order handling: Receive, store, pick and distribute greater than 90 percent of the items
Distribution Centre
Storage: Fast-selling items greater than 70 percent of total inventory. Stock turns greater than 8 times
Order handling: Cross-dock greater than 50 percent of the items
A 'quick response' environment does not mean that all stages of product movement will be quick. Because the complete product range must be available to service a city and its hinterland, there is a need to accommodate the reasonably typical situation where 80 percent of total SKUs are medium and slow-moving items. That facility is a warehouse.
To service end users within urban areas, it is possible to combine thinking about on-line and retail shopping. Think of a retail shop as a warehouse which stocks individual items instead of cartons or pallets. It can have an adjacent cross-dock distribution centre (with cartons and pallets) to service online orders and restock the shelves in the retail outlet.
Integrating online ordering with bricks-and-mortar shopping provides a facility with a range of retail activities:
Physical purchase and return of items
Buyers can evaluate new products
In an adjacent distribution centre, 'pick and pack' online orders. With smaller living spaces in city living, consumer orders will be smaller and more frequent
In-store purchases or online orders delivered to an identified location (for a fee) or collected from the store
Receipt of returned items collected from online end users
To ensure a high level of customer service, the online inventory system must be the control centre for the warehouse and the locations it supplies. This enables load and routing schedules for the distribution centres to be optimised, as transport costs can be up to 60% of total distribution costs.
The location decision for a warehouse is not based on distance to the destinations, but the time it takes, balancing demands from customers, congestion delays and transport costs. This approach can reduce the typical additional costs of multiple locations, including: inventory holding costs (the square root rule); management and operational costs and IT systems and control costs.