Operations types
Changing customer expectations and the emergence of technologies designed to assist responses to change are the current scenario in developed countries. But, as strategic objectives of the business change does the structure of your Operations?
The term Operations incorporates the consolidation of Supply Chains (Procurement, Operations Planning and Logistics) and the Conversion of inbound materials and items (which may be called manufacturing, production, assembly or test and pack and include maintenance).
Operations has four basic product types – Engineer to Order (ETO); Make to Order (MTO); Assemble to Order (ATO) and Make to Stock (MTS) and each is applicable for types of services. They require their own processes to satisfy the end user market; they have unique structures and different challenges.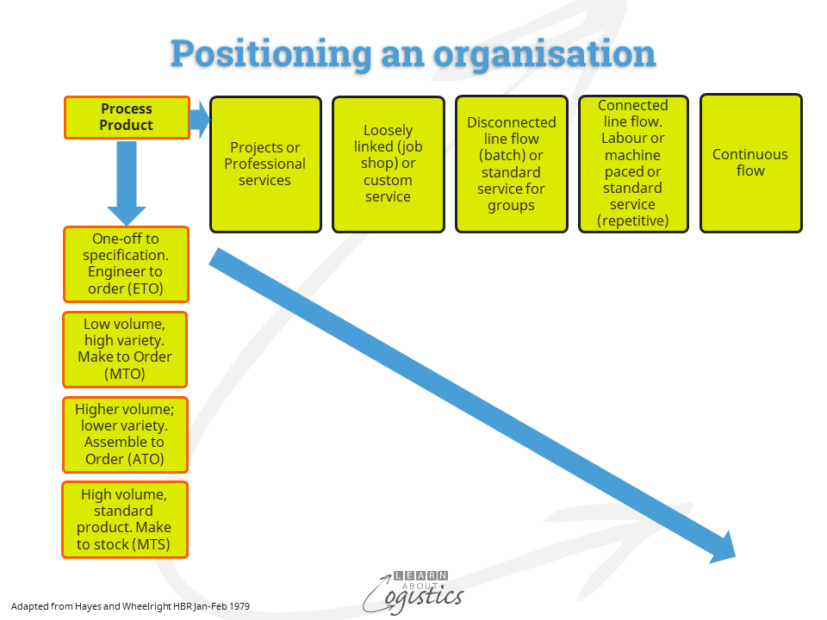 The main features and challenges for each Product – Process link are:
Engineer to Order (ETO): 'one-off' designs based on customer specification

ETO challenges: Pricing of projects; design progress; project schedules; bottlenecks; delivery

Make to Order (MTO): low volume, high variety. Adaptation of pre-designed products – provide a design service for options to the base products

MTO challenges: Product differentiation; flexibility; priority rules; bottlenecks; operations sequencing

Assemble to order (ATO): higher volume, lower variety: Assemble or mix final products to order, based on specific orders from either customers or sales for defined catalogue or recipe products. Make or buy materials, components, sub-assemblies and options to:

Immediately assemble into finished goods and deliver, using 'just in time'/lean/flow manufacturing processes
Assemble either stocked items or 'mix and stir' ingredients, then deliver. This is an example of 'postponement' or delayed configuration

ATO challenges: Product differentiation; flexibility; inventory of components; synchronise mixed model schedules

Make to stock (MTS): high volume standard products. Sell from finished goods inventory:

Produce finished goods from sub-assemblies, components and items, then hold in inventory
Produce finished goods from ingredient materials that are processed into end products, co-products or by-products, then hold in inventory
Make and distribute 'short shelf life' (perishable) products, based on 'soft' commodities such as wheat, dairy and seafood
Import finished products and hold in inventory

MTS challenges: Price, dependability; line balance; rate based processes; flow control; Kanban (JIT) control
For ETO and MTO, the focus is on the upstream process, where customers and products compete for the available resources. The majority of planning is driven by the orders received, therefore delivery lead times can be long. For ATO and MTS, the workforce and equipment are organised around the products. Planning is driven mainly by forecasts, inventory and labour availability, therefore delivery lead times are usually short.
While the product types provide a useful start in recognising different approaches to Operations , they provide a 'broad brush'. How a business actually structures and manages its Operations will vary, depending on the strategic objective and therefore the 'driver'.
Four different drivers are provided as examples (there may well be others), but each can have variations in adapting to specific situations. The structures can apply to both owned and outsourced models can work equally well if they address the organisation's strategic objectives.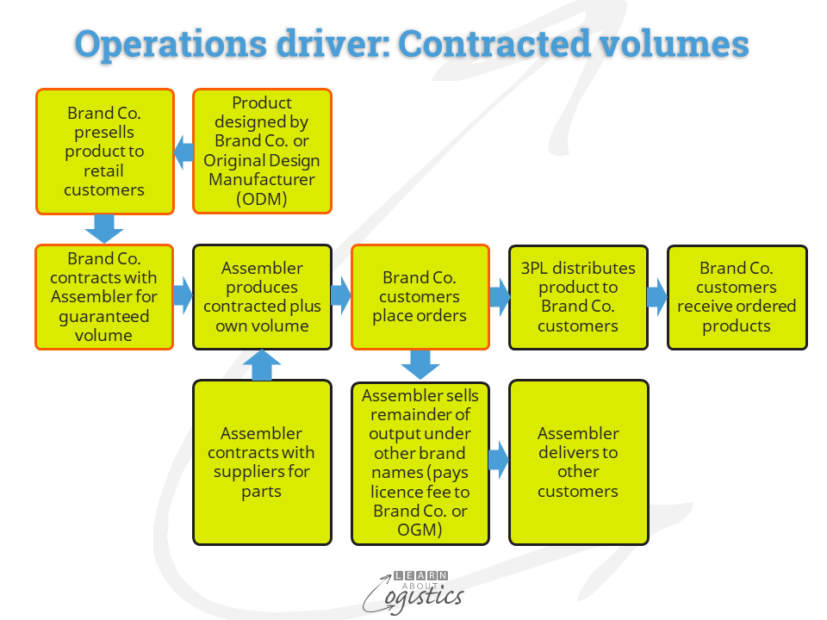 Contracts that are based on volumes tend to be price driven. Using a guaranteed order, the Brand Company can negotiate price and delivery with an assembler. A clause in the contract may allow the assembler to produce additional volumes and sell the product under a different brand to retailers in other regions. This can further reduce the piece price and assisting the assembler to negotiate lower prices from suppliers.
For supply chain professionals, the guaranteed volume provides the basis for planning and securing the movement and storage of items through to the customer's warehouses or retail stores.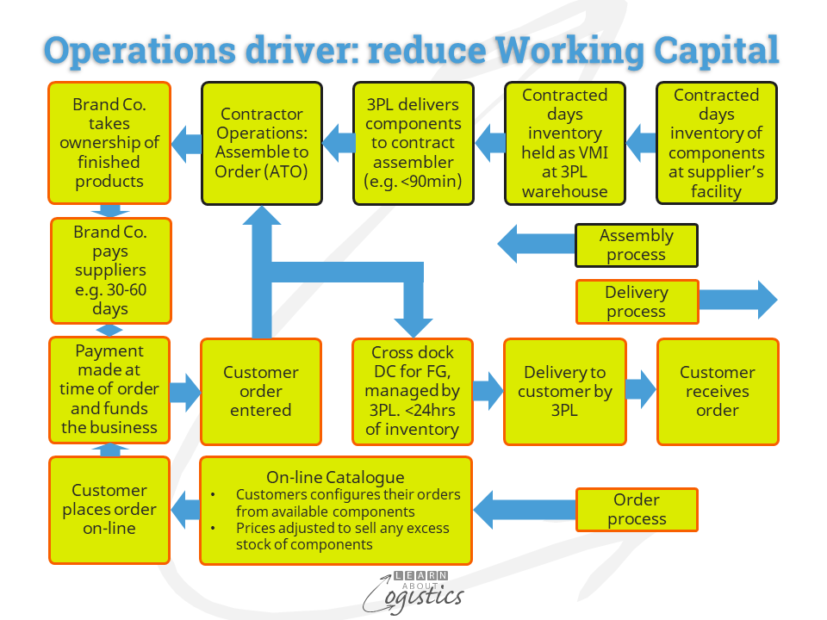 This structure can be attractive to businesses that operate in a low profit margin industry or are private companies with limited access to bank loans for working capital. The structure allows a Brand Company that sells items Assembled to Order (ATO) to collect payment at the time of order from customers and delay payment to suppliers – customers finance the business, in a similar manner to the situation for retailers.
All physical activities could be conducted by suppliers and service providers, so the role of supply chains at the Brand Company may relate to negotiating and liaising with third parties, which includes planning the required capacity of facilities.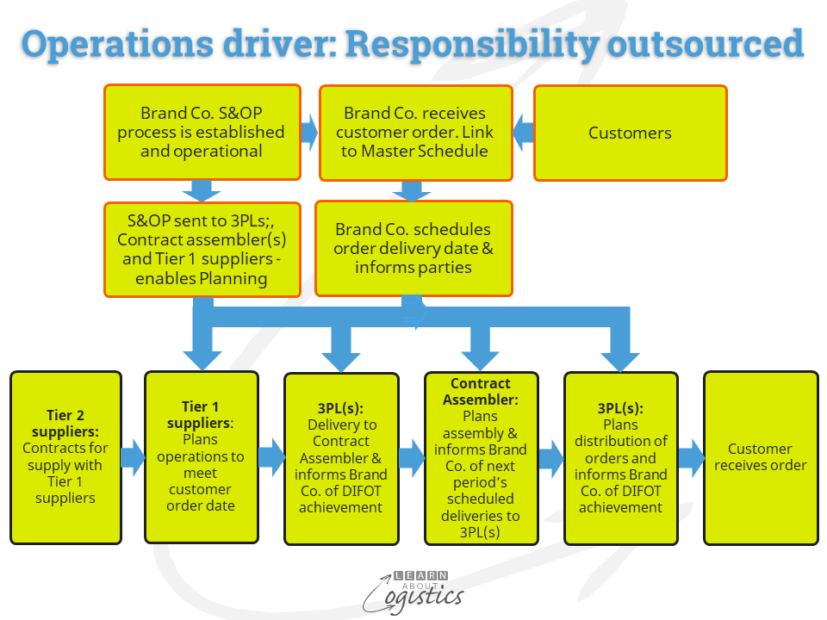 In this structure, the Brand Company relies on its planning capability (especially in Sales & Operations Planning (S&OP)) to provide adequate information for suppliers and service providers for managing the physical movement and storage of items through the supply chains. The role of supply chain professionals is to drive the planning process and liaise with contracted suppliers and service providers to ensure they can meet the terms of the contract.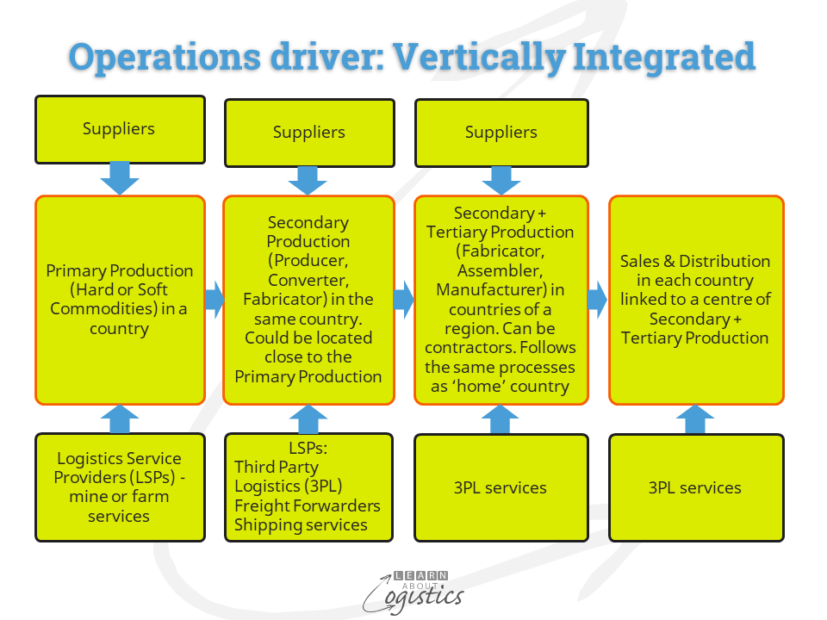 This model assumes the integrated entity is owned or controlled by one organisation. It may be called multi-domestic, because each of the facilities operating in different countries follows the processes of the 'home' country operation.
The model commences with hard or soft commodities at the Primary Production stage. Examples of hard commodities are iron ore or bauxite. The secondary stage is to produce steel or aluminium billets, then extrude them into (say) sheets. The tertiary stage is to fabricate the sheets into (say) building products. For soft commodities an example commences with milk from farms processed into cheese in large blocks, then cut and packaged into consumer packs. Another is wheat from farms, processed into flour, then used in bakeries for making bread products.
For supply chain professionals the challenge is managing the consistent flow of raw materials, usually through intermediate storage and the shipment of secondary production items to the tertiary producers. This may involve multiple Logistics Service Providers, which require management of relationships and contracts.
Action by supply chain professionals
By understanding the underlying structure of Operations allows supply chain professionals in different parts of a supply chain to identify business and operational opportunities:

Shippers (brand companies): identify areas for improvement in effectiveness for customer satisfaction and efficiency for reduced costs
Logistics Service Providers (LSPs): identify where added value services can be provided for each shipper in a supply chain
Suppliers: identify ways to provide items at the lowest total cost that provide customer satisfaction and enable improved margins