Logistics applications and the future.
The objective of Logistics systems is to enable the time related positioning of resources that will provide availability of goods and services for customers. Integrated ERP systems are designed to achieve this, but users are dependent on the software company's design specification and upgrade cycle to achieve the objective.
Meanwhile, changes continue in supply chains, with increasing globalisation and expansion of eBusiness and eCommerce being two examples. The latter has influenced bricks and mortar retailers to commence adoption of 'omni-channels' as a way of meeting the various demands of consumers. In turn, this has, and will continue to influence change within retailers' supply chains, with suppliers' selection of IT&C technologies an important aspect.
But in the selection process, do logistics professionals opt for the integrated ERP system approach or something different? In a recent blog post, I discussed positioning ERP transactions and master scheduling as the backbone system for a business. Attached to the backbone are specialist planning applications that interface with the ERP to obtain data and enter updated plans.
A core logistics application is the warehouse management system (WMS) used by 3PL service providers and manufacturers that continue to manage their own warehouses. WMS come in different levels of complexity, depending on the number and size of warehouse or DC, volume of orders and range of SKUs per order. However, the diagram illustrates the broad application requirements.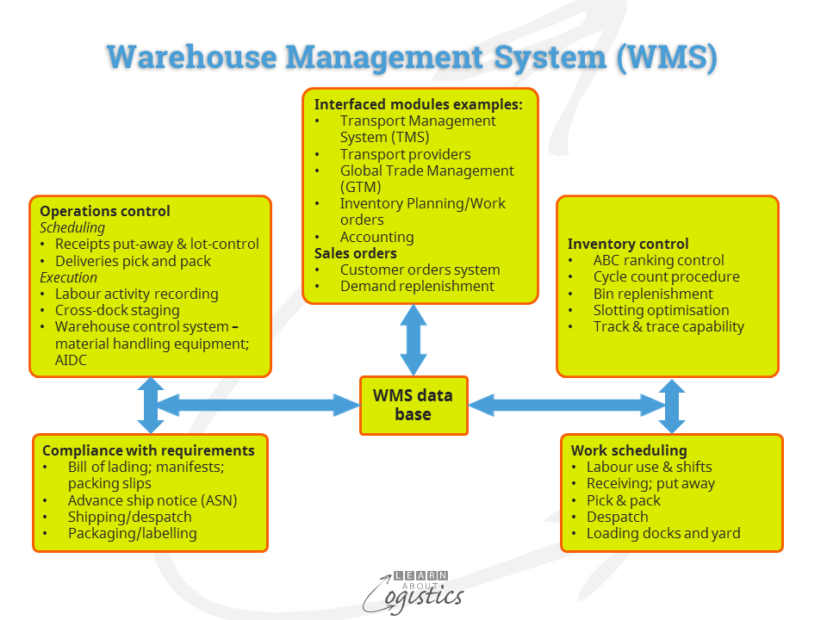 The diagram shows an interface within the WMS (sales orders) and to external applications. If your business has a direct interface with consumers, an additional external interface would be an application to communicate with consumers concerning home delivery date and time confirmation; or another to identify parts used in servicing home based products and to generate invoices.
However, planning and execution applications, such as WMS are not static in their development, so they in turn need the ability to interface with other specialist applications.
Technologies for change
Within the diagram block titled Operations Control, it is Equipment Monitoring that is most likely to influence change in the way logistics operations are analysed and scheduled. This is because affordable technologies are now available that enable data collection and its quick conversion to information.
But while logistics professionals must understand the fundamentals of new technologies and how they might be incorporated into current and future systems, be sceptical of claims made in the media concerning speed of adoption. It is worth remembering that the barcode was first used in in 1974 to scan a product item. Since then, retailers have generally adopted barcodes at their checkouts, but there are still suppliers not using barcodes for basic data collection within their business.
A review of technologies to improve your logistics operations could have as its five objectives, to:
improve visibility of item location and movement, thereby providing a higher level of trust of shared data
receive payment closer to the time of delivery
replace manual data entry by electronic recording
monitor equipment plus control access and movable assets
make operational processes more automated, such as receiving, put-away, pick and pack and stock-count
Only objective 5 has savings in labour costs as its main justification; the other four are qualitative, which is more difficult to justify, but has a potentially higher payback.
Current technologies likely to have a future impact on your logistics operations are robotics and automation; mobile devices, including wearable technology; wireless networks (with WIFI) as the logistics utility, enabling visibility through supply chains and sitting over these technologies is cloud computing. Examples of incorporating these technologies into WMS and transport management systems (TMS) are:
Mobile devices: Typical examples are mobile 'phones and tablets, supported by Web based applications (apps) that are increasingly based on HTML5 standards to enable use across multiple platforms. Greater access to mobile devices and logistics decision apps has the potential for more informed decisions occurring in logistics operational areas.
Mobile devices need to download a limited range of data and information; for example, in operations currently using printed pick documents, operators can be informed of the required task on their mobile device and through scanning or direct entry, confirm the actions taken. Downloads to mobile devices can also enable further processing and analysis; for example, establishing the likelihood and location of stockouts based on the inventory plan; analysing customer complaints and supplier delivery performance.
Mobile devices with embedded sensors and image recognition technologies enables communication with radio frequency identification devices (RFID), barcodes and other devices, such as wearable technologies. This has the potential for more accurate and timelier data to be obtained, improving inventory control and order management.
In road transport, mobility can be extended from transmission of the GPS locations of trucks, to data being generated from in-vehicle telematics that incorporate electronic monitoring of vehicle performance and driver alertness (through measuring eye movements using predictive glasses). Telematic, or machine to machine (M2M) systems enables data to be captured by in-vehicle sensors and sent to control centres for analysis. The data stream can also be analysed on-board the vehicle and if required, updates and warnings transmitted to central servers via an on-board mobile device. The external environment such as delivery receipts, maps of customer sites and their safety induction processes plus photo records, can also be incorporated to provide a more integrated system for the driver.
Movable Asset and Access Control devices: These telematic devices are designed to enhance safe operations, so that assets will only operate for people who are authorised and qualified and then only within authorised periods. This prevents unqualified people (or those being pressured by supervisors) from using potentially dangerous equipment. In logistics environments, the control devices would be fitted to cranes, forklifts, lifting platforms, vehicles and within secure areas. The start switch for equipment is replaced by a swipe card, which can also be used for an employee to obtain the required safety clothing kit. Devices can also track when maintenance is required, immobilising the equipment if maintenance is not done within the defined period.
Cloud computing: Software as a Service (SaaS) is a service offered by an IT service supplier, providing a total package of hardware, communications, applications, specialised content and data storage. Cloud computing can also refer to an organisation implementing its own applications on the Web, although the operational aspects could be outsourced (Gartner Research calls this Infrastructure as a Service).
The availability of cloud-based analytic applications and computer farms for storing data will enable the wider use by logistics personnel of inventory optimisation, modelling and simulation applications. This provides the possibility of concurrently using transactional and analytical applications based on the same dataset, thereby eliminating transcription errors. However, decisions are required concerning how critical cloud based apps are to the ongoing logistics operations of your business, especially if your data will be located in another country.
Even though new technologies may be identified as beneficial for your logistics operations, selection and implementation can take a long time. To ensure your next logistics application comes in 'on time, on budget', incorporate project management as part of your continuing learning about logistics.