Challenges remain the same.
If you do not understand the principles of an activity, you will more likely not support a proposal for change and improvement. That is the situation in many organisations where initiatives concerning supply chains are considered and approved by a cross section of executives.
A continuing constraint to gaining support for initiatives in Supply Chains is the lack of understanding within the broader business community. Even today, few university programs with majors in aspects of business e.g. finance & accounting, marketing, production engineering,  have even one unit/subject/course that introduces the principles of Supply Chains. With this situation apparently continuing, current and new managers in non-supply chain roles lack the essential knowledge and therefore confidence, to support supply chain initiatives.
Also, an inhibitor to understanding lies with the terminology. As an example, the often used term 'Supply Chain Management' provides an impression that professionals working in supply chains are able to manage those chains, which is not correct. At best, they can manage relationships with their immediate (Tier 1) customers and suppliers in the 'core' supply chains; the 'extended' supply chains outward from Tier 2 customers and suppliers can be a very incomplete canvas.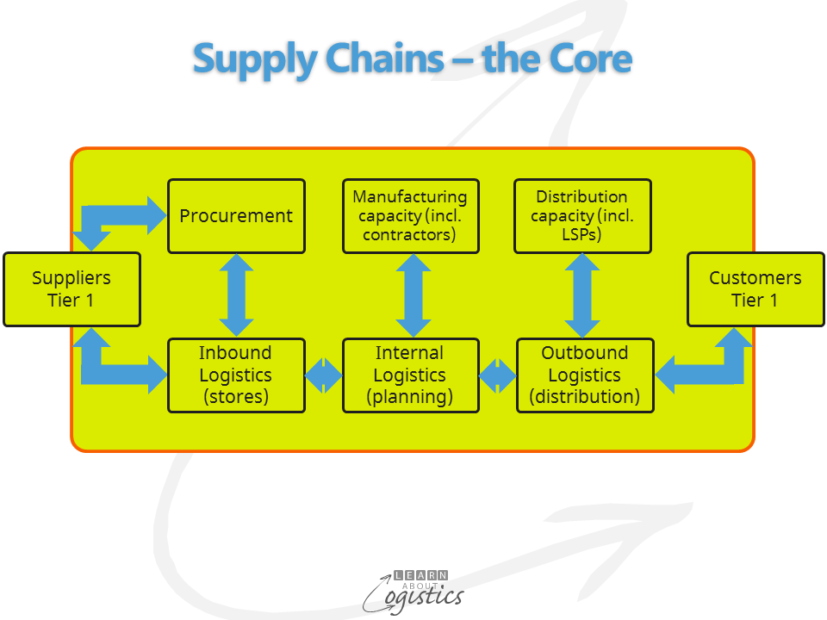 Also, many articles use the singular term 'the supply chain', while the actual situation for an organisation is of multiple supply chains linking suppliers, the organisation and its customers. These chains can have multiple links between suppliers and customers upward of Tier 2 (and often unknown to the focal organisation). These multiple supply chains form the Supply Network. Features of the Network are:
Businesses at the individual nodes of a network do not know the behaviour of the whole system; they respond only to local knowledge that is available concerning their immediate (Tier 1) customers and suppliers; therefore

The Supply Network (system) adapts and organises itself through local responses to events, without a single entity managing or controlling it

A Supply Network is therefore a Complex Adaptive System (CAS)
An organisation's Supply Network consists of Flows – the transfer of items, money, transaction data and information between nodes and links within the Supply Network. The structure of transfers is guided by:

Contractual responsibilities with suppliers and customers, which are influenced by the factor of power and dependency
Identification of Uncertainties and the subsequent management of Risk within the relationships
Uncertainty within a Supply Network can increase due to:
Increasing flows of items, money, transactions and information interacting in a Supply Network
Lead times for items lengthen in response to variable requirements of a market

Instability will result if too much responsiveness is required of a Supply Network which has a limited capability of  adaptability and responsiveness

The factors of Complexity, Variability and Constraints in each enterprise within a Supply Network are activated due to circumstances within each organisation. It leads to emergent (i.e. unknown) and cumulative results
To effectively plan your supply chains, Reliability and Consistency of the Sales and Operations Planning (S&OP) processes is required.  To achieve this is not dependent on software, but requires a willingness between affected groups of the organisation to co-operate across functions. However, to be effective Co-operation requires shared data, which in turn requires co-ordination of data and messaging standards. Shared data then facilitates collaboration between the functions to enhance shared information, thereby building improved relationships and development of joint activities.
Co-operation and Co-ordination
Co-operation and Co-ordination within your organisation is therefore not a 'nice to have', but an essential factor in the improvement of your supply chains. While you can improve relationships within your 'core' supply chains, your Supply Network is unlikely to become 'integrated', as it comprises independent organisations with their own policies, objectives, customers and suppliers.
Therefore, to enable the building of a Risk Management activity, an objective of your Supply Chain organisation is to better understand the supply markets that your organisation relies on, so that decisions are taken concerning the needed investment in resources and time to reduce uncertainties, improve the negotiation of contracts and alliances and reduce the likelihood and/or the consequences of critical risks.
How this is achieved will vary by each organisation as it depends on the locations and corporate culture, plus the industry, products and markets. But critically, the Supply Chain group requires the active support of executives from across the organisation; however, if they do not understand the 'how and why' they will be reluctant. It is therefore a role of supply chain professionals to inform about the 'how and why' and to sell  the benefits of co-operation and co-ordination to all who can influence successful outcomes.