Where are we?
A challenge for many companies is a clear understanding about supply chains by the CEO and their executive group. This influences the approval of IT projects that can provide substantial improvements in understanding and planning the organisation's Supply Chains.
What does 'integrated' mean and 'end to end' and 'visibility'? These and other terms are often used without an understanding of their meaning and if challenged, authors would find it difficult to provide a coherent answer. Even the term supply chain(s) is a problem; too often considered as another function within the business. Instead, supply chains are not a function, but a process of Flows (of items, money, data and information) in, through and out of the organisation. The functions of Procurement, Operations Planning and Logistics use the Flows to understand the 'extended' and manage the 'core' supply chains (preferably as a cohesive group).
The digital road
For businesses of any size, data is processed via an accounting application (which could have added functionality) or an enterprise resources planning (ERP) system, provided at various levels of scope and complexity. In a typical manufacturing and distribution business, about 70 percent of all data handled has value to the organisation's supply chains, so the management of data is a challenge.
The accounting or ERP applications provide a business with the means to move from manual data handling to digital. This is Digitisation. The applications enable data to be stored and Operational level decisions to be made. However, these decisions are not linked to Tactical level decisions, which are in turn governed by Strategic level decisions.
Digitising data at the Operational level is not sufficient. The data needs to be incorporated into a flow process such as: procure to pay, forecast to deliver and order to cash. These flows are elements of the processes through an organisation's supply chains. Turning work processes into digital flows is Digitalisation, which assists Planning decisions in supply chains.
The third stage of digital for supply chains is Digital Supply Chains. This is an element of 'Digital Transformation', which Gartner defines as 'The use of digital technologies to change a business model and provide new revenue and value producing opportunities'. For supply chains it refers to how processes are designed, built and managed to be effective in providing supply for customers. This differs from the traditional supply chains inward focus of minimizing the cost of Procurement, Manufacturing and Logistics.
But there is a long way to go before reaching this stage. In general, the focus in businesses remains at the first stage of Digitisation. Although the talk maybe about 'integrated supply chains', 'customer focus', 'end to end' and 'visibility', the actual effort is on upgrades to the installed applications or their replacement by a shinier version.
So, work is mainly on 'old thinking' applications that may improve the efficiency of functional processes but fail to improve the effectiveness of an organisation's supply chains. And this is at a time of major disruptions in supply chains, increased variability from suppliers and more 'known-unknowns' and 'unknown-unknowns' risks to businesses.
What to do?
As your CEO may assume that the current ERP system is good for the business, telling them that it is not sufficient is unlikely to gain any progress. An alternative approach is to demonstrate the Uncertainty (risks) in supply chains, without fanfare and at a low cost. This is by developing the Supply Chains Network Design map for the business.
As discussed in an earlier blogpost, the map is developed from Flows of a 'non-linear and complex' system, identified by the transfer Links between Nodes of the Network, through each supply chain of the business. The data and information are regularly updated.
At the appropriate time, the map is discussed with individual stakeholders, then presented to the executive group. The presentation is not just to discuss the design map, but to identify the breadth of applications that are able to access and use the supply chains data to improve Planning decisions at all levels – strategic, tactical and operational. The applications are grouped under the heading of SNAP – 'supply network analysis and planning', with examples shown in the list.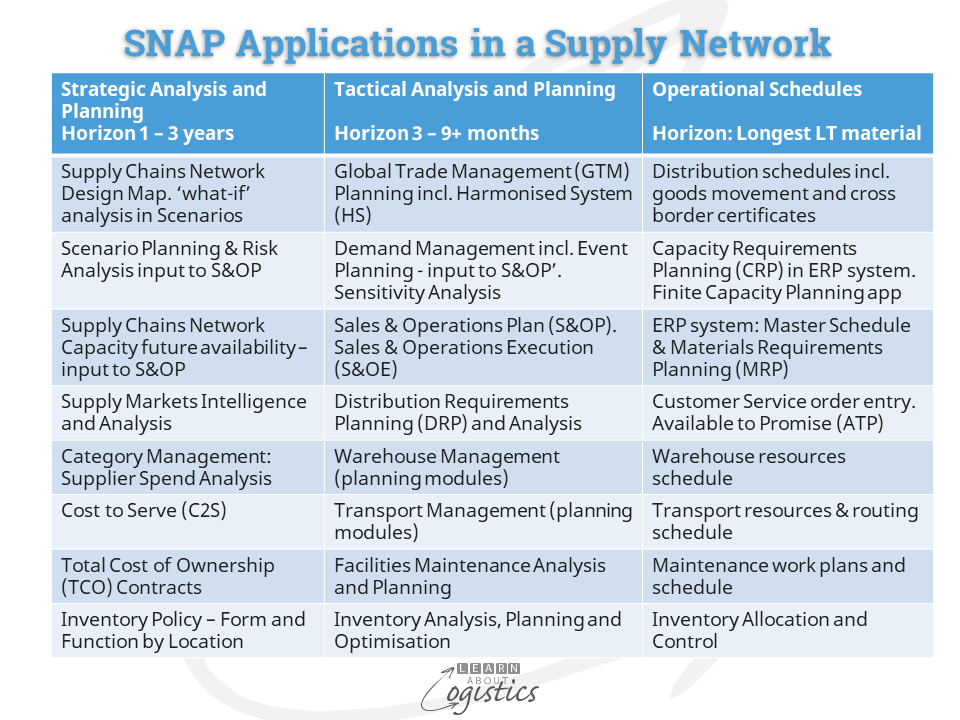 Note: S&OE includes the ERP modules of Master Schedule, MRP and CRP, but they are not SNAP applications. They are placed where they 'fit' in the process
Many supply chain applications are designed for use within a Cloud operating environment. Here, the user business pays a fee to use the application (called software as a service – SaaS), with the data being uploaded to the Cloud services provider on an 'as required' basis. The intended usage of each application is calculated, enabling a match against the most appropriate licence model, to obtain the lowest total monthly fee.
The result is that the installed ERP system can remain as the repository of supply chains data for internal and Cloud use. As the data will be used in external applications, the emphasis must be data that is clean and reliable – remove the ROT of redundant, obsolete and trivial. Also, given the criticality of the data, cybersecurity must be strong and 'failsafe' against attack.
The chart above provides a context for Applications that will be of most value. As functions gain alignment through the Sales & Operation Planning process, other applications may also be of value. Examples are price optimization in Sales and revenue management in Marketing.
Automation and Digitalisation
It is of no surprise that businesses experience a higher success rate with implementing automation in factories and warehouses than pursuing Digitalisation, Automation outputs and inputs are defined, operational conditions identified and performance measured against pre-determined calculations.
Digitalisation has variable parameters and unknown outcomes and has more organisation and people challenges than Automation. But the mismatch should not be a problem, as 'real-time' data is not used in Planning decisions at the Strategic and Tactical levels. Although current data may be available from automation, short-term decisions at the Operational level concerning changes to schedules are made within the context of achieving the overall Tactical Plan for the period, so 'real-time' data is also not critical.
This blogpost has argued that the majority of people working in supply chains need only skim over articles and videos about the new world of Digital Supply Chains. Instead, concentrate on moving your organisation from Digitisation to Digitalisation over the next 10 or more years.