You cannot manage supply chains.
At the heart of an effective supply network is your IT system. As supply chains become a more critical part of successful businesses, so responsibility for the effectiveness of the supply network will rest with the supply chain vice president/ director/manager.
Changes in the business climate will continue to force changes in business models; with the major factors at play being:
Globalisation – has provided new markets for products and services and low cost countries (LCC) for the supply of items
Extended organisation – the requirement for 'visibility' along the supply chains and 'collaboration' within (at least) the core supply chains of a business
Product family extension – additional niche markets and regional adaptation can result in shorter product life cycles
Capacity consolidation – retiring, sharing and outsourcing capacity may affect the capability to provide availability of items
Management's wish to 'manage' supply chains can be enhanced by the degree to which the business owns, controls or influences its suppliers and customers. But, the complex nature of a supply network means that for the majority of businesses, being able to predict outcomes, establish firm plans and control your supply network is a dream. Instead is the requirement to be responsive and adaptable to external influences and risks.
In a product business, the Cash Flow and Working Capital situation is affected by the inter-linking of capacity (owned and contracted), inventory (location, form and function) and lead times – each affects the other two. As the business factors change, so they affect the capacity, inventory and lead times of your business; requiring planners to analyse, model, plan and schedule within the scope of the changes.
To do this, the majority of planners are presented with an 'integrated' Enterprise Resources Planning (ERP) system that purports to address all the requirements of the business. However, there have been too many articles concerning extended times to select and implement ERP systems, together with subsequent failures to accept that all is well. Of course, there can be contributory people factors to any failure, such as:
senior management expectations (influenced by the ERP sales message?)
a culture of internal competition and lack of collaboration (we can be friendly and co-operative, but fail to align discipline or department objectives and resources) and
the lack of capable planners (which can be caused by poor job descriptions, limited career paths and low pay)
SNAP Applications to plan your supply chains
In last week's blog, Supply Chain systems requirements were illustrated as a 'fish-bone' diagram, with the ERP transactions records and operations scheduling being the backbone application. Specialist Supply Network Analysis and Planning, or SNAP applications were shown to interface with the ERP system. In this structure, the basic ERP system remain in place, but with selected SNAP applications taking data from the ERP system for planners to use, then pass subsequent plans back to the ERP system.
As discussed in my book A Framework for Supply Chains, SNAP applications are positioned at an analysis level and two planning levels – tactical and operations.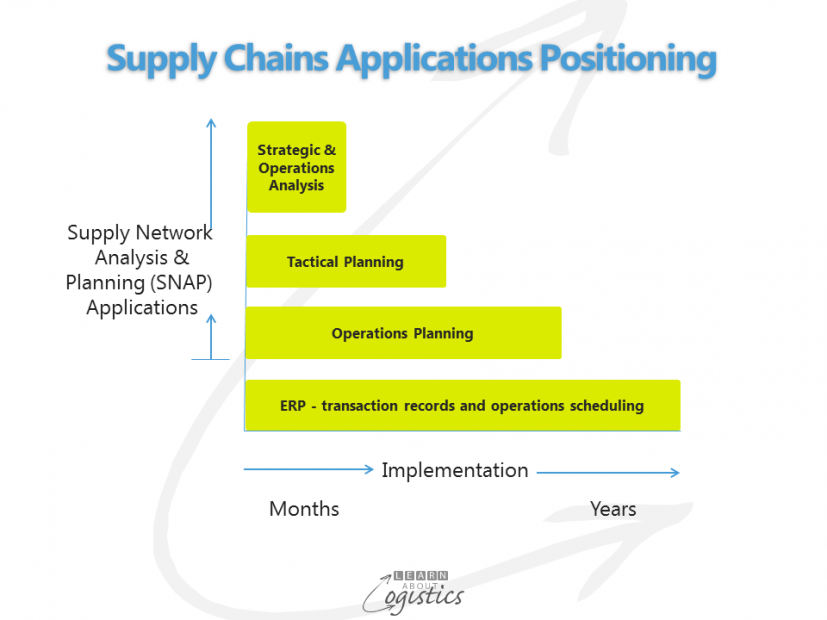 The diagram shows the smaller and more focussed analysis applications being implemented in months; whereas the more complex planning applications and full ERP systems can take considerably more time. Different businesses will select SNAP applications that meet their requirements, but examples of applications are: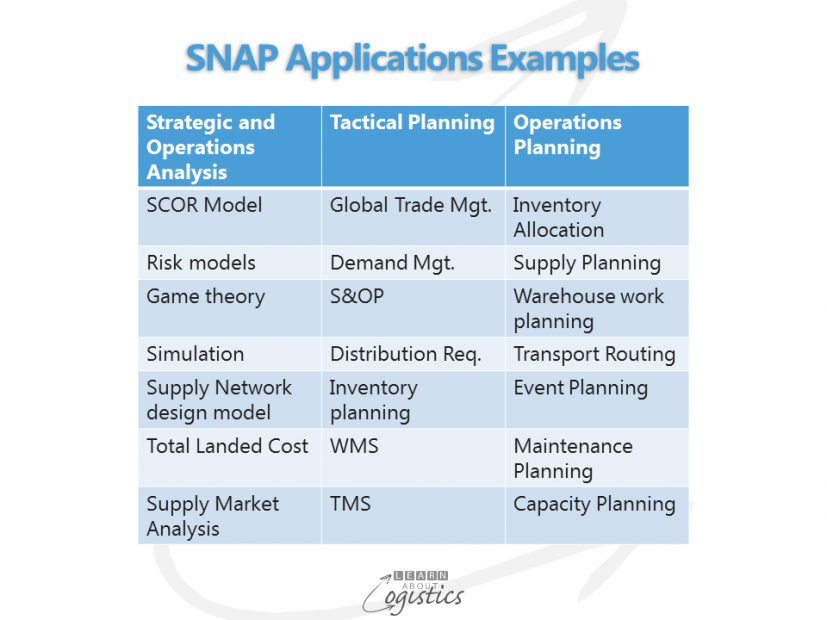 Under Strategic and Operations Analysis, the Supply Chain Operations Reference model is the cross-industry standard for depicting supply chain processes.
Under Tactical Planning, S&OP is Sales and Operations Planning, which is the structured planning approach to improve the balance between market demands, a company's resources and the supply of materials and services. WMS is the Warehouse Management System for planning the movement, storage and resources of a warehouse or distribution centre. The WMS could include or link to additional modules for procurement, light manufacturing or final assembly and test, global trade management, inventory planning and transport management system (TMS).
The ERP backbone contains an the audit trail of sales order and receipts (often called 'quote to cash'), purchase orders and payments (called 'procure to pay'), plus production or operations scheduling, HR records and the accounting function. From a supply network perspective, an organisation would have an ERP platform and a supply network platform, containing the selected SNAP applications, that (hopefully) would seamlessly exchange data and information with the ERP system. As the business environment changed, rather than contemplate the acquisition of a new 'integrated' ERP system, only some SNAP applications would need to be replaced.
This scenario has been occurring for some years with a few businesses, but in general, 'integrated' ERP rules. However, as social media data exchange protocols, mobile communications and cloud computing are becoming accepted by business, so the SNAP applications approach is more likely to be considered. But this can only occur if the supply chain professionals are up to the task of justifying, selecting and implementing the applications.