Additional Procurement Risks
The experiences of the past 18 months with product shortages, supplier disruptions and shipping delays has highlighted the potential risks associated with your organisation's supply chains. Risks are often evaluated from the perspective of dealing with a supplier; but this has been shown to be too narrow a view.
The blogpost of June 1, 2020 identified the typical risks of a buyer and supplier
Buyer Risks

Internal (enterprise) risks:
Procurement function risks:
Contractual relationship risks:

Supplier Risks

Financial Risks:
Supplier Operational Risks:
External risks for a supplier
While Buyer and Supplier risks continue to be important considerations, recent articles concerning supply chain risks, consider that the focus should change. Risks which are external to a potential contract have become an important consideration for Procurement professionals. The risks that Procurement professionals should be more aware of are: environment, social and governance (ESG); compliance and reputation; supply chain cybersecurity; geopolitics and country risks; global/region economic conditions and disruptions from natural events
When these risks are applied to an item, it provides an approach for evaluating the Criticality (or strategic value) of the item to the buying organisation. Criticality will also identify critical suppliers by the impact of risks – annual spend with a supplier should not be used to prioritise suppliers, as spend does not equate to risks. Identifying the risks involved in identifying Criticality of an item also provides an indication of how an organisation's supply chains will perform against disruptive events.
Criticality of an item
Availability of the item and Strategic Dependency

International supply chains can be disrupted by geopolitical events, with the impositions of import and export bans, tariff and non-tariff regulations or quantity quotas. Procurement professionals must be aware of risks surrounding:

Geopolitical risk for the country from which the item is supplied
Trade barriers that have the potential to be erected against the supplying country
Political stability of the supplying country

Trade regulations

Business regulations – extent and expectation of adherence
Trade regulation effects e.g. duties, dumping and political embargoes
Technical regulation effects e.g. building permits for supplier; IT interoperability with supplier

Vulnerability of supply for an item

Events of the past 18 months have shown that items can become unavailable because the tier 1 supplier is unable to obtain sufficient intermediate items from their suppliers or even one of the raw materials is in short supply. Procurement professionals must be aware of risks surrounding:

Concentration of suppliers, including tier 2 and 3

reliant on a few suppliers or many suppliers located in the same geographic area
tier 2+ suppliers are unlikely to reveal to their customer's customer the extent of any problems
Strategic Dependency: "if a country imports a particular good (or item) and more than 50 percent of its supplies come from any one country and that country controls more than 30 percent of the global market for that particular good (or item)" Source Henry Jackson Society

Location and supply certainty of input raw material
Long term supply availability of materials
Economic importance of the item

Importance of the item in the development of future products and technologies

Substitution or new production technologies – how likely
Price fluctuation likelihood
Sustainable Procurement
An additional area of external risk in supply chains may be called Sustainable Procurement or Responsible Sourcing. A recent article discussing Responsible Sourcing provided a diagram from the research firm Gartner that illustrates the scope.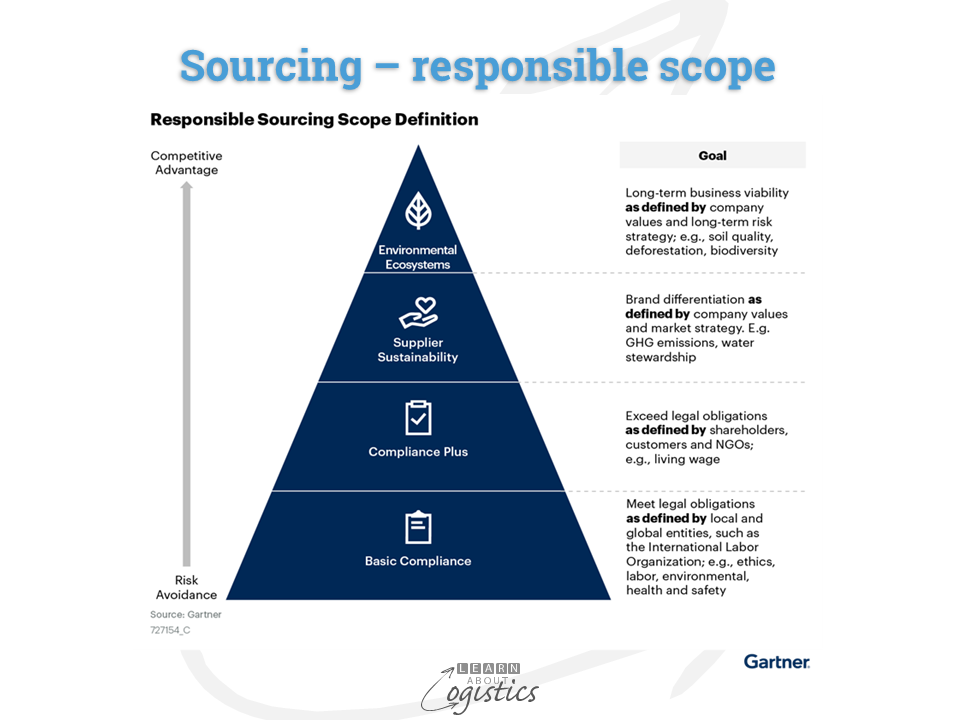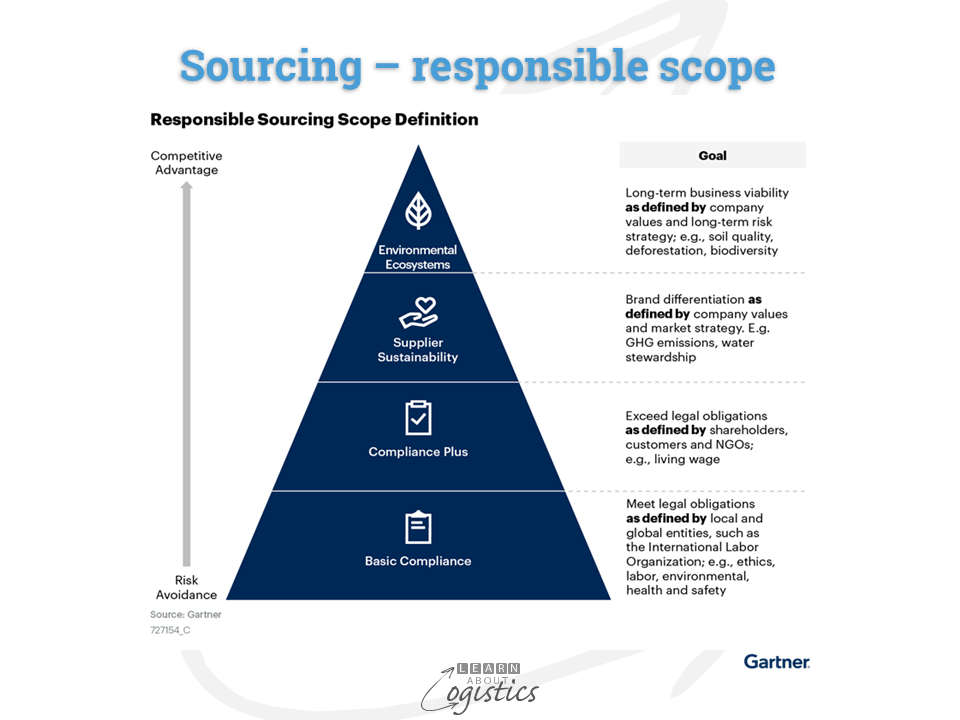 The article notes that to create a competitive advantage through sustainable sourcing, organisations must demonstrate they are collecting and analysing sustainability data that addresses particular environmental concerns – this requires working with suppliers to provide meaningful data. As these suppliers are inducted into a Sustainable Procurement mindset, they will place the same requirements on their suppliers and then on through the supply chains.
Larger public companies are Increasingly being judged on the actions of their suppliers through each supply chain. This process, initiated by sustainability NGOs, financial firms and shareholders is called Environmental, Social, and (corporate) Governance (ESG). From a supply chain viewpoint, ESG instances are the external risks that arise from interactions between the environment and supply network locations (inventory nodes) and transport links in each supply chain.
Setting and achieving 'net-zero targets' through supply chains must be based on the actions that need to be done, not on what company executives considers to be possible. In 2021, more than 200 of the world's biggest companies, will make a range of commitments to become a net-zero company by no later than 2050. To achieve the targets, companies must "set ambitious, science-informed, short and mid-term environmental goals…". Some of these goals will become supply chain targets.
With a changing climate now obviously happening, suppliers through supply chains will need to improve their resilience and Supply Chain professionals increase their knowledge about climate risks in their supply chains. This will enable informed decisions about working with critical tier 1 suppliers on risk mitigation.
The pandemic has put supply chains into the spotlight, but to show their worth to senior managers, supply chain professionals must continually update their knowledge concerning potential changes to their Supply Network. This applies to Procurement professionals, who need to review their relationship with suppliers for achieving the required outcomes under current and future circumstances.