Procurement policy
Procurement departments in private sector organisations have often been left to develop their own policy and procedures, with little external oversight or interference. However, as legislation concerning adherence to ESG (economic, social and governance) is enacted (mainly in developed countries), the regulatory Framework will become a Policy document for Procurement.
Within ESG legislation, stakeholders have rights that are similar to shareholders. The behaviours of Procurement in the Private sector could therefore, over time, move towards those of Procurement in the Public sector, where Procurement processes are based on Policy, derived from the needs of stakeholders.
Legislation that affects Procurement
The concept of ESG was develop by business groups from the ideas concerning Corporate Social Responsibility (CSR). As governments were not directly involved, there was an absence of regulations, so many voluntary, non-government ESG standards were established, together with associated data and analytics services. Unfortunately, this has led to 'greenwashing', where it is difficult to distinguish between genuine actions and marketing hype. In addition to 'greenwashing', a report by the European Commission identified that of European businesses, only about 30 percent were conducting appropriate 'due diligence' measures within their supply chains.
To overcome these deficiencies, the EU Commission developed a set of regulatory standards under nine Directives. The initial requirement was for investment firms to demonstrate the accuracy of their ESG claims. The next step begins from April 1, 2023, when the EU Corporate Sustainability Reporting Directive (CSRD) will amend the Non-Financial Reporting Directive (NFRD) to:
extend the scope of mandatory ESG reporting to all large companies and SMEs listed on the European regulated markets
implement mandatory ESG standards with more detailed reporting requirements
require external auditing of ESG reports from businesses
The is not limited to climate and environmental issues in an organisation's supply chains, but extends to risks relating to social and corporate governance. Risks relating to:
the environment, which include operations that contribute to climate change or other environmental damage
human rights, which include the actual or potential breaking of labour law conventions concerning, for example, equality in the workplace and working conditions
governance that covers business ethics and corrupt practices, such as bribery
Compliance will be required by all entities with business connected to the EU, including companies outside the EU that sell their goods or provide services within the EU. This will be a major change, requiring companies to know the risks through their Supply Chains Network.
Another piece of legislation is the German Supply Chain Due Diligence Act (SCDDA) that is effective from January 1, 2023. It applies to companies with a head office or branch office in Germany with more than 3,000 employees and from 2024, to those with offices that have more than 1,000 employees.
The SCDDA will require companies to :establish a risk management system that analyses environment related risks and ensures there are no violations of human rights in their own business operations and at Tier 1 suppliers. Also, the provision of a risk analysis, including "preventative and remedial measures'" for indirect suppliers (Tiers 2 and below), if the business "gains substantiated knowledge of possible human rights or environmental obligation violations". This is regardless of whether the operations are undertaken at a domestic or foreign location. Companies must adopt a policy statement, appoint an in‑house responsible person and prepare an annual report on the performance of their obligations.
Resilinc estimate that this legislation will require about 1.5m parts to be mapped across about 480,000 Tier 1 suppliers. Their advice for companies is to:
Map your direct and indirect suppliers
Set up a supplier risk assessment program to screen for risks across key ESG areas
Identify alternative Tier 1 suppliers as a backup
In America, the Uyghur Forced Labor Prevention Act (UFLPA) became law in December 2021. The goal is to ensure that no goods made by forced labour in the XUAR region of China
region are landed in the US. A feature of this law is 'Rebuttable Presumption', defined as "an assumption made by a court is taken to be true until proven otherwise". This means that those charged are guilty until they can prove their innocence.
Importers of all items are required to fully comply with guidance provided in the Act to avoid the import of products created with forced labour. This includes due diligence of suppliers through the supply chain and effective supply chain tracing. Resilinc's advice for companies is to:
Understand your bill of materials for all merchandise, goods and parts, to identify the depth of your supply chains
Assess that no forced labour is used in any tiers of supply through your supply chains, especially Tier 1 suppliers located in the XUAR region of China
Gather documents for suppliers at all tiers regarding:

customs entry documents for items,
proof of payment documents and transport documents
To comply with this advice, companies require visibility into their entire supply chains. But, without mapping that includes suppliers in the XUAR region of China and access to their premises, many enterprises will have difficulty to prove the absence of forced labour.
Supply Chains Network Design Map
For many years, Learn About Logistics and others have promoted the advantages for businesses to develop their Supply Chains Network Design Map, managed by the Supply Chains group (Procurement, Operations Planning and Logistics). The Map provides a visual structure concerning the flows of items, money, data and information between the Nodes (for suppliers, including 3PLs and other Logistics Services Providers (LSPs)) and Links (for transport services) along each supply chain in the Network. In addition to being a reference for your organisation's Supply Chains Network, it enables the analysis of 'what-if' risk scenarios.
The discussion in this blogpost shows the general direction of ESG legislation, which extends beyond the borders of the EU and a country to all affected suppliers. For each of the new laws discussed in this blogpost, Mapping your supply chains is a recommended action that demonstrates that Procurement is able to "monitor, identify, address and remedy" ESG risks.
Input to the Supply Chains Network Design Map by Procurement is based on information analysed through Supply Markets Intelligence, an element of Knowledge shown in the diagram.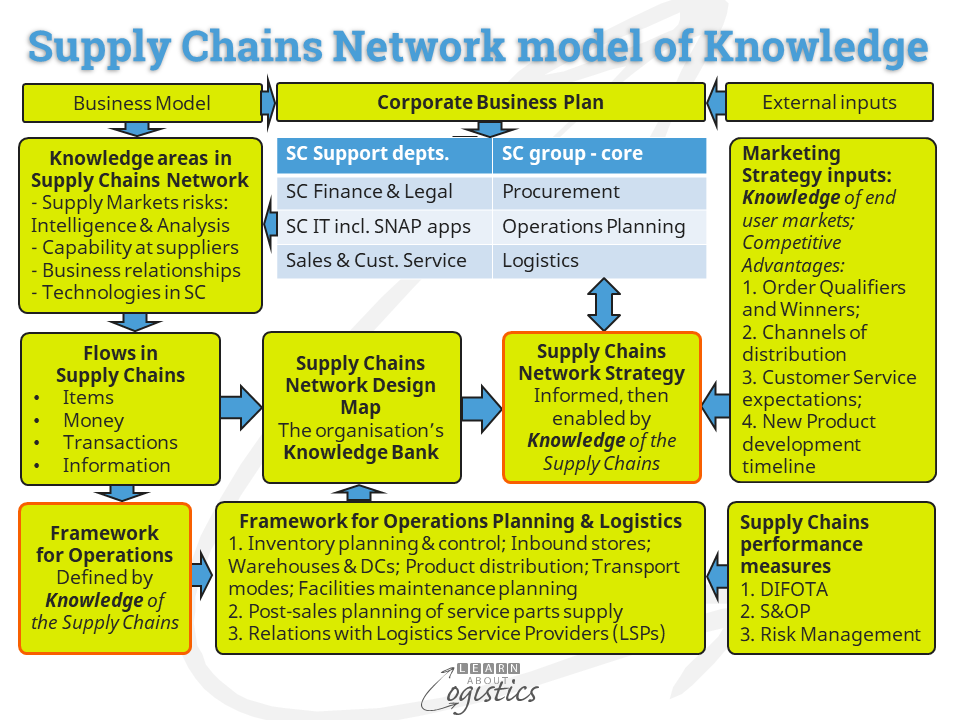 The challenge for each Supply Chains group will be to design the initial Supply Chains Mapping process, select the applicable software applications and tools and identify the essential data elements required. In addition to the elements for understanding your supply chains, will be those required that enable ESG to be embedded in the supply chain processes.