Category Management and Value Chains.
The objective of Category Management is to identify and leverage the capabilities of supply markets, to obtain a lower total cost of ownership (TCO). Category Management should therefore play an important role in the success of Procurement and ultimately, each of your Supply Chains.
The previous blog Category Management underpins your Supply Network generated a comment on LinkedIn from Tiong Lee  that "a critical aspects of Category Management is to ensure that the supply chains of a category are understood and defined. This requires that all supply risks, including external market and process related risks, are identified and mitigated".
To achieve this,  as noted in the previous blog, requires that "all must accept the benefits, cost and timeline goals of implementing Category Management". But, it also requires the Procurement team, together with the Supply Chain group, to design the structure and operations of Category Management as an integral part of the Supply Chain flows.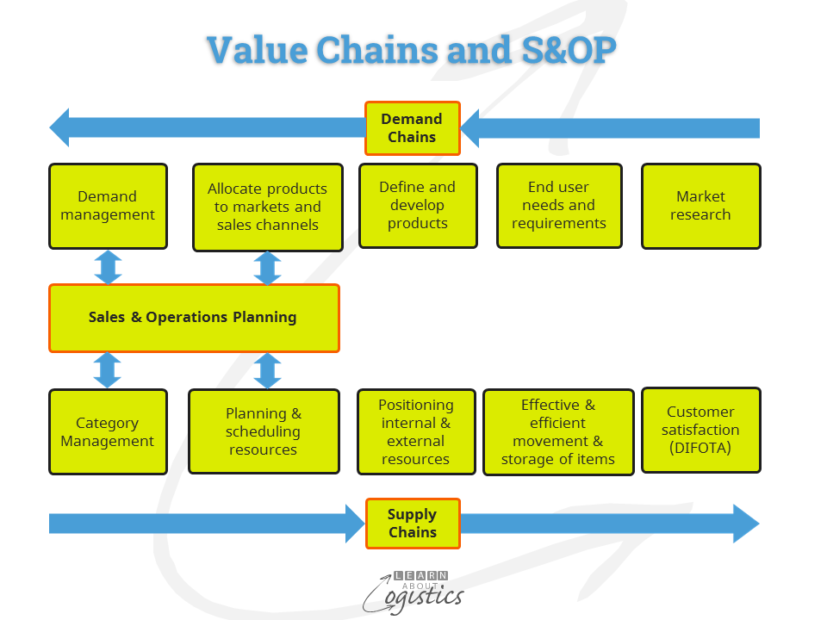 The diagram illustrates that Category Management should be a part of the Sales & Operations Planning (S&OP) process. This process is the means to connect the objectives and goals of Supply Chains (procurement, operations planning and logistics) with the objectives and goals of the business, its brands, products and services. Therefore, for the process to be effective, both demand and supply chains groups need to develop an open way of working. For Category Managers this means:
Engaging with all parts of the organisation (the stakeholders) to agree and establish the actual business and user needs for a category of supply
Sharing structured data and information with functional groups on an agreed 'need to know' basis, at decision stages in a category plan project. Stages will include:

analysis of the category's supply market and economic drivers
risk analysis, identifying uncertainties (complexity, variability and constraints) within and surrounding a supply market and mitigation actions proposed

sustainability analysis must be a part of the process, as buying and selling companies can use it to leverage and make trade-offs in their contract negotiations and decisions
balance the need by category between long-term supplier development, the total cost of ownership (TCO) and possible short-term cost savings

item requirements, supplier selection and supplier evaluation criteria
sourcing tactics and the approach to supplier relationship, based on the 'spend-risk' positioning matrix (discussed in the previous blog)

Measuring the 'success' of a category sourcing plan. How to account for changes to specifications and changes in demand patterns? These can impact cost elements within a supply contract
Category Management structure
The diagram below shows that Category Management has three elements: Planning projects, Sourcing and Supplier Relationships. They are connected and each has equal importance. Planning projects requires project planning knowledge, approaches and tools. Supplier Relationships requires the same attention as Sourcing, because a relationship is not one-sided and is rarely a 'partnership' that is assumed by too many commentators.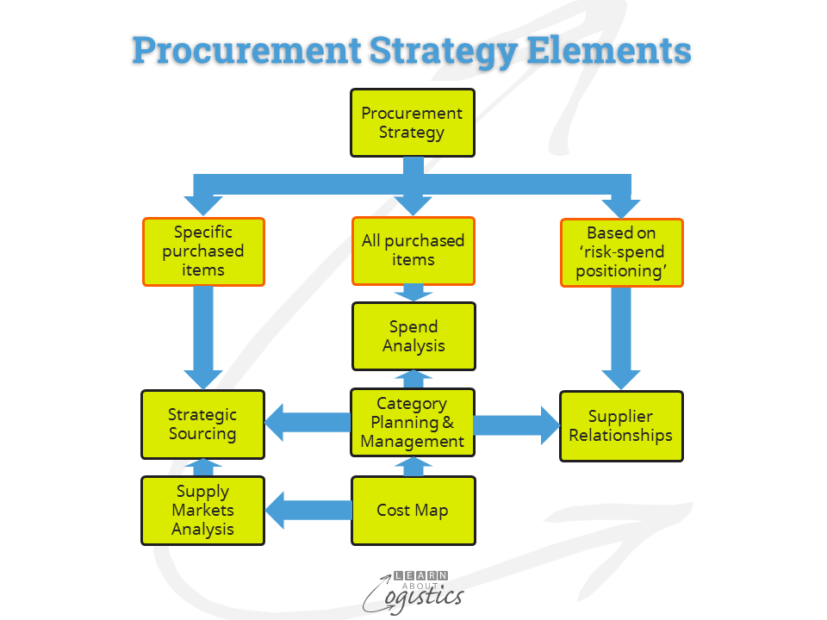 A buying organisation must define its relationship with each suppliers (the spend-risk matrix), but suppliers will also define their relationship with customers. For items that have a high impact on the business and warrant a full sourcing plan, include an analysis of how the selected supplier(s) are likely to view doing business with the buying organisation.
Some customers are worth investing resources, as they are seen as long term profit generators (defend the business), while others could enable new product, process or technical developments (invest resources). Conversely, customers with a high cost to serve (and low prospect of change) could receive minimal attention or a cost-down approach, if their percentage of sales is high.
In structuring your Supplier Relationships, try to reconcile the buyer's and (analysed) seller's approaches and the inherent risks from a prospective poor match. An example is the sub-category of 'office supplies':
the buyer views the category in the 'Competitive Routine' segment and analyses the supplier as 'Defend the Business' = a good match, as the supplier will put resources into defending the account
the buyer views the category in the 'Competitive Routine' segment and analyses the supplier as 'Minimal Attention' = a poor match, as neither party will put effort or resources into the arrangement
Decisions concerning responsibilities, authority and accountability depend on the size and complexity of your organisation. This includes how the categories are allocated – global, regional and local. An approach could be:
high-impact items are for centralised, global sourcing, requiring a complete sourcing plans with an horizon of three to five years
medium-impact items for regional sourcing, requiring an abridged sourcing plan for the next 12-18 months and
low-impact items for country sourcing, requiring a tactical negotiating plan
For each of these will be a methodology for selecting and prioritising projects, managing information gathering and risk analysis and where required, forming cross-functional teams. Workflow processes must have built-in flexibility; this allows for judgement by category managers and account for the level of impact by items on your enterprise. The overall methodology and process should be supported with an easy to use IT application that can be accessed and updated by all who 'need to know'. This is to encourage the sharing of knowledge across your organisation, which can be enhanced by an interactive capability that enables the quick sharing of information and experiences.
The design of value (demand and supply) chains that incorporate category management as the core technique for sourcing and supplier relationships enables a pathway to a change in thinking for organisations. That is from the more typical 'inside-out' structure that forecasts and plans based on internal information, to an 'outside-in' structure that responds to external (demand and supply) markets and customer/supplier signals.