Category Management within Procurement.
Despite an increasing use of the term 'strategic sourcing', the actual situation is that most sourcing exercises are not strategic, but a lot of items and services are bought. Of the total income from sales, between 60 and 75 percent will be spent on items and services in manufacturing businesses and in services businesses between 25 and 40 percent.
Luckily, in only a few circumstances are there critical risks associated with a buying requirement. But across all items and services, a better understanding of supply markets and an improvement in relationships with suppliers can provide substantial cost savings through the use of sourcing plans and tactical negotiations. To identify the most suitable approach for a buy and to manage supplier relationships, the role of Category Manager exists.
However, before either commencing a Category Management initiative or resurrecting an existing process that is not effective, financial and moral support is required within your organisation. The first step is to identify the level of acceptance (or 'buy-in') from senior executives, sponsors and affected groups (stakeholders). This is an opportunity for the head of Procurement to put on their sales hat and sell the benefits of Category Management. At the same time, to listen whether the proposal is important for the groups and assists their objectives. For approval to be given, all must accept the benefits, cost and timeline goals of implementing Category Management.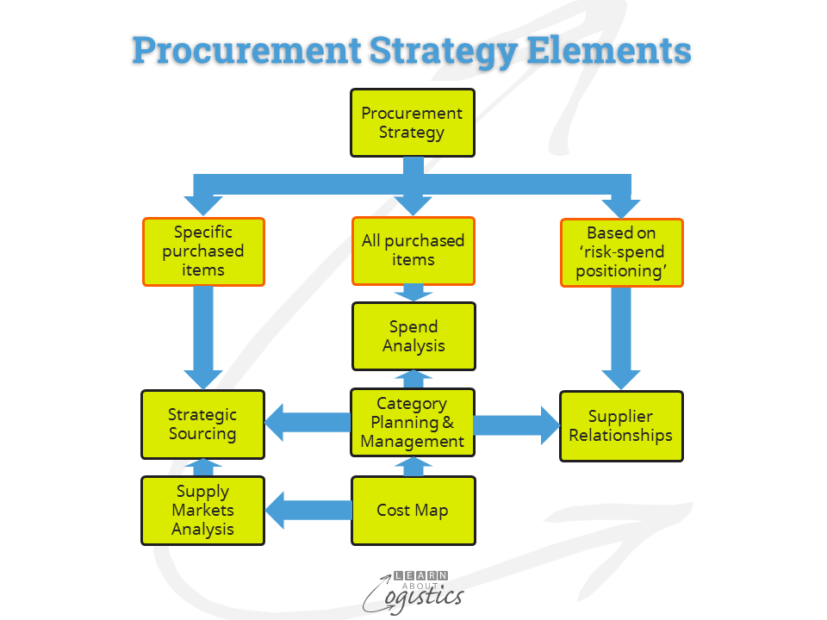 The diagram shows Category Management as a core element of an organisation's Procurement Strategy, which in turn is a core part of an enterprise's Supply Chains Strategy (combing the strategies of at least Procurement, Operations Planning and Logistics). Elements within the Procurement Strategy include:
Mission of Procurement

Procurement's influence on competitive advantage, supplier relationships and corporate profitability

Role of Procurement

To provide current and extensive knowledge of supply markets and suppliers, identifying the commercial risks to the organisation from pursuing different options
Whenever possible, to influence supply markets for the benefit of the buying organisation

Framework in which Procurement will work with other functions in the organisation's supply chains and throughout the broader organisation
Procurement organisation structure and type of staff
Category Management process
Category Management commences with the Cost Map, which segments sales income into the main groups of purchases. For manufacturing companies, the direct spend will be in groups of (say) commodities, components or ingredients and packaging. For all businesses, the indirect spend will be in such areas as: Marketing, IT and communications, Logistics services, Travel and Facilities.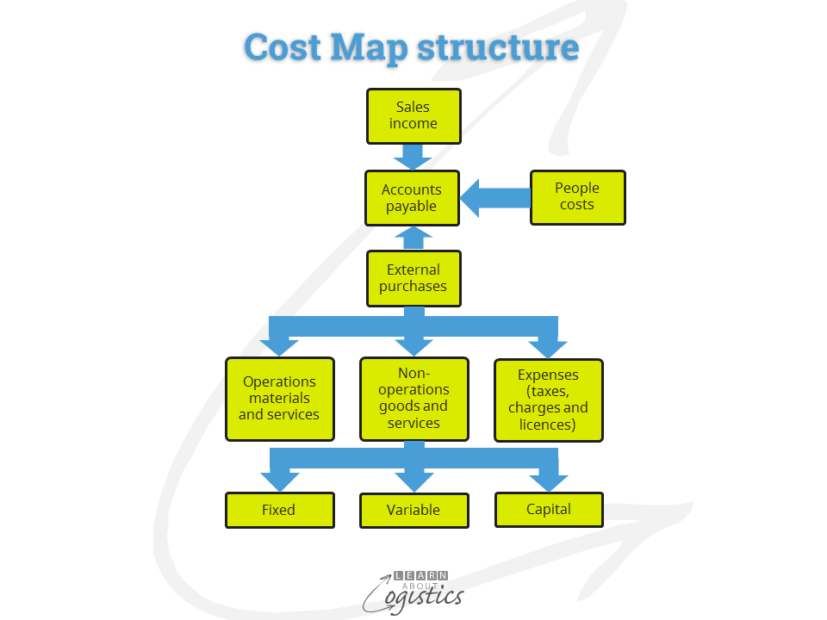 The challenges associated with undertaking a Spend Analysis are discussed in the blog Procurement Spend Analysis is hard for IT applications. Even if a thorough spend analysis cannot be completed, the exercise will provide an indication of where the money has gone and evidence for management concerning the required tools for a full analysis.
The groups of spend identified from the Cost Map are segmented into categories and sub-categories. For example, within the group named 'Facilities', one of the Categories can be named 'industrial supplies' and one of its sub-categories named 'safety glasses'. Within the group named 'Marketing', a category could be 'advertising and promotion' and a sub-category 'promotional items'.
The categories of spend will vary to suit the needs of each organisation within industries. For example, a fluid transfer pumping system will be categorised differently in the health or food industry as a gainst the waste water maintenance industry. To better understand the economics of supply and suppliers, items and services should not be based on the end-product application. It is also preferable to segment supply groups into categories and sub-categories either by the type of supply industry or the main process technology.
Having segmented items and services into categories and sub-categories, the next step is to assess and weight each buy for their potential financial and reputation impact on the organisation if the buying process goes wrong. An example of potential impact in the 'Marketing' spend group are:
high impact: product advertising
medium impact: market research
low impact: promotional items (giveaways)
For Category Management planning, sub-categories with a high impact (or risk profile) would require a complete sourcing plan, with an horizon of between three and five years. Medium impact items would have an abridged sourcing plan that considers the next 12-18 month period, while items with a low impact have a tactical negotiating plan. This approach influences the Supplier Relationship structure, based on the Spend-Risk positioning of a sub-category.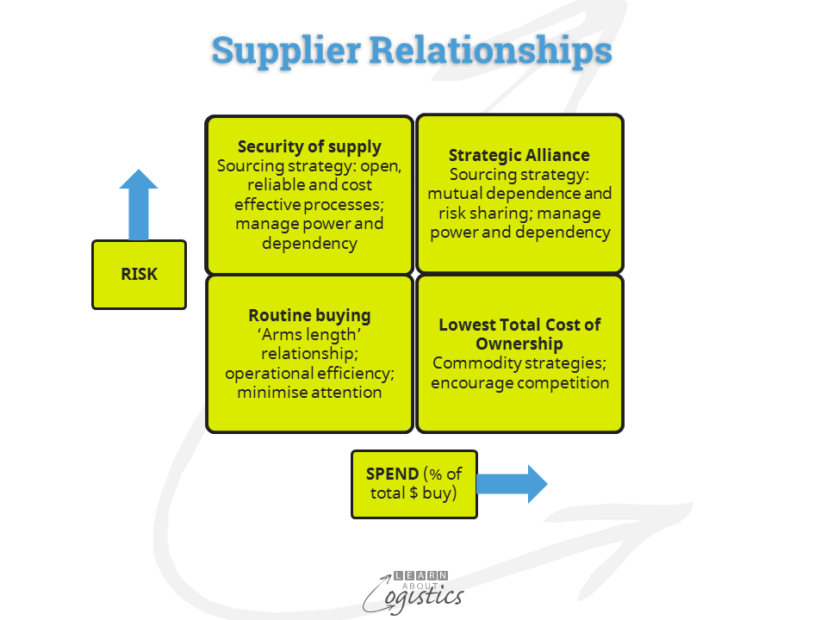 The diagram illustrates that the higher the risk in a buy, the closer attention is required by Category Management. The 'Security of Supply' segment refers to situations of limited alternatives, with service parts and capital equipment as examples. Purchase price is not as important as security of supply; therefore, close relationship with suppliers is required to remove bottlenecks in the buying and delivery process. The segment 'Strategic Alliance' refers to items and services that are critical to the success of an enterprise. To limit the risk, Category Managers needs to negotiate a mutual dependence between the parties.
In both segments, a major role for Commodity Management is managing power and dependency in the relationship. Management of a category will be affected if a buying organisation is able to exert power over its suppliers or a supplier can exert power over their customers; conversely, where there is dependency by a party on either a customer or supplier. In the lower segments, the approach is to maximise the buying organisations strengths in a supply market, while containing Procurement costs; the relationship with suppliers will therefore be much different from the upper segments.
Working within the Procurement Strategy, Commodity Management enables the structured analysis of supply markets. This knowledge allows Procurement professionals to better understand the supply markets and therefore more able structure the 'best' deals with selected and known suppliers. This is the underpinning of a successful supply network.