Starting the improvement process.
How should an effective Procurement function operate? There will be different ideas at the detail level, but are there some main points that would find general agreement?
These thoughts came about recently while having coffee with a colleague who has recently completed a consulting assignment. The assignment was to advise on 'reducing the cost of purchased items'. The expectation by the client was that training staff to negotiate lower buying prices would do the job. As so often found in supply chain consulting assignments, the scope needed to change when the real challenges became evident!
The initial review identified five pointers concerning how the business could re-position its procurement function to achieve better results from the supply market. And negotiating lower prices was not on the list!
1. Participate in the business strategy review. Like many businesses, procurement in the business is part of the finance group; not for a strategic reason, but because procurement authorises money to be spent. Finance views procurement as the 'buying office' which issues purchase orders; so, involvement with business strategy discussions is not even considered. But, policy discussion and decisions that include a a role for procurement are critical to improved business performance. Examples of such areas are: level of reliance on contract staff, using service contractors, contracting out production operations, working with logistics service providers and vertical integration. The earlier that procurement know of the policies, the better prepared they can be to structure and negotiate deals in the various supply markets.
2. Know your buying power. You do not have to be a big gorilla to exercise power in a supply market, but the numbers must be known. At the business being reviewed, collection and analysis of data concerning supply markets, suppliers (both current and potential) and economies was incomplete or non-existent. This caused the business to be reactionary – when something happened, procurement responded; but every issue was a new experience. Aligned with the lack of analysis, the only performance measure taken notice of was 'purchase price variance' – of comfort to accountants, but of little use in procurement!
3. Analyse your supply 'Category and Spend' figures. An objective of any business should be that at least 80 percent of the total external spend should be undertaken within the procurement system. But this does not mean the operational work must be done within the procurement function or department. Being able to track the money means that it can be analysed and improvements made.
The analysis starts at the corporate level, with the business numbers put against expenditures in the Cost Map.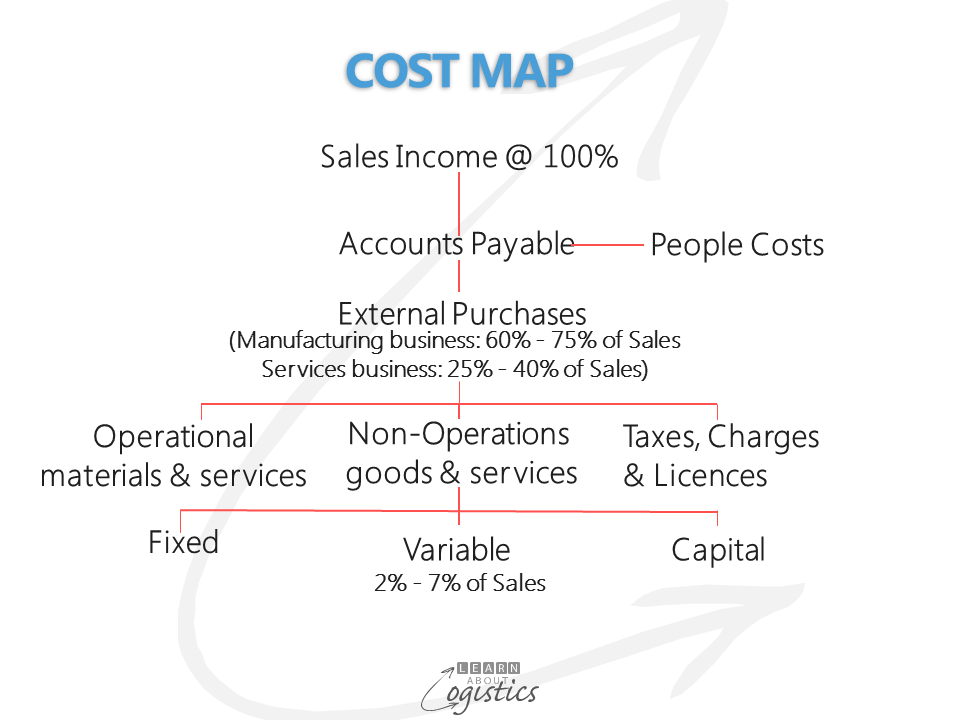 The illustration shows the major expenditures, which are then segregated into manageable groups.These groups can be structured as 'item supply markets' (e.g. metals, packaging and IT & Communications) or 'process groups' (e.g. logistics services, travel & entertainment and facilities). The next step is to identify categories and sub-categories. For example, facilities can include a category called 'industrial supplies', which has as one of its sub-categories, 'safety glasses'. Each category can then be assigned an applicable sourcing plan.
A part of the sourcing plan for a category or sub-category will be the analysis of current and future procurement spend, together with analysis of the supply market risks for that category.
4. Know your supply markets. How vulnerable is your business to disruptions in supply markets? Is there a material at tier 3 or 4 (your supplier's suppliers) that is only made by two manufacturers in the world? And importantly, how do your current and potential suppliers view you as a customer? The business under discussion did not have any idea about its markets or supplier's attitudes, except for knowledge held by individual buyers.
5. View your suppliers as a resource. Like too many businesses, this company loosely called its suppliers 'partners', yet treated them as vendors that only responded to demands via contracts. Suppliers are a resource that can be mined for information – about markets, competitors, forecasts of capacities and items, inbound stocking locations and new products and services, for example. But, to do that successfully requires building relationships and having some form of supplier performance and recognition program.
Five points for procurement success
This sounds too easy and its is. With all going well, to implement the five points will likely take the business two years and it will be longer for Procurement to be viewed as a strategic part of the business. This will require the appointment of a Procurement head who is as much a politician as a procurement professional. Getting 'buy-in' for what is needed to be done will not be easy – chief executives and finance directors are easily distracted and what is top of the page this month can be at the bottom in six months.
To assist in following the five points, the 'Procurement Wheel' illustration steps through the three parts of procurement – sourcing, purchasing and acquisition. This blog post has only discussed sourcing.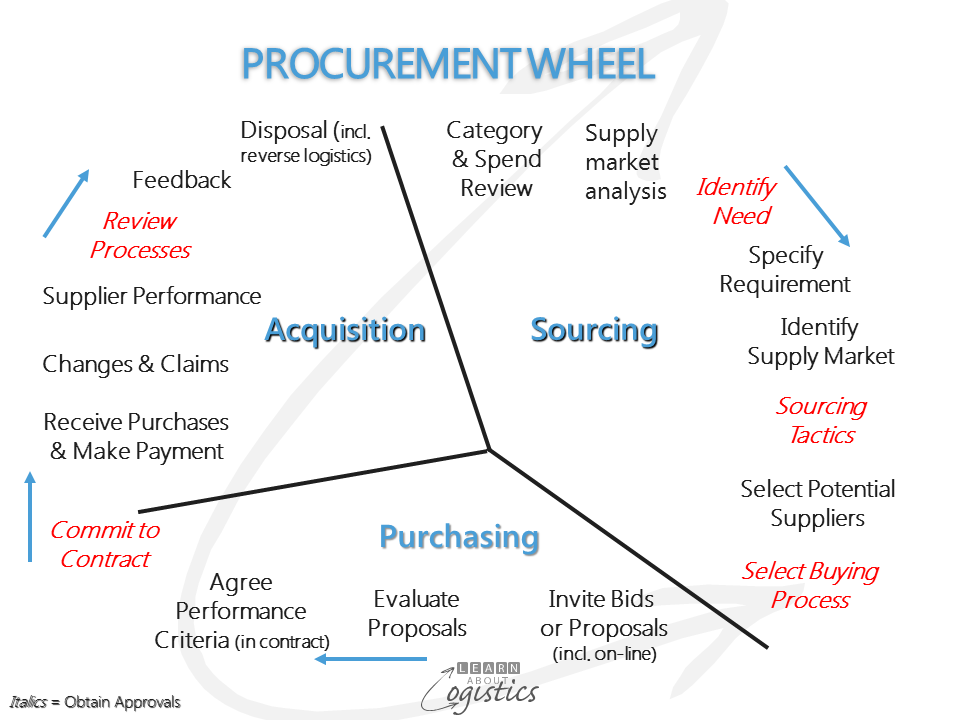 As a matter of interest, as the discussion with my colleague progressed, I was comparing the findings with an experience I had consulting to a similar size business in consumer goods about 15 years ago. You will not be surprised that the findings were substantially similar – such is progress!