Positioning customer service.
Delivering a product or service in full, on time, with accuracy (DIFOTA) is the major challenge of Logistics Management. A consistent 100 per cent customer service is  not possible statistically and, as service levels increase so do costs (such as the cost of holding inventory), often without a commensurate increase in sales.
The role of Logistics is to provide availability; therefore logistics systems, plans and processes must be geared to achieving availability for customers, internal operations and suppliers. However, if customer service cannot be maintained at 100 per cent, there must be a function that works through the potential challenges from customers.
Customer Service capability should therefore be an integral part of the Supply Chain processes (but not necessarily located within the Logistics reporting structure). And, as things will go wrong, the function should be staffed with people who are capable and trained to resolve the inevitable challenges.
Instead, we find customer service departments on 'hit lists' for offshoring to low wage cost centres, predominantly in India and the Philippines. An example is the recent situation of a major telecom business in Australia. Due to technical difficulties, the company is unable to provide a consistent service, yet at the same time decided to outsource more than 400 customer service jobs to the Philippines.
But offshore customer service centres contain challenges that accountants find difficult to cost:
staff have limits placed on their authority to act and are less able to use the 'work-arounds' that staff located in the home country could implement
staff must be trained to respond, in what might be a second language, to customers from different cultural backgrounds
the associated support systems must be a 'fail proof' design
This means that before considering the 'lower cost' offshore approach to customer service, organisations should evaluate which pre and post sales services to provide for customers; identify their value to the organisation and the total cost.
Customer service experience
As a customer, what do we expect when contacting a supplier to buy, enquire, book maintenance, dispute an account or for any other reason?
Empathy: all staff contacted should be courteous, attentive to the issues and willing to be helpful
Knowledge: Staff providing customer service must be knowledgeable about the organisation; products sold and the support systems. This enables prompt dealings with customers. As the customer is not always right in their assumptions about a situation, the service requires people with knowledge and empathy to inform the customer
Dependability: The reality is that a customer's perception of service is often formed by comparing what (and when) they actually receive against that initially offered. We want to believe the first promise made to us by a competent person, concerning our enquiry or complaint
Understanding the value that customers assign to different elements of the service package offered by a supplier can be difficult. In a consumer situation, responses to surveys provide a reasonable approximation of reality, because the questions are aimed at individuals that own and use the item. However, in a commercial or industrial environment, the 'customer' can be many people. For example, in the case of services for equipment, the customers could include the:
Engineer who initially specified the equipment
Procurement professional who undertook the commercial negotiations to buy the equipment
Operations people who use the equipment
Maintenance person who approves the visits to service the equipment
Accounting person who authorise payments under the maintenance contract
All have their own views concerning the importance of and the value they assign to the different parts of the service offering. Three methods can be considered to determine whether customers are satisfied with the pre-and post-sales services provided:
Formal customer research (best conducted by an independent research firm), which requires time, effort and money
Informal survey by sales representatives, questioning the range of people (similar to that noted above) who have an opinion. Incorporate relevant questions about the supplier's logistics capability
Informal customer feedback, which requires software that enables customer service staff to transform the informal feedback into structured knowledge that can be reported and acted upon
A holistic view of customer service
With an understanding of the required support services, each can be evaluated for value and cost, from two viewpoints. One is the people working in customer service who interact with customers. The second view is the systems, processes and procedures to support the services that underpin the products and/or services. Each view has three main elements that require review and approval by management.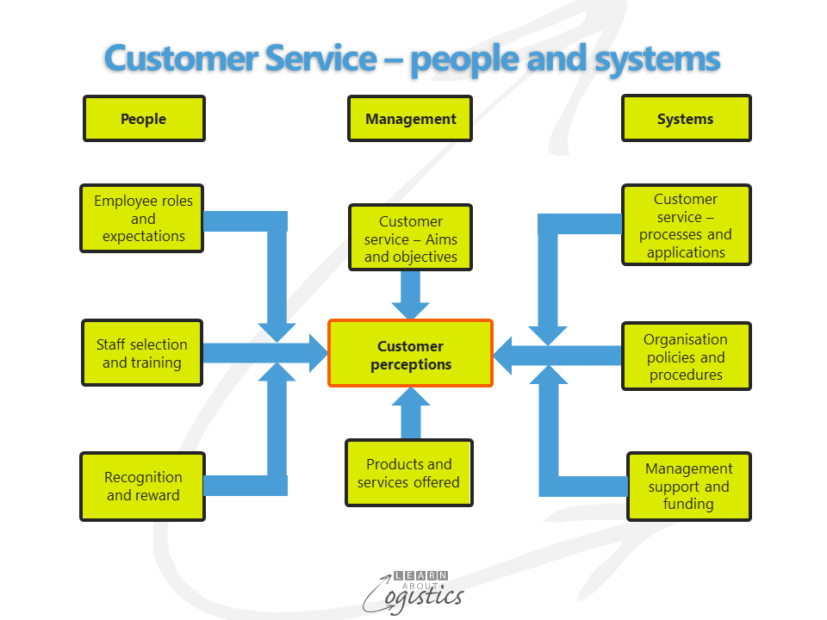 At the extremes are the views that a supplier:
has well trained and knowledgeable customer service staff, but working with poorly designed systems
has good systems, but staff who do not have a customer service ethos – 'I am just doing my job'
Situation 1 requires an investment in systems, which is manageable if the project is understood and planned. However, the second situation is more complex and with a longer horizon for implementation. An added danger is the likely turnover of managers, each of whom must be trained in the basics of customer service and needing to understand the service culture that the organisation wants to portray.
It is therefore incumbent on Logisticians to recognise the importance of customer service to Supply Chains and promote the value of people engaged with customers. This is not a role to be outsourced just because it is cheaper.