Planning for disruptions
Your successful enterprise cannot be 'demand driven' if it is not 'supply supported'. Although your business is built on serving customers, they cannot click their finger (or keyboard) and everything just happens to satisfy the demand.
A few years ago, an approach was promoted as 'demand driven supply chains'. This implied that the supply chains group (Procurement, Operations Planning and Logistics) are able to respond over any time period to the requirement of Marketing and Sales. The past two years of disruptions to supply chains has clearly demonstrated this approach to be a fallacy.
These disruptions have also highlighted the need for a more collaborative approach to planning the operations of a business over a forward horizon. Also, to recognise the importance of 'flows' through supply chains rather than the performance of departments and how 'success' is measured when working in interdisciplinary.
If senior management consider their organisation's supply chains are not responsive to customer needs, addressed the problem through implementing an integrated and collaborative tactical planning approach. Without a structured planning process for balancing 'demand driven' with 'supply supported', then fine words about being 'customer focussed' are just words. But it takes time to change the culture in an organisation.
A collaborative approach to planning
An organisation's supply chains can be vulnerable to large or extended external disruptions, when influenced by a combination of:
Demand variability coupled with internally driven (target and quotas) sales forecast
Geographically concentrated production at few large sites – owned or contracted
Higher risk logistics – selection of 3PLs, transport modes, choice of ports, shipping routes, seasons
Just in Time (JIT) supply and production
Low finished goods inventory levels coupled with output variability from ageing physical equipment
Long lead times for inputs
Sole sourcing or using non-substitutable inputs
Limited understanding of supply market risks
To address these supply chain uncertainties, the previous blogpost discussed the 'one plan' approach to integrated planning within an organisation. This showed that the 'hub' of your business is tactical planning, undertaken through the collaborative Sales & Operations Planning (S&OP) process. It is not a difficult process to follow – the challenge is to make it happen!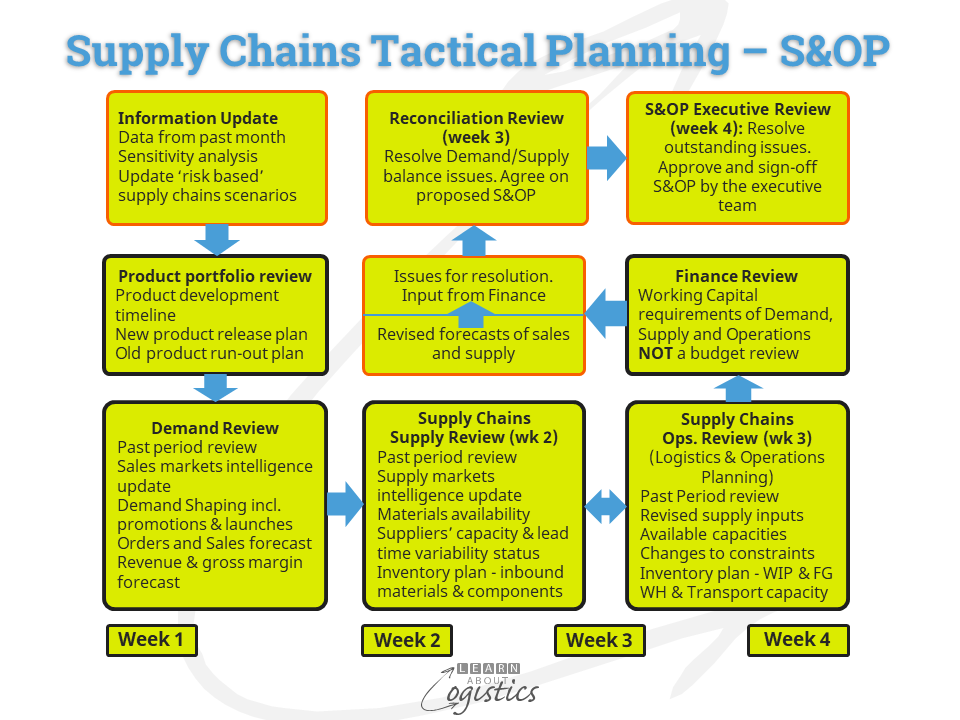 Demand and supply balancing is a tactical planning process that should not be mixed with either strategy or operations level plans. S&OP is a rolling monthly process that determines whether market demand forecasts for the planning period can be fulfilled by the organisation's internal and external resources and the supply of purchased and intra-company provided items. And this is done in a way that customer service levels and financial objectives are achieved.
The benefits of an effective S&OP process are that it:
facilitates a business to change its supply chains planning perspective from a static business and budget plan to a rolling, monthly consensus-based tactical plan
enables alignment between the sales, marketing, supply chains/operations and finance executives and their functions.
has the potential to reduce working capital and improve cash flow
S&OP is an essential tool for organisations that make and distribute products. It is also applicable for any operational business through a supply chain. For example: sales focussed organisations that outsource all manufacturing and distribution to 3rd parties; importers of products; logistics service providers (LSPs); contract manufacturers and where logistics activities need to be planned, such as a loading terminal for commodities or operating a shipping container park.
The challenge for acceptance and support of a business process with a structure is that it can be accused of being rigid in design and not responsive to evolving economic and business situations. In S&OP, this is overcome at the Information Update stage, through providing Sensitivity Analysis and Risk-based supply chain Scenarios.
Sensitivity Analysis: using the 'Data from past month' update, it evaluates the situation from the end of the 'freeze period' placed on current operations plans (i.e. when no changes allowed) out to the longest lead time of a material or component. It assesses:
how much the current forecast demand can increase and be covered by inventory and current supply orders before the business has significant customer service issues
the expected demand that is affected if supply shortages occur across the organisation's supply chains for 'critical' materials and components
This analysis identifies buffers, or 'risk adjusted' inventory volumes, effective capacity allocation and physical resources availability, to cover for unexpected events within the identified period.
Risk-based supply chain Scenarios identify the range (with likelihoods) of risks to an organisation's demand and supply profile, caused by potential and unexpected future external disruptive events. These can be identified under the main headings of:
geopolitical;
non-seasonal and extreme weather and geological events;
disputes – both commercial and labour, but large scale in a country and
supply events that may affect 'critical' materials
Only those scenarios that have a high risk weighting are updated. Through the S&OP process, participants discuss demand, supply, capacity, inventory and other risk exposures. This enables a consensus to be achieved concerning the Risk Appetite that the organisation is willing to accept. Also, the Risk Tolerance required to reduce the potential vulnerability in the 'core' supply chains (a business and its tier 1 suppliers and customers), when exposed to major market, industry or supplier disruptions. A measurable level of Resilience for the business is therefore established within the S&OP process.
Towards Collaboration
While S&OP is the vehicle to achieve collaboration, changing culture takes time. The challenge is to work at improving the process (and results) over a long time period. For S&OP to start becoming embedded in an organisation should take about six months, but it can take much longer. The time is required for
education of affected staff, both current and replacement;
revised processes to be implemented;
new performance measurements (metrics) developed, used and understood and
any new IT applications proposed, tested, purchased and implemented
Uncertainty with supply chains does not show any signs of reducing and climate change events (actual or expected) will magnify uncertainties. To manage the business for the benefit of all stakeholders therefore requires a supply chain planning regime that is guided by S&OP. It is not a 'quickie' improvement initiative, but a long term project that can transform your business. The next blogpost will discuss the S&OP review process.