A fragmented market.
A freight forwarder is not a capital intensive business, unlike a container shipping line, with investment in ships and possibly shore-side equipment. However, freight forwarders are data intensive businesses.
Any industry in this situation will have established companies open to competition from other players in the supply chains, in addition to technology based disruptors. If there is no response, this underlying competitive situation could affect the bargaining power with shipper customers and therefore profit margins of established freight forwarders.
A freight forwarder is "an individual or company that acts as an intermediary to dispatch shipments of discrete goods via sea and air common carriers and makes all arrangements for those shipments on behalf of clients" (adapted from the World Bank definition). The movement of bulk and liquid items is typically handled by specialist ship brokers.
In comparison with the container shipping industry, the freight forwarding market is more fragmented, with revenues of the top thirty companies estimated at less than 70 percent of total revenue for the sector. By comparison, the top 10 container shipping companies have a more than 80 percent market share. The top freight forwarders are listed in the table: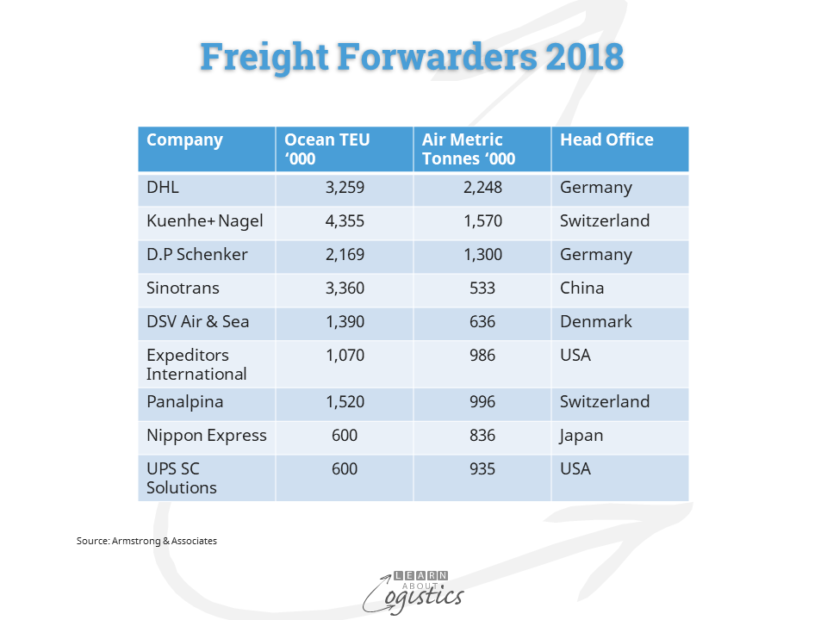 Trends and threats from competitors
The structure of international trade means that supply chains are likely to remain a complex system of global, regional and country based nodes and links, which are operated by multiple transport modes that freight forwarders contract with to provide services for clients. Freight forwarders therefore have business dealings with multiple parties in supply chains and are structured to respond to disruptions.
It should therefore be a reasonable assumption that freight forwarders will be able to cope with potential disruptions to global trade caused by natural physical interruptions, political actions, the trend to regionalisation and growth of emerging markets, especially in intra-Asia trade.
However, change in the freight forwarding market is likely to occur through competitive action. For example, in air freight, the courier, express and parcel (CEP) sector has seen the growth of major global businesses – DHL, UPS, FedEx and others, that have mastered the process of door to door delivery.
Due to their investment in physical and data technology, which has underpinned productivity and expansion, they have moved into the general air freight business, which has reduced market share of the established air freight forwarders. An additional threat has been the growth of eCommerce, where the sector has attracted new, non-traditional players with their own distribution systems, such as Amazon and Alibaba.
In the sea freight sector, container shipping companies have focussed on reducing total costs and merger and acquisition (M&A) activity. A threat to established freight forwarders is that container shipping companies will identify that a vertically integrated business allows profits to be taken at each link in a supply chain. Therefore, rather than take the time and expense to build new business streams, they will acquire or buy a substantial shareholding in established freight forwarders – this is already occurring.
Threats and opportunities from digital technology
The implementation and use of technology in freight forwarding is growing as both a threat and opportunity and is likely to influence changes in business structures and processes.
Disintermediation is a term which means to use technology as a means of removing inefficient middlemen from an industry. In this case, it is the potential removal of freight forwarders from their relationship between shippers and freight carriers, allowing shippers to communicate and contract directly with carriers. The interested players in this development are technology start-ups and ocean container shipping carriers.
Applications provided by start-ups, which enables convenient price comparison between carriers, moves power in negotiations towards shippers. This action may influence freight rates and profit margins of service providers in supply chains.
To remain competitive has required established freight forwarders to fund digital technology projects that enhance their business relationships. Investments have been to enhance client's visibility of consignments through providing track and trace capability and on-line reporting tools. Investments can also be internally directed to automate repetitive back-office processes, thereby improving productivity and facilitating client contacts.
Another function open to digital investment is online freight quotation and consignment booking. This platform type has been an area of interest for technology start-ups to target small-to-medium sized enterprises (SMEs). The development of cloud-based technologies, eCommerce and digital applications have together allowed SMEs the potential to consider the world as their market, with low initial investment in technology to achieve an outcome.
Established freight forwarders have also identified this opportunity for business growth. Due to their size and geographical reach, the freight forwarders that have entered this market are able to offer additional value added services to assist SMEs in growing their global business. To discuss the steps required of SMEs to deliver their first international sale, the next blog will be presented by Toby Edwards, the CEO of ShipaFreight, a subsidiary of Agility, a company in the top 30 of international freight forwarders.
While the advent of technology applications can be considered to be good for shippers, the situation with freight that goes across borders is that the process remains complex. Their are many parties included in the multiple transactions through supply chains in all markets. Shippers should therefore not expect to find an 'integrated' technology platform that provides complete functionality in all aspects of the external flows through their supply chains.
At best, there will be applications which can assist the process through improving specific aspects or providing assistance for specific markets; businesses offering these applications will take some market share from established freight forwarders. However, supported by technology tools, successful freight forwarders will be able to provide additional value-added services for clients, thereby providing a more personalised service.