Structure for the planning process
To build a Supply Chains Strategic Plan requires knowledge of an organisation's Supply Network, the wider political and economic environment and interactions throughout the organisation that can influence the Plan's effectiveness.
Your supply chains will not become 'integrated' if the Supply Network comprises independent organisations with their own business objectives and policies. The aim must therefore be to build knowledge about the supply chains, including an understanding of the critical supply markets on which your organisation relies.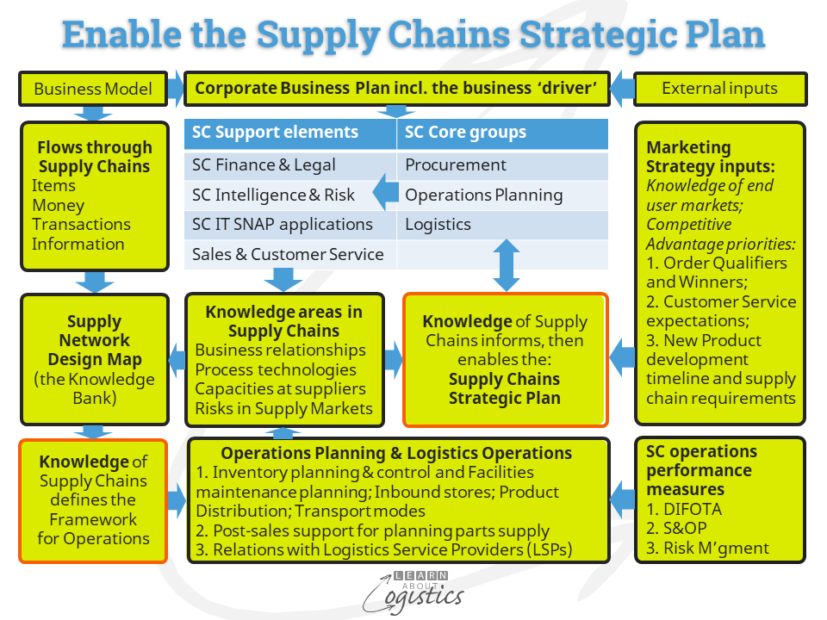 An important element of the structure is the 'driver' for the business – what sets it apart from competitors, which is likely to influence the structure and operations of supply chains. Examples from clients has been: fast and accurate response to "how much and when can I get it?" and own or control the channels of distribution.
Organising for supply chains
An organisation's supply chains should be focused on managing processes rather than having a function or department based structure. Individuals and teams can be combined to execute supply chain processes that achieve the required outcomes.
A senior person should be responsible for these processes and the management of business relationships. An increasing number of businesses are appointing supply chain managers, directors and vice presidents, but their responsibilities vary.
The title does not automatically imply that the person responsible for supply chains must have executive responsibility for all the elements. However, the senior supply chain person must be responsible for the performance of flows (items, money, data transactions and information) through the supply chains.
The diagram above shows the core supply chain group consisting of Procurement, Operations Planning and Logistics. Also within an organisation will be elements that support the supply chains effort:
Finance: managing cash flow, working capital, credit risk and supplier support
Legal: governance of global supply chains; compliance with international trade agreements and domestic laws and regulations
Intelligence & Risk: a knowledge base about the supply chains that enables an improved allocation of risk
IT: specific Supply Chain Analysis & Planning (SNAP) applications software; communications integration and interfacing; mobile computing and sensors on equipment for 'in transit' visibility (the Industrial Internet of Things – IIoT)
Sales & Customer Service: the flow of sales orders as a moving average rather than 'end of month sales rush'; promotions activity; customer complaints concerning service
The question that can take a lot of executive time is where do all these capabilities belong in the organisation? The disciplines can operate as one group or each reports to different managers, with a dotted line reporting relationship to the senior supply chains person (this is matrix management). The choice will depend on the enterprise culture, its location and markets. To help answer the organisation question, senior management should review the following:
What decisions are critical within the supply network?
Where in the supply chains structure should these decisions be made?
Do the people who are expected to make these decisions have sufficient authority?
Have the decision makers received appropriate training to make good decisions quickly?
Knowledge areas in Supply Chains
Building a Supply Network Design Map can be a substantial task, therefore the Map is progressively built, as information and data become available. For example, while the corporate system will contain information concerning a supplier, it is unlikely to have the location and operational details of the supplier's factories that provide the required items. Examples provided in the diagram of knowledge required are:
Business relationships: The extent and depth of business relationships with suppliers has a correlation to the extent and timing of information flows. The business relationships that Marketing has with customers should provide similar results
Process technologies: Suppliers investment in technologies that assist their processes can influence lead times and order quantities. Also, investment in IT applications
Capacities at suppliers: Maintenance shutdowns and demand by other buyers can influence the available capacity at suppliers
Risks in Supply Markets: knowledge of the supply markets for critical materials, even if they are contained in items provided by tier 3 or 4 suppliers
Develop a Supply Network Design Map
The diagram below illustrates that the Map is developed from flows – the transfer of materials/items, money, transaction data and information. These are through each supply chain, from supplier's suppliers to customer's customers, based on contractual agreements and responsibilities with suppliers and customers. The transfers are between the nodes (for suppliers) and links (for 3PLs).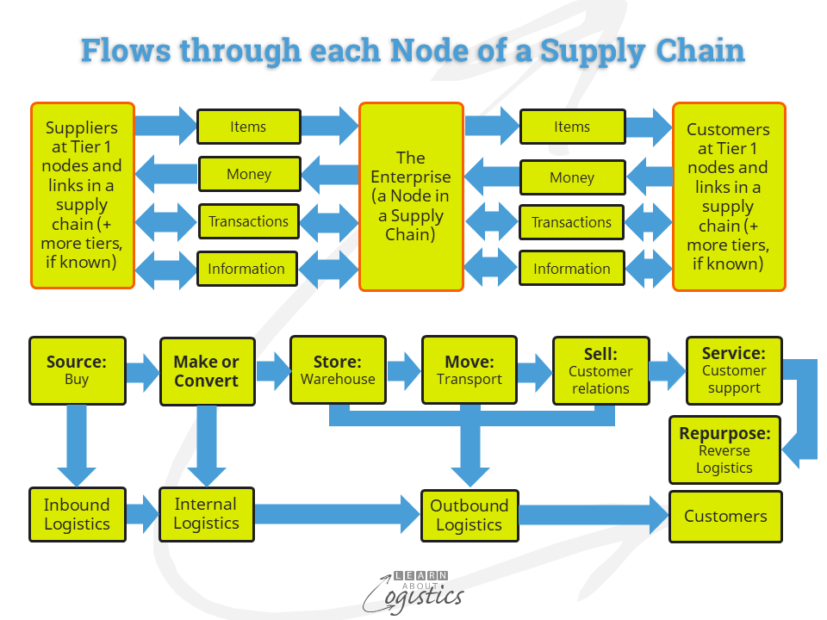 Nodes – each location in the Network which holds material, items or money. Details of core suppliers and customers at their respective manufacturing and warehouse locations

Variables – factors that can change the physical or financial values of items and money at a node

Links – transport movements of materials and items between nodes. Identify organisations that own, control or influence critical links
The objective of the Supply Network Design Map is to translate unit volume and flow data into a 'what-if' analysis for gross margin, using risk, (addressing complexity, variability and constraints) and sustainability objectives. Mapping provides a visual structure of the business interactions, identifying:
Customer demand patterns through each outbound Supply Chain
Where value adding is occurring through each Supply Chain
Weak links in each Supply Chain, identifying:

redundant nodes and links
benefits and costs of alternatives
Input from Marketing is required that identifies the the essence of competitive advantage for the business. This will include: Order Qualifiers and Winners; Customer Service expectations and the New Product development timeline and supply chain requirements.
Define the Framework for Operations
As knowledge about the supply chains is accumulated, it helps to define the structure and processes of supply chain operations – Operations Planning and Logistics Operations. As identified in the top diagram, operations are also informed by the operational performance measures: delivery performance probability (delivery in full, on time, with accuracy – DIFOTA); providing Availability for customers (through the Sales and Operations Plan – S&OP) and minimising Uncertainty (through management of risk).
The current pandemic has heightened the perception (and therefore expectation) of supply chains. But, to structure a strategic plan for the next 3 – 5 year horizon requires building a knowledge base of your supply network; this is the Supply Network Design Map.