Supply chains are more than cost.
The recent US presidential campaign shone the light on bringing jobs back to America – sometimes called on-shoring or re-shoring. Although Apple has been the target company, the possibility is there for many other businesses. But while the rhetoric and comments have mainly focused on costs and price, little discussion has occurred about the challenges of changing a supply network.
The 'China price' is a term used to identify the lowest factory gate price for an item. But as other countries in SE and South Asia have entered the global manufacturing scene, some can demonstrate a lower price than China for low complexity items, such as apparel. However, while direct labour costs in the Chinese manufacturing centres have increased, they do not appear to have influenced the outcomes of supply network reviews for companies with higher complexity products. So, it is more than increasing labour costs to change supply networks.
An organisation's supply network is built over many years. It is usually complex and like any system can change of itself. For this reason, organisations should have a process to periodically understand, review and modify their supply network. Extensive changes to global supply networks started to occur from 1980, when China authorised the first Special Economic Zone in Shenzhen; so outsourcing and off-shoring have developed over many years to become a part of corporate supply networks.
To extensively change a supply network due to political influence could be a major exercise – not impossible, but with an expectation of many years to develop new business relationships. And for what cost and benefits to private businesses owned by shareholders?
The mapping and planning of supply networks are most common in businesses associated with fast moving consumer goods (FMCG) and those governed by 'use-by' dates, designated as consumer packaged goods (CPG) businesses. Challenges to address in the network planning process may involve:
End user markets
short product life-cycles for products – the need for small volumes for an extensive variety of products
reduce the time-to-market, with fast ramp-up of product availability following product launch
proximity to end-user markets
margin erosion forced by major retailers
extent of ownership, control or influence at the downstream nodes and links
extent of collaborations with customers
extent of collaborations with Logistics Service Providers
need to advertise products as made in the country where sold
cost of returning, repairing and replacing defective products
Supply markets
difficulty in moving electronics and apparel industries from Asia because supply chains are mainly based in the region
level of outsourced operations vs. in-company e.g. Apple is a design and marketing company that has approximately 70 percent of suppliers based in Asia, 20 percent in Europe and 10 percent in America; Samsung is more of a manufacturer and produces a high proportion of components in-house
manufacturing and sourcing policies of MNCs = China+1 or 2 other countries
extent of ownership, control or influence at the upstream nodes and links
extent of collaborations with suppliers, including contract manufacturers
supply constraints for some critical materials
supplier profitability and potential exit from the supply market
sustainability and environmental concerns
availability of skilled labour e.g. Apple identifies a shortage of toolmakers in America as a concern
labour intensive and capital intensive manufacturing infrastructure requirements and availability e.g. electronic product assembly vs wafer fabrication
supply of design, development, software and marketing to be in-company or outsourced in developed or developing country locations
Transport
seasonal availability of capacity on ships and aircraft (east west shipping lanes)
falling ocean freight cost, affecting longer term capacity and choice of carrier
Supply Chain design
Given the range of possible challenges, organisations must use a structured approach to reviewing their supply network. It starts with considering, each product group to confirm where products should be made or sourced and how they should be moved and stored. The diagram illustrates the main product factors that affect design of a supply chain: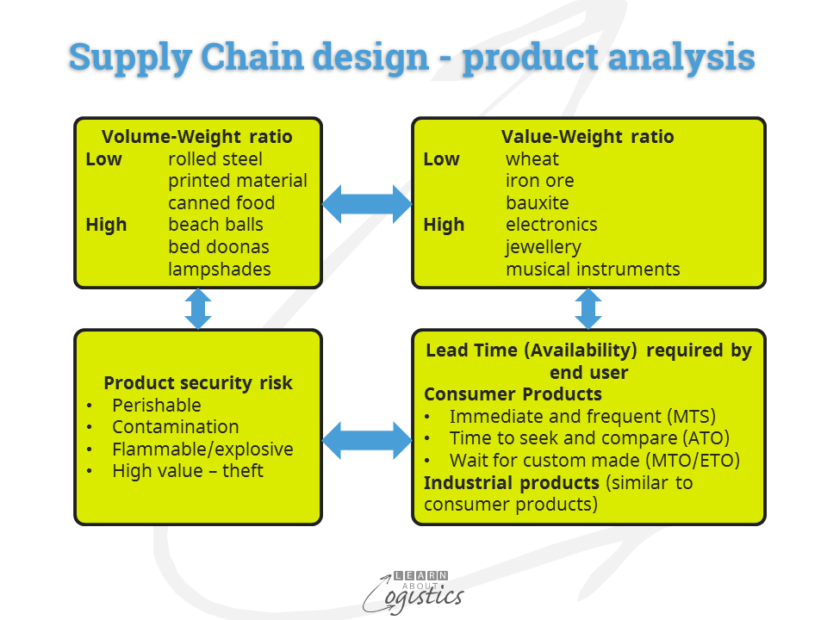 The Volume:Weight and Value:Weight ratios provide input concerning decisions about how close to end-user markets the product should be made and the modes of transport to use. For example, high Value to Weight items can be manufactured in central locations where the desired skills are available and the product sent (by airfreight?) to the sales locations. Conversely, items with a high Volume:Weight ratio are best locate where transport costs are low, given the high proportion of air in the finished package
Immediacy of delivery requirements (Lead time/Availability) indicates the requirement for holding inventory, which can affect logistics settings based on the Volume:Weight and Value:Weight ratios
The product security risk defines the type of storage security required
In addition, data is required that identifies:
direction and volume of material flows
core supplier and customer location details
ownership and control of specific nodes and links in the network
product life cycle status. For example, in the introduction and decline stages of a product, a more agile, flexible and responsive logistics structure is required. Alternatively, a mature product requires a stable, predictable and low-cost solution
The benefits of a review of your organisation's supply network design are that it:
provides the 'big picture' of the business
assists in maintaining competitiveness through a focus on customers' demand patterns
shows how value is being driven through each of the supply chains, to identify and rationalise redundant nodes and links in the network
The supply network plan addresses where to design, make, buy, stock and distribute your organisation's products. This is the exercise that should be undertaken on a regular basis; if there are a number of supply chains, then review some each year so the total network is reviewed every four years. While the global tax structure has a strong influence concerning where products are made and sold, this complex topic is reserved for a separate post.