Understanding supply markets
This is an core requirement of Procurement. The global pandemic has affected supply markets in different ways and organisations at nodes through supply chains were often unaware of the changing situation.
Supply markets can be complex to understand, requiring a comprehensive knowledge of a market. Adding to this need is the continuing uncertainty (therefore risks), concerning community transmitted virus, geopolitics, international trade and increasing disruption to supply chains from climate change induced events.
Procurement will need to assume a more strategic role within organisations. Working with Logistics and Operations Planning, the role of Procurement is to enhance an organisation's supply chains capability, rather than be a price focussed buyer.
A definition of Procurement is: the process by which an organisation contracts with third parties to obtain the goods and services required to fulfil its objectives in the most timely and cost-effective manner (adapted from Steele & Court 1996). In meeting this definition, while enhancing supply chains, requires Procurement to incorporate:
Analysing Supply Markets and Sourcing conditions, through gathering market intelligence
Risk Management process
Providing advice to senior management concerning outsourcing and off-shoring decisions
Managing relationships with suppliers and internal customers
Supplier development programs
Designing Contracts for 'whole of life' scenarios
Financing supply networks, including cash flow and working capital requirements
The first bullet point in the list – Analysing Supply Markets is required because supply chains contain two parts:
Core supply chains that are defined through contracts and relationships between your organisation, the tier 1 suppliers and customers and the links into and out of your facilities
Extended supply chains, which extend outwards from tier 2 suppliers and customers. Typically, a business has no contracts or relationships with these entities. Increasing uncertainties (which are risks) requires your organisation to gain a better understanding of the extended supply chains that can affect your business
To understand supply markets and then use the information gained requires a process
Supply Markets Plan
The previous blogpost discussed the increasing need for organisations to implement Sales and Operations Planning (S&OP) as their corporate tactical planning process. Inputs to the S&OP are the:
Demand Plan from Sales and
Supply Markets Plan and Capacity Plan from Operations
Generating the Supply Markets Plan is the strategic process within Procurement. The aim is to position your organisation to take advantage of current and impending situations in supply markets. The objective is to identify, build and ensure the existence of a competitive supply base within each supply market; able to provide the lowest total cost of ownership (TCO). In addition to the Supply Markets Plan being an input to the Sales & Operations Plan (S&OP), it is an attachment to the Procurement Strategy.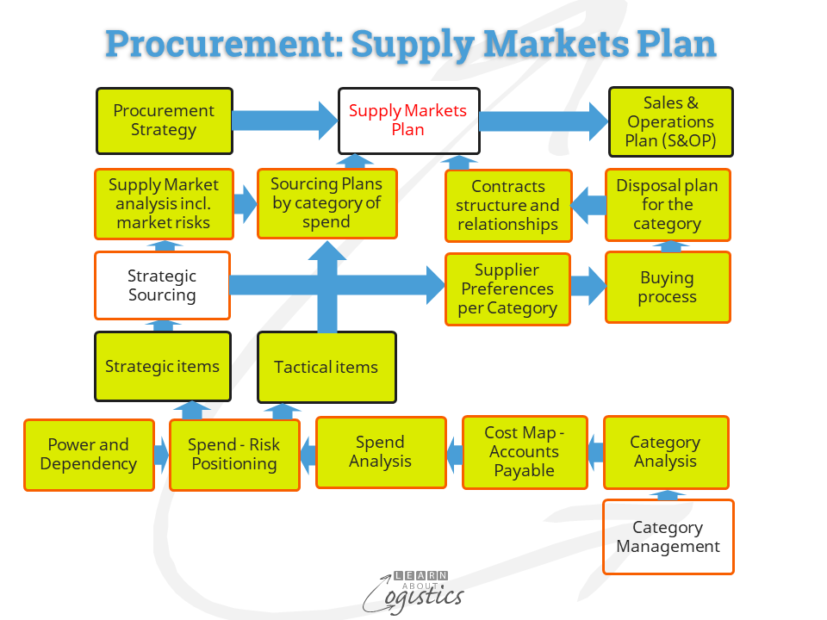 The diagram illustrates the flow to a Supply Markets Plan, which contains two separate but linked activities: Category Management and Strategic Sourcing. Activity associated with a Supply Markets Plan is not related to any purchasing activity and occurs well before action concerning specific purchases.
Of the total income from sales, a manufacturing businesses could spend between 60 and 75 percent on items. In services businesses, it could be between 25 and 40 percent. This is a lot of buying, but the majority of items will be of low value and easily obtained. However, the unit value (or even annual spend) for an item is insufficient to identify the approach of Procurement to a supply market.
Of equal importance is how critical the item is to your organisation and the structure and location of the supply market. Examples have been discussed in articles of past supply problems that have shut factories, caused by shortages of supposed minor items such as adhesives, coating for cans and an ingredient in confectionery.
Category Management is the process that provides a working structure for the list of purchased items. It includes:
Category Analysis: the allocation of purchased items to their categories and sub-categories;
Spend Analysis: uses input from the 'Cost Map' of suppliers and expenditures;
'Spend – Risk Positioning': a matrix developed using the consolidated spend for a category or sub-category from the Cost Map and the Risk Analysis for that category
Power and Dependency: where a buying organisation is able to exert power over suppliers or a market; or suppliers can exert power over a customers. Conversely, where there is dependency on a market, customer or supplier
A requirement of Category Management is that the inbound supply chain for a category is understood and defined by Procurement and agreed by Logistics and Operations Planning (the three core disciplines in the supply chains group). In part, this action requires that all supply risks, including supply market and flow process related risks, are identified and mitigated.
To assist with understanding, the diagram shows the risks for categories, markets and flows as separate actions. In reality, the Risk Management process contains the analysis of all risks within and outside an organisation's supply chains.
Strategic Sourcing comprises interactions with supply markets to understand the current and potential situation and whether the organisation is in a position to influence a supply market. This enables an organisation to approach the supply market with confidence concerning real needs and the potential of suppliers in the supply market to provide the required item(s).
The diagram illustrates the two parts of Strategic Sourcing:
Supply Markets Analysis, including supply markets intelligence and risk analysis, leading to Sourcing Plans by category
Contracts structure and Supplier relationships based on Supplier Preference per category, the buying process and the Disposal Plan
Knowledge of the relevant supply markets (including possible future delays caused by material shortage and transport bottlenecks), enables Procurement specialists to better negotiate effective contracts with the Core suppliers.
Internal stakeholder support
It is critical to the success of this Procurement activity that all relevant stakeholders are identified and involved in the process. Know the stakeholders and users, ensure that consultation is conducted and obtain buy-in and approvals.
If stakeholder support and buy-in is not secured, then an approach such as building Supply Market Plan will not achieve the objectives. This is because the new process differs from expectations concerning the role of Procurement.
It is also critical that the expectations of senior management are understood, including how they propose to measure success for the new process. Unfortunately, what the Procurement function thinks should be achieved will be supported by the senior stakeholders.