An announcement about AI
The more general use of Artificial Intelligence (AI) became a step closer with the recent announcement by Microsoft of Copilot for Office 365. However, does this mean the beginning of the Peak of inflated expectations (from the Gartner Hype Cycle)? This is when the hype of the new technology, its multiple uses and ease of implement promotion has a reality check of reduced expectations.
The announcement noted that Copilot "allows Office users to "summon it to generate text in documents, create PowerPoint presentations based on Word documents, or help use features like PivotTables in Excel". Of even more interest to those considering AI based applications for business use was the statement that "Sometimes Copilot will get it right, other times it will be usefully wrong"!
Different thinking about the role of AI
This new IT term recognises that an application that uses AI does not have to be 'perfect', but can provide users with an indication of possible improvements in decisions. Is this what we should look for in applications for supply chains that incorporate functions of AI? This is an approach to AI considered by Erik Brynjolfsson, director of the Digital Economy Lab at the Stanford Institute for Human-Centered AI.
He considers that "One of the biggest misconceptions about AI – especially among AI researchers – is that it needs to do everything that humans do and replace them to be effective". Instead, an alternative route, which has been taken by the Toyota Research Institute among others, is that an autonomous system is used as a 'guardian angel'. "With a person making most decisions, the AI intervenes occasionally – for instance, when there's a looming accident in a self-driving car. I think this is a good model, not only for cars , but for many other applications where humans and machines work together".
This approach has value in planning supply chains, where it is better that AI is not required to develop the 'perfect' operations plan or transport route within a 'complex, adaptable system' of supply networks. Instead, the AI is there to ask the knowledgeable planner to consider options B or C or D and provides the evidence. This enables the planner to make an improved decision, while considering the many options and constraints that may be occurring.
Implementation to deliver expected results
The need for different thinking about the implementation of digitalisation in supply chains has been highlighted in a new report from PwC. The report states that more than 80 percent of respondents note their "supply chain technology investments have not fully delivered expected results". The report authors believe the failure to see expected results "lies not with the technologies themselves but with a lack of effective implementation planning by the companies".
Despite a lack of satisfaction with current technology implementations, companies are actively considering future purchases. The technology reported to receive the most investment in the future is Artificial Intelligence – a term used to cover a number of technologies. For most applications in supply chains, the most likely technology will be Machine Learning (ML), also called Cognitive Computing. A definition of ML is: 'decision-making enabled by computers 'learning' in real-time from data patterns and feedback provided by other digital technologies and human input, rather than being pre-programmed to follow a fixed set of rules'.
Purchase and Implementation of AI
The approach to buying or developing applications that incorporate AI will differ. eCommerce businesses and third party logistics service (3PLs) have Logistics as their core business. 3PLs provide goods movement services such as:
Goods movement and storage services
Transport services (sea, air, road and rail)
Logistics infrastructure providers (sea & air ports, container parks)
Logistics Services multi-modal cluster providers – logistics hub, inland ports, freight village
The directors of these companies are more likely to approve projects that require 'new' technologies, if they improve the customer experiences and process efficiency.
However, at shippers (e.g. manufacturers), the functions within the supply chain group of Procurement, Operations Planning and Logistics must compete for investment funds with other functions. Gaining internal support for supply chain focused applications that contain 'new' technologies can be difficult. Studies over the years have shown that implementation of ERP systems has not led to improved profitability or return on investment (ROI). The 'savings' for businesses has been in improved planning decisions, which are difficult to measure.
The reality will be that except for large multi-nationals, businesses will have difficulty attracting and retaining qualified and knowledgeable AI technical personnel. It is therefore more likely that AI capability will be embedded in Supply Network Analysis and Planning (SNAP) applications, which could be provided as a service by larger 3PLs, specialist consultancies and software suppliers.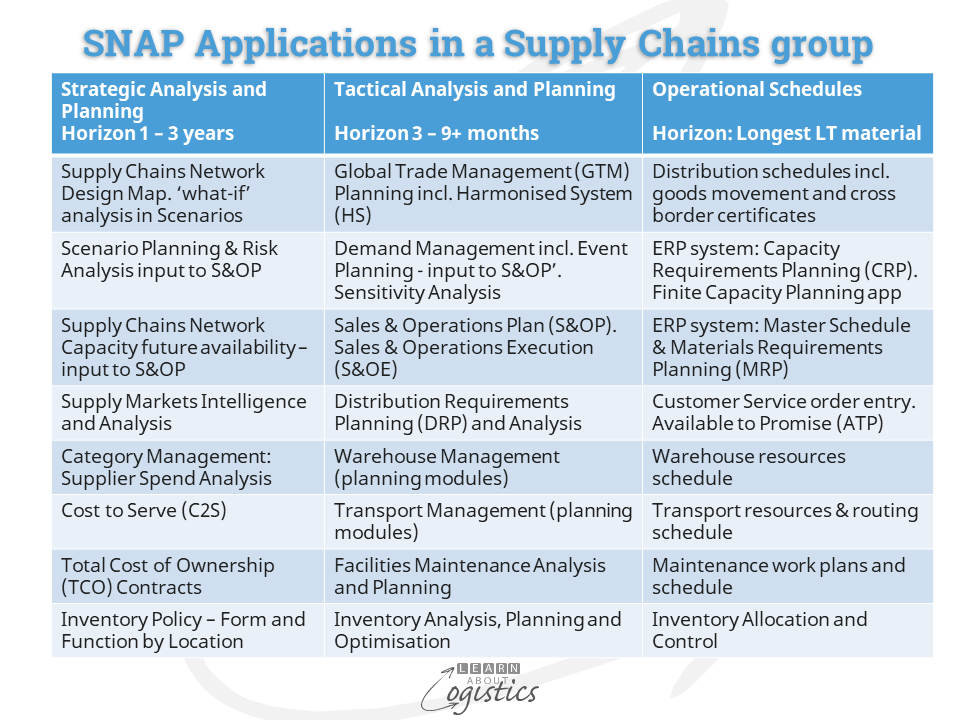 These applications improve access and interrogation of data from markets, distribution channels and sensors that monitor movements of items through supply chains. However, as always, the main challenge of selecting and implementing the software technologies is not technical. Instead it is an understanding of your organisation's business challenges and capabilities and how the application will address them.
The skill required of supply chain professionals will be to ask the questions concerning how the new applications can respond to the challenges in your supply chains, which does not require supply chain professionals to become analysts. However, there will be a need to 'talk the language', so an understanding of quantitative analysis and modelling applied to supply chains is a capability to acquire.
It would appear to be obvious that the implementation of new technologies will require significant training at all levels in the Supply Chains group. The PwC survey identified that more than 60 percent of respondents expect that supply chain digitalization will require some 'upskilling' of employees. However, only 7% of survey respondents said that digital upskilling was a top priority!
The report states "We are seeing organizations struggle with technology investments because they haven't changed the way they work alongside the tech. Instead, they are prioritizing increasing efficiency and cutting costs alone". More than forty years ago, when MRP and later ERP systems were being implemented, managers learnt the hard way that the priority for people involved was not teaching which keys to press but why the process was happening. If they did not understand the 'why', then the 'how' would be a mindless exercise that led to mistakes and a loss of trust in outputs from the system. Unfortunately, it appears that nothing has been learnt by this generation. Do not let it happen in your organisation.