Future changes to your supply chains.
Moving an organisation to operating as Digital Supply Chains (DSC) is a long journey and one that will require considerable effort (and some luck) for CEOs to gain the support of all who can exert influence on decisions.
The long journey is highlighted by an excerpt from an article written 19 years ago – it could have been written today without a word being changed! The author stated that "To be fully effective, flows through a supply chain must be managed in an integrated and holistic manner; this includes the internal flows between functions. Integrated supply chains facilitate agility, as companies are then able to act on real demand".
DSC is not digitising the current processes, but a fundamental change in approach to business structures, utilising digital technologies. The potential computational power, availability of data and capabilities of technologies associated with DSC will, over time, influence a change in thinking about the design and operations of supply chains.
Some commentators consider the major change will be from the current view of relationships as 'inside-out' (the organisation at the centre using structured data and information for relating to customers and suppliers) to the future 'outside-in' (receiving, interpreting and acting upon structured, unstructured and semi-structured inputs from wider customer and supplier market places).
While the change is evolving and software applications are improved (and sold at an affordable price) to support the change, supply chain professionals can implement the necessary enablers for future changes to be successful.
Moments of Truth
A major enabler is to map your Supply Network and from that, identify the Moments of Truth. This term was defined in the late 1980s by Jan Carlzon, the CEO of Scandinavian Airline Systems (SAS) in his book Moments of Truth. His concept was that a person forms a perception of an organisation in a short amount of time (the moment of truth) and a decision is made whether to complete a buy or sell transaction.
There are multiple 'Moments of Truth' experiences in an organisation and they are mainly related to an organisation's supply chains. The current flows for most businesses is typically 'order to cash', 'procure to pay' and 'forecast to deliver' and it is through these processes that Moments of Truth occur. However, as enterprises build digital based processes toward DSC, the Moments of Truth will change, but supply chain professionals need to know where the Moments currently exist.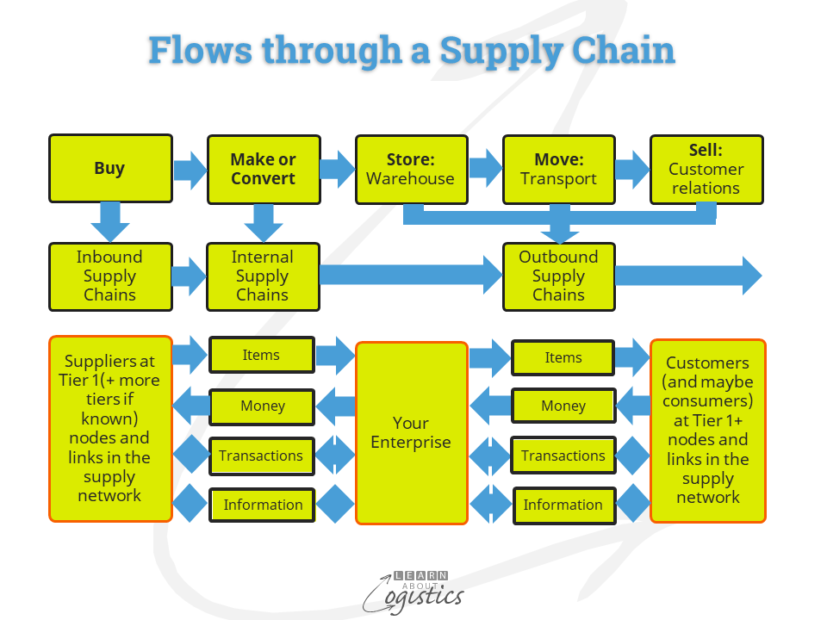 To identify where the current Moments may occur requires the development of a Supply Network Map. The diagram illustrates that the Map is developed from flows – the transfer of materials/items, money, transaction data and information; from supplier's suppliers to customer's customers, based on contractual agreements and responsibilities with suppliers and customers. The transfers are between the nodes and links in your organisation's network:
Nodes – each location in the Network which holds material, items or money. Obtain details of core suppliers and customers at their respective manufacturing and warehouse locations

Variables – factors that can change the physical or financial values of items and money at a node

Links – transport movements of materials and items between nodes. Identify the level of ownership, control and influence of critical links
The objective of Network Mapping is to translate unit volume and flow data into a profit 'what-if' analysis; identifying risks, variability and constraints and incorporating sustainability objectives. Mapping provides a visual structure of the business interactions, identifying:
Customer demand patterns through each outbound Supply Chain
Where value addition is occurring through each Supply Chain
Weak links in each Supply Chain, identifying:

redundant nodes and links
benefits and costs of alternatives
Establishing a Supply Network Map can be a substantial task. To access the base data means cultivating good relations with corporate IT. However, while some of the information required for the Map is maintained in the corporate system, you will find that much is not. At the Sourcemap.com site (a free individual user version of their Supply Network Mapping application is available), an article states that the …"biggest obstacle is finding a way to automatically feed in critical pieces of information not included in most corporate databases… For example, while logistics databases usually include the corporate headquarters of suppliers, they often don't have the physical address of individual plants…"
Building your Supply Network Map could be a worthwhile task for university business students to gain an understanding of supply chains. Assuming that the Map has been substantially completed (there is a requirement for annual reviews and updates), the Moments of Truth can be identified. They will be specific to your supply chains, but in general occur around:
Ease of buying items from your organisation
Process for Tier 1 and other suppliers to sell products and services to your organisation
Warehouse and Transport (3PL) suppliers planning, ordering and scheduling
Internal decision process to change supply chain processes

customers requiring your organisation to be responsible for reverse supply chains and corporate social responsibility (CSR)
At each Moment of Truth identify: 'What opportunities are there for change'; 'What do we want to achieve?' and 'What is the likelihood of getting the outcome'. The supply chain team can then identify the process steps, people requirements and data elements that changes require to improve the outcomes. Only after a Mapping and Moments of Truth exercise, can a proposal be developed for a short list of small, focused, defined, affordable and achievable projects to test the feasibility of moving towards DSC.