Changing skills in Supply Chains
The disruptions to supply chains over the early 2020s has provided a likely foretaste of the future. New terms, such as Sustainability and Resilience are being used. As in past decades, new terminology means change for the expected skill set for professionals working in supply chains.
While policies, processes and information technology are important elements in supply chains, by themselves they are not sufficient to improve an organisation's performance. A Supply Chains group that adds value to their organisation starts with the people, their skills and capabilities. As an example, this blogpost considers the Procurement skill set to provide an idea of how a skill set can change over decades.
Procurement skill set
A research report published by CAPS in 2000 had the (what they called Purchasing) skill set as:
Strategic Planning Skills: Project Scoping, Goal Setting and Execution
Technical Skills: Research and Sourcing Analysis
Financial Skills: Cost Accounting and structure a Business Case
Global Environment Skills: Legal Issues, Contract Writing and Risk Mitigation
By 2010, the Learn About Logistics book indicated that additional skills were required:
Outsourcing and Offshoring advice and implementation, including the effects of FTAs (better termed as 'preferential' trade agreements)
Management of relationships with suppliers (including supplier development) and internal customers
Financial skills: financing of supply chains; cash flow and working capital requirements of supply chains through the buying cycle
Contracts skills: 'whole-of-life' contract planning
In the 2020s, there are more skills requirements being identified in various media articles:
Collaborative problem-solving is required for responding to the challenges of uncertain supply markets and the digitalization of supplying businesses. This requires:

Analytical capabilities e.g.

Forecast industry trends and potential influences on strategic supplier relationships
Identify possible impacts of industry trends on suppliers through the supply chains
Ascertain cost drivers in supplier industries that are fragmented, consolidating, oligopolies or regulated

Problem-solving skills, which involve more creativity in thinking
Digital fluency is a competency of being comfortable using digital tools at a competent user level (and at an advanced user level for a few).

However, Procurement professionals should not be an 'expert' in a Category (such as IT). When negotiating to buy items, a competent user can ask more probing questions of a seller, whereas an 'expert' it less willing to ask the 'dumb' questions, because they are assumed to know the answer

Legislative and Policy understanding is becoming increasingly important. Procurement outcomes must be consistent with all relevant international and domestic legislative, probity and policy requirements, such as those relating to ESG (environment, social and governance)
Category Management (including Spend Analysis) is an additional skill required within Sourcing
Contracts skills have the 'whole-of-life' contract planning capability extended to include Project Management
While analysing data and using tools are important elements, it is communication and interpersonal skills that influence peoples' behaviour for effective performance. To assist collaborative problem-solving across functions and within teams, Procurement skills must include people skills and interactions, including leadership capabilities.
Back in 2000, CAPS identified that research and sourcing analysis were a necessary skill. The recent disruptions to supply chains has further highlighted the need for Procurement professionals to have a deeper understanding of their organisation's supply chains.
An organisation will document this understanding in its Supply Chains Network Design Map, which is a digital representation of the physical network, containing: locations and details of Nodes and Links, including lead times, inventory form and function, costs and risks etc. A major input to the Map is the Supply Markets and Sourcing Plan, which provides the intelligence and analysis concerning supply markets. The Plan will require a knowledge of geographies that support a supply market:
Advantages and disadvantages of different regional geographies
Advantages and disadvantages of specific countries in comparison with others e.g.:

Political, social and infrastructure
Government regulations and laws
Country 'local content' and 'sustainability' laws plus compliance requirements
Country import and export regulations
Supply Markets Intelligence and Analysis
The most recent alarm in supply markets is the possible disruptions in the chemicals supply market, due to uncertainties with the supply of gas delivered to Germany from Russia. BASF is a multinational chemical producer, with its main European complex in Germany, located on a 10sq.km interconnected site of 125 production units. The site is a major buyer of gas from Russia, with 60 percent is used for site energy generation and 40 percent as an input item to production.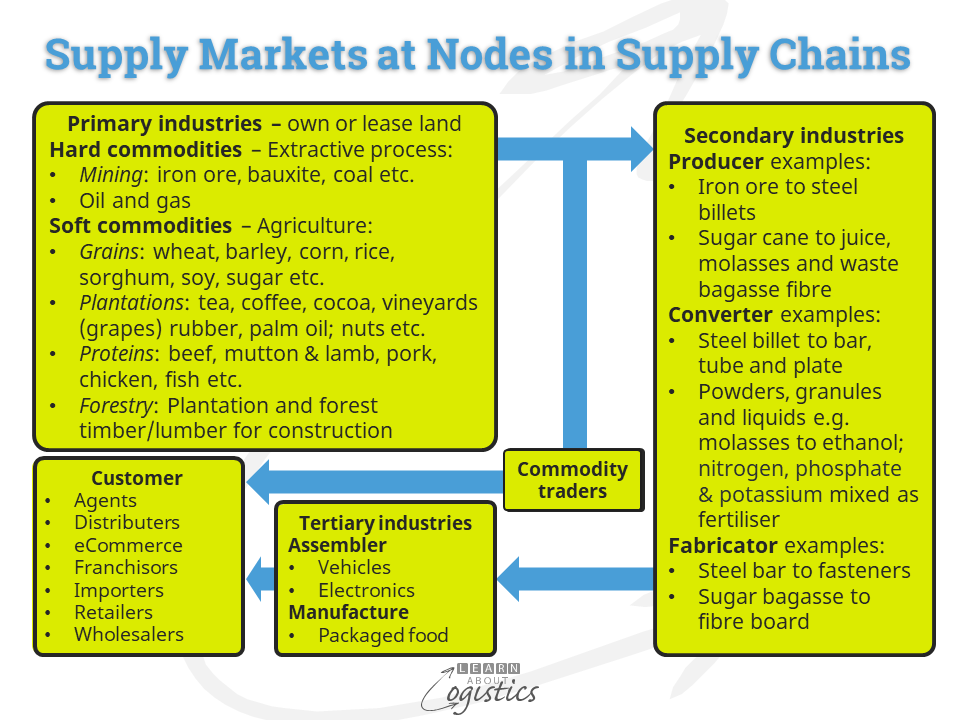 The diagram shows that the BASF site is a Producer of products made from a Primary industry input – natural gas. For many businesses that sell products in markets such as food & beverage, automotive, cosmetics/hygiene, construction, packaging (for food), pharmaceuticals and electronics, a shutdown at the BASF complex would affect their supply of inputs from Tier 1 suppliers. However, many of these businesses would not know that BASF is a Tier 3 or 4 supplier, because there is no visible connection within the supply chains; only when intermediate items from a Tier 1 supplier do not arrive does the alarm sound.
There is also a loop back from BASF to Agriculture (soft commodities). Ammonia is a high-volume product that the company makes from natural gas. Ammonia is mainly used by Converters to produce fertilizers. If the production of ammonia is reduced, there is less nitrogen fertilizer available for agriculture, which reduces the yield of crops and therefore the tonnage available for producers, converters and fabricators in the food products supply chains.
In this scenario, although the supply market under consideration is (say) grains, it would need to include the input supply market for fertilisers, which leads back to the supply market for natural gas. Because of ongoing uncertainties, most businesses should have an understanding of the concentration, availability, prices and trends of applicable commodities that could affect their business. So, the Supply Markets and Sourcing Plan can become very complicated!
As a Procurement Manager, it is unlikely that you will possess all the skills required at the professional level. However, it is a sign of a good leader when they know the skills required and build the Procurement team around these requirements, while encouraging all staff to upgrade their knowledge and capabilities.