Experience with Inventory
Until logistics planning and control processes are in place and working, Logisticians should be wary of the 'benefits' attributed to new technologies, because they require accurate data. The phrase 'Garbage in, Garbage out' (GIGO) is as true today as when it was first used in the 1950s and it applies to inventory.
A recent experience has been to order five items from a 'big box' retail chain. Due to pandemic restrictions, the only shopping choice from this retailer is 'click and collect', so the system allocates available inventory at each order. However, when the message arrived to collect the items, three had been substituted and two were 'unavailable'. The physical inventory and computer records are not aligned.
The role of Logistics is to provide Availability of items to meet the needs of end users. Customer Service is also a part of providing Availability, even when delivery to end users is provided by a third party. A recent example was a parcel of items ordered from a business in Sydney – their website stated a delivery time of 3-5 days. Delivery was actually 15 days!
Although the seller had packed and dispatched the parcel within 24 hours, the 'courier express parcel' (CEP) provider failed in their task. Although the seller cannot be responsible for the CEP provider's actions, it should provide accurate information on its ordering website, so that customers can plan accordingly.
In both examples, the processes were not in place to ensure Availability that satisfies customers'/consumers' needs. Can the supply chain group within your organisation provide Availability? Do you just assume the processes work, or is Availability measured?
Future not like the past
As discussed in previous blogposts, supply chains will carry increased risks due to ongoing imbalances between demand and supply for products and materials, geopolitical positioning by countries and climate change induced events. As shown in the diagram, your business (and others) will need to have a Sustainable and Resilient approach to structuring supply chains and have an 'Adaptable and Flexible' approach to planning, then executing the plans.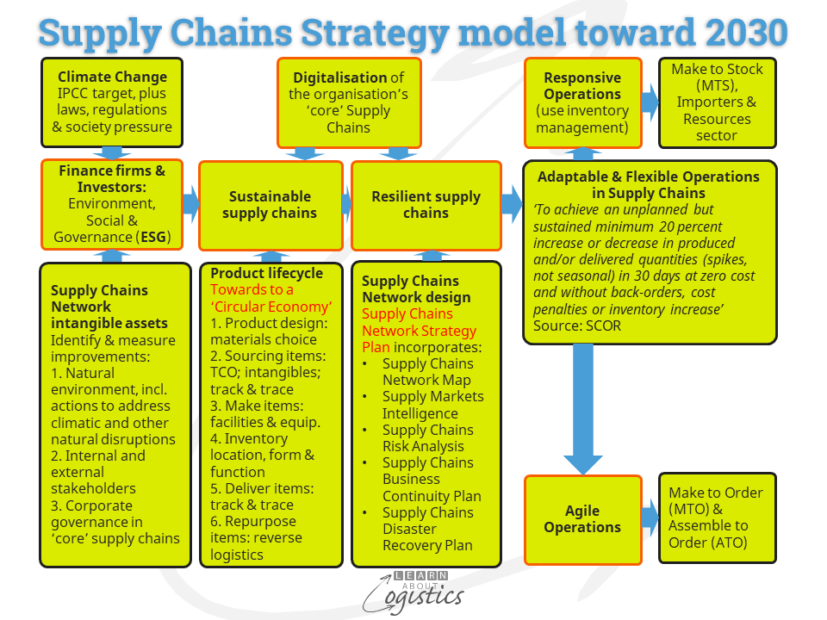 Many businesses have pursued an Efficient focus. Products are produced in high volume, based on a consistent pattern of demand. Low unit costs is the objective, so the requirement is few SKUs and long production runs, with minimum production line changeovers . However, businesses that considered themselves as Efficient have experienced:
product line deepening (additional sizes) and extensions (variations on the base product), which
increases the number of SKUs (low sales volume SKUs represents the 'long tail' of inventory), which result in
reduced length of production runs and more line changeovers
So, the cost benefits of Efficient operations are lost. For the future, enterprises must consider how they will be 'Adaptable and Flexible'.
Adaptable and Flexible approach
The focus of a Responsive supply chain is achieving a short customer order process cycle. It applies to businesses that Make to Stock (MTS), importers of products and businesses in the resources sector. To be Responsive requires additional capacity towards the packaging end of manufacturing; delivery assets located closer to customers and inventory buffers at critical nodes in supply chains.
An Agile design focus is to minimize impacts on the business from Variability in orders. The approach is for businesses or departments located upstream in a supply chain to Make to Order (MTO). Businesses selling to end users (preferably direct) should Assemble to Order (ATO) from stocked intermediate items (which includes 'mix & stir' processed products).
Enterprises in the Responsive MTS and Agile MTO sectors need to focus on production being 'effective' (achieving the plan), rather than each work area being 'efficient'. Actions taken to be effective can include:
eliminate waste (if not for what, can this be eliminated?); simplify and combine,
reduction in part numbers (are multiple types of a part really needed?),
rationalisation of SKUs,
setup time reduction – single minute exchange of dies (SMED), reduced capacity of holding tanks for liquids = shorter production runs
product focussed process flow; 'postponement' capability in the process
preventative maintenance program for physical assets
multi-skilled employees
For businesses in the MTS sector, 'correct' inventory levels are critical in the maintenance of customer service levels. Inventory is held at:
warehouses – store products in transportable loads e.g. pallets, cages, bulk bins/bags, rolls etc.
distribution centres (DCs) – satisfy customer's requirements. Inventory is held for short time periods:

stock turns >8 times;
fast selling items are more than 70 percent of inventory;
cross-dock – transforms inbound product loads into multiple outbound orders for more than 50 percent of items

retail locations (especially 'big box' facilities) are warehouses that hold inventory as individual units (or 'each')
The number and type of inventory locations that support a product company or brand will be initially governed by the geography, standard of public infrastructure and customer service policies of the business. Quantitative Analysis and Modelling can refine the initial results. As locations are increased, so does uncertainty (risk) concerning customer demand at each location, therefore inventory will increase (the square root rule).
Within the Supply Chains Network Map, Logisticians should identify the form and function of inventory at each known location node in each supply chain. Also, where in each supply chain process are the decoupling point for an order against supply (a DC, factory, supplier)
The complexity of inventory management increases as the scope of distribution widens – number of SKUs, number of nodes in each supply chain, etc. Inventory also represents a substantial risk, particularly if a product is subject to obsolescence, expiry or damage. There are three phases in Inventory Management:
Inventory policy – at the aggregate level. Money invested in inventory. Locations where inventory is held and its form and function
Inventory planning – at the product group or family level. Inventory planned to be held at each location, by time period
Inventory control (or performance) – at the SKU level. Actual inventory held, identifying discrepancies from planned
The starting point for inventory control is 'receiving', with its role being to ensure the integrity and correct quantity of items entering the facility. For each location, Logistics should answer three inventory control questions:
What items are held in inventory?
In what storage location(s) is the item inventory held?
How much of each item is held?
A business that can answer these questions is better able to respond to customer orders in an effective (delivery in full and on time) and efficient manner (picking, packing and despatching to the destination). If distribution is outsourced, then Visibility into the 3PLs process is required, to provide the customer with accurate delivery times.