The LSP market.
What business development options does a mid-size Logistics Services Provider (LSP) have, given the forecasts for growth in world trade? Is it a 'glass half full or half empty' scenario – plan for growth or continuing slowdown?
These thoughts occurred recently when a large 3PL in Australia (although mid-size in world terms) announced their intention to commence a new business as a wholesaler serving SME retailers, such as convenience stores, petrol stations and food service. When a 3PL has a national footprint of DCs, a fleet of linehaul trucks (retail distribution would likely be done by owner-driver contractors) and the necessary IT skills, why not move down the supply chain to gain more of the margin?
There will always be small transport and warehousing businesses operating in local areas to their own account or as sub-contractors to larger 3PLs. Small operators are likely to be opportunistic in getting business and be price takers. At the other end of the scale are the largest 25 LSPs that control more than 60 percent of global expenditure on logistics services. These companies, focusing on 3PL, freight forwarding and express parcel, work to their defined asset ownership model, geographic scope and business strategies.
Between the smallest and largest LSPs are the mid-sized companies, which mainly serve mid-size and SME clients. Their challenge is to identify what their business will look like in the years ahead. Of course, LSPs consist of more types of business than just 3PLs.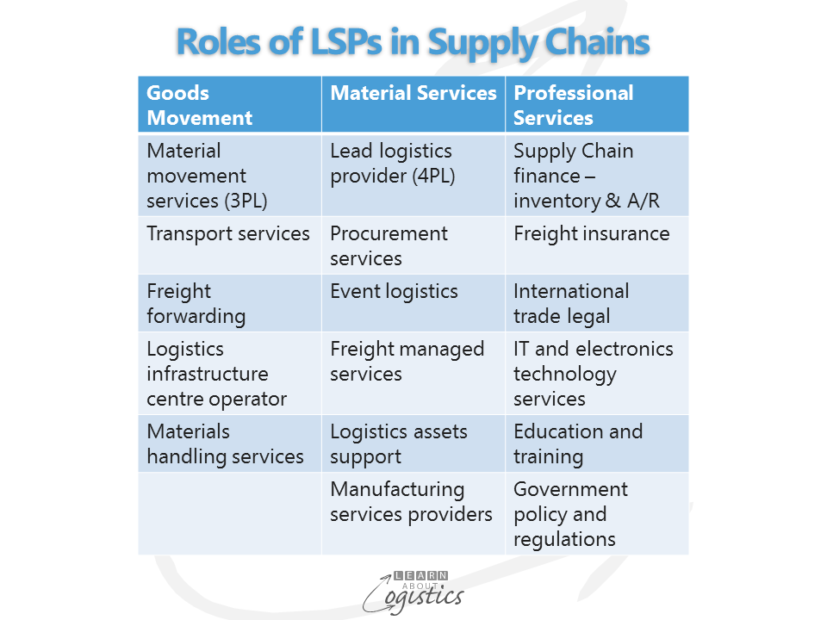 Over recent years, world trade has grown at about the same rate as world GDP. In the early 1980s growth of world trade was weaker than now and that was before conditions for globalisation became favourable. In later decades, growth in world trade was twice the GDP growth rate and we all got excited about globalisation and its unheard of benefits.
Is globalisation reaching the end of its run? Factors affecting trade are:
Some governments are applying trade restriction policies and increasing non-tariff assistance to domestic industry
At least one third (and increasing) of all trade is between related parties; that is between divisions and affiliates of MNCs, so is this true trade?
Changing exchange rates and falls in commodity prices have affected emerging countries, where currency weakness and low mineral prices have reduced their imports without any benefit from increased exports
Trade facilitation agreements (called 'free trade' by politicians) are being questioned by some political organisations, so the likelihood of more is receding
A second factor is that consolidation has been a feature of the logistics services market over the past 20 years. This trend has been driven by:
Global freight volumes are variable, therefore the larger companies are more likely to be low unit cost service providers – size and low unit costs are a feature of 'successful' businesses in any commodity (undifferentiated) market
Major MNC customers are seeking fewer, larger service providers that are able to work within complex supply chains on a global basis
Price continues as the dominant factor for clients buying logistics services
The net margin achieved in logistics services is low, possibly less than 5 percent. This reflects fragmentation in the industry and the capital investment needs of asset based 3PLs
Where logistics services are a commodity business, the main option is to get big or get out; therefore mergers and acquisition (M&A) activity, as a buyer or seller, must be considered
Changing an LSP business
If remaining in logistics services, the objective should be to develop expectations by clients for a more multi-dimensional approach. The challenge is therefore to position the business away from the likely perception by shippers of a price driven operational relationship. To structure a different approach, options for mid-size LSPs to develop their business are:
A focus on specific industry sectors, depending on the industrial and commercial structures in each country. Build region knowledge and expertise and an understanding of client's business aims and objectives. Offer value-added (IT based?) services to make the total service package more relevant to client needs
Work with other LSP and property developers to build a concentrated set of logistics services (freight activity centres or other titles) to enable the consolidation of freight movements and therefore maximise the utilisation of assets
Use the track and trace capability of a 3PL to control inventory. Link with financial firms to provide inventory financing for shippers along the nodes and links of their supply chains. 3PLs could own their client's inventory and therefore increase the assets (and risks)
Provide IT expertise:

Provide IT systems and applications in an area of Logistics specialisation
Leverage relationships between LSPs and clients to improve Supply Network visibility through connecting the many parties to many parties in a LSPs network. Use IT expertise for negotiating with clients' Supply Networks
Invest in and provide expertise in new Logistics technologies

Provide IT supported commercial capabilities:

International trade compliance
Supply Chain Analytics, including analysis of total landed costs
Be a part of clients' S&OP process
Expertise to re-engineer operational processes between client, LSP and customers
At the core of the decision about which business model to adopt lies the question of business identity and purpose. 'What is the perceived and desired role of the LSP business in the clients' supply chains?' and 'How can the role be achieved to provide a viable return on invested capital?'.