Logistics Services Providers.
To the general public, reading the word Logistics written on the side of a truck means that the 'logistics industry' is only concerned with trucks. This is far from the truth. The more descriptive term is 'logistics services industry', which differentiates services from the logistics activities of shippers.
This term will encompass a range of businesses that provide specialist knowledge and capability for brand owning and product companies (shippers). The collective term which has evolved to cover all services supplied for the supply chains of shippers is Logistics Service Provider (LSP).
Although many services can be supplied by LSPs, there are vital roles that should remain within a shipper:
development of the organisation's Supply Network strategy
improving the organisation's Supply Network, which includes modelling and optimisation studies
Roles that are recommended to remain within a shipper are:
negotiating and contracting with suppliers of goods and services
management of relationships and contracts with LSPs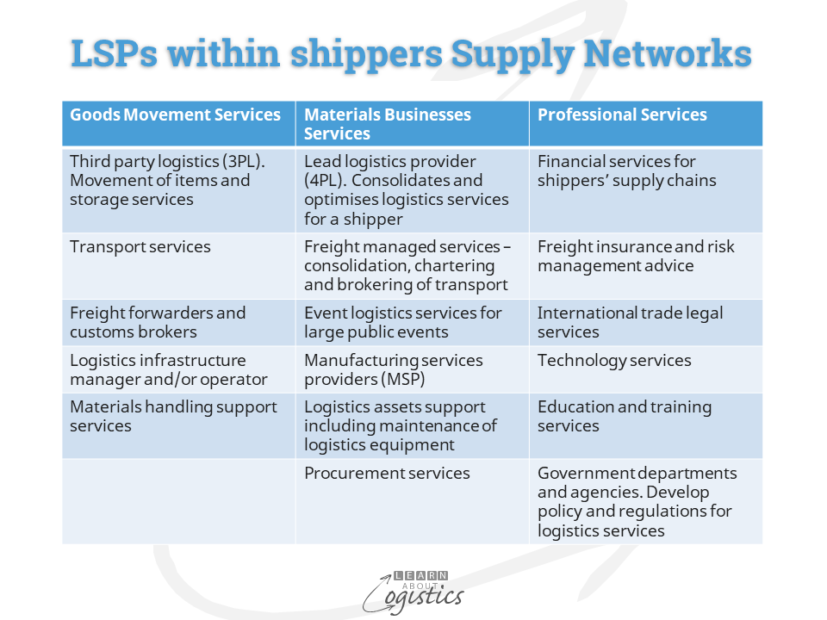 The table above identifies many types of LSP and the range of services provided to shippers. These have been divided into three broad groups: Goods Movement services; Materials Businesses services and Professional services:
Goods Movement services
These service providers assist with the movement of materials, components and products through supply chains.
Third party logistics (3PL)
This is the most common form of LSP, contracted by (typically) a supplier to provide them with warehousing and/or distribution services. A 3PL is an additional party to a contract between a supplier (the seller) and their customer (the buyer), because they are able to affect the relationship between supplier and customer (customer satisfaction risk). The range of services offered by a 3PL can also include:
Warehousing
Multi-customer warehousing (also called public warehousing)
Bonded warehouses (product storage prior to payment of import taxes and duties)
Distribution
Pack and label (also called store-ready merchandise): can include final assembly, testing and packing of products
Order fulfilment: pick orders for delivery by pallet, carton and 'less than carton'
Deliver consumer products to homes and other premises
Reverse logistics: products returned from customers and consumers

3PL consolidates defective and returned products from retail chains and negotiates credits from suppliers, including financial reconciliation and compliance activities
3PLs assist manufacturing companies with a line of business that benefits from reverse-flowing goods e.g. paper or metal recycling services used as inputs to a packaging or smelting business
While there is not a requirement for an LSP to be involved in both warehousing and distribution, many do so to ensure a complete delivery service for their clients.
Technology
3PLs invest in technology to interface with multiple client systems
3PL build their data collection and analysis capability to provide additional services for clients
3PL offers an electronic data interchange (EDI) or similar capability to process orders and invoices between small suppliers and large retail chains
Transport services
These include transport by road, rail, shipping (ocean and river), air and CEP (courier, express and parcel e.g. Fedex and DHL).
Criteria that affect the suitability of a transport mode are:
items to be moved e.g. size, fragile, perishable
urgency of delivery
transit time
flexibility of routing
reliability
cost
Slower modes of transport may offer shippers lower transport costs but increase their safety stock and in-transit inventory.
Freight forwarders and customs brokers
Both services are involved in international supply chains. Services can be provided by separate organisations or one organisation can provide both freight forwarding and customs brokerage services.
A freight forwarder consolidates clients' cargoes and contracts with transport organisations to provide the physical movement of items between countries.
As the goods cross country borders, the customs broker provides services associated with clearing customs, including payment of duties, taxes and excises and obtaining permits.
Logistics infrastructure
A manager or operator provides facilities such as container terminals; seaports, freight airports; rail terminals and multi-modal freight transfer terminals. These organisations can also develop 'trade clusters' known as: free trade zones; freight hubs; inland ports; logistics cities and similar concentrations of logistics services, to promote efficiencies in the flow of items.
Materials handling support services: sell or rent pallets; bulk bins; secure wrapping; strapping systems etc.
Materials Businesses services
These services provide services for businesses engaged in materials and products.
Lead logistics provider (or fourth party logistics – 4PL)
The LLP business model is to be the 'control tower' of a shipper's supply network, consolidating all logistics services to add value. However, contracts may not be clear concerning where value is added, rather than adding an additional layer of costs and complexities. Also, because the LLP has knowledge and systems, it can become (by default) the decision maker for the shipper's supply chains, which may generate relationship problems with suppliers and customers.
Freight managed services
Consolidator of transport requirements
Ship and aircraft broker and chartering
Event logistics services: Organise the movement and placement of items for large concerts, exhibitions and trade shows.
Manufacturing services providers (MSP)
Manufacturing based businesses that provide services for shippers include:
Original design manufacture (ODM) – design the product, buy the inputs and manufacture, but with the customer's brand
Product design services
Contract manufacturing (CM) – make to the customer's specification, which may include purchasing materials and components
Logistics assets support: Sales and ongoing support of buildings, equipment and instruments – facilities management, forklifts; material handling equipment and devices
Procurement services: Services can address support activities, such as supply market analysis and materials disposal or the core requirements of sourcing and purchasing
Professional services
These providers are able to supply higher level advice in addition to their base service.
Financial services: Includes: location and tax advice; trade finance (for accounts receivables and inventory) and financing margin calls in commodity futures markets
Freight insurance: this may include risk management advice concerning a shipper's supply network links and transport modes and locations of nodes
International trade legal services e.g. requirements, compliance and liabilities with trade facilitation agreements (called free trade agreements)
Technology services
Provide IT hardware, communications technology, software applications and contracted support for:
Supply Network Analysis and Planning (SNAP) applications and tools
Supply Network design tools; optimisation; modelling and simulation
Education and training services: Provide the content and delivery of programs for applicable degrees, diplomas and certificates within universities, colleges and training providers
Government departments and agencies: Develop policy and regulations within which LSPs must operate
Providing services for clients has different business parameters to supplying products for customers. These need to be reconciled between shippers and their LSPs for a lasting business relationship to develop.