Current Logistics models
Whenever the world emerges from the pandemic, the Aim of Logistics – to provide Availability of items, will not change. But, businesses will need to consider how the Aim will be accomplished – that is, the structure of Logistics within the business model.
The options are not new, but have become more limited. Previously, choices about Logistics structure were made based on the weighting of five attributes of time and place – speed, quality of the process, flexibility, dependability and cost. Of course, the scope of these attributes is constrained by the industry sector in which a business operates, its supply chains, limitations in the handling and storage of items and the qualifiers to be met for obtaining an order.
For many businesses, the overriding attribute for logistics has been cost and for the majority, the risks attached to logistics were not considered. The most common driver of costs were the reduction of inventory associated with the centralisation of inventory locations. An example is the holding of all replacement parts for Asia Pacific countries in Malaysia, with airfreight delivery to individual countries. Another is holding the finished goods for the EU in one centrally located distribution centre in Europe. Both examples relied on available and price competitive transport options, with ready access to all countries across their borders. Both assumptions failed with the onset of the pandemic.
The appropriate approach
The current approaches to Logistics operations will need to change, because the risk of disruptions to supply chains is increasing;
the next pandemic could occur at any time and be more virulent,
geopolitical disputes are increasing
increasing protectionism in international trade,
natural disasters will continue to occur and
the environment will change due to climate change, but with unknown consequences
These factors will increase the costs associated with logistics, but management will apply increasing pressure on Logisticians to manage their costs. This will require a review of the current model, but the potential disruptions to economies, supply chains and individual businesses could limit the range of options to three:
Efficient – the lowest total cost provider of an item in an industry. An example is the resources company BHP. It is a price taker in the global resources market and has fixed locations (mines and ports) that can be exposed to disruptions e.g. cyclone season in West Australia, so it has few options in its markets or locations. It must therefore aim to be the lowest cost producer. Businesses that have 'efficient' as an objective, need to measure and accept the risks associated with disruptions to their business (including the shutdown of supply chains and country borders)
Responsive – has the focus on short order cycle times. It applies to businesses that are Make to Stock (MTS) volume producers, typically selling Consumer Packaged Goods (CPG) (controlled by the 'use by' date) and Fast Moving Consumer Goods (FMCG). The focus of logistics is on inventory management (consisting of policy, planning and control), supply networks and products. This requires the capability to:

Define 'Inventory Deployment' for the business – an analysis of where inventories:

Should be held to meet customer service requirements and minimise stock-outs, while reducing supply chain risks
In what form e.g. raw and packaging material; part-finished form or as finished goods and
For what inventory function – cycle, fluctuation, anticipation, in-transit (moving warehouse), hedging (seasonal or price) and 'slow and obsolete (SLOB)

Track inventory from the consumer back to inbound warehouses and (preferably) materials to their source;

Adjust inventory policies and targets based on fluctuating demand and supply order lead times;

Select alternate supply chains when major disruptions occur or logistics costs substantially increase;

Implement product changes quickly when customer or consumer preferences change, but avoid the 'long tail' of low selling SKUs

Agile – also called Adaptable and Flexible. The objective is to provide the same levels of customer service and cost through variable levels of demand, supply and output. The focus for Logistics is planning and scheduling, which requires an 'effective' rather than 'efficient' approach. This takes time (and selling by Logisticians) for acceptance by senior management. Agile applies to businesses that have operational capability to provide:

Form Postponement when responding to demand and supply volatility that has low predictability:

Make to Order (MTO) – the adaptation of pre-designed products
Assemble to Order (ATO) – assemble discrete or non-discrete ('mix and stir' process) products to order
To achieve 'Form Postponement' or delayed configuration, each product group has a common platform of modules, components or materials, held in inventory. Only when the customer requirement and/or market destination is known, is the product customisation (for MTO) or final assembly (for ATO) completed. The benefits of Postponement are:
Forecast are at the generic product level (for MTO) or material/component level (for ATO). They experience less volatility than forecasts at a product SKU level
The value of inventory held is reduced as it is stocked upstream in an unfinished form
Lower inventory risk exists when holding additional components and materials that are used in multiple end products
Products are created, completed and distributed without finished goods inventory or out of season (fashion) inventory risks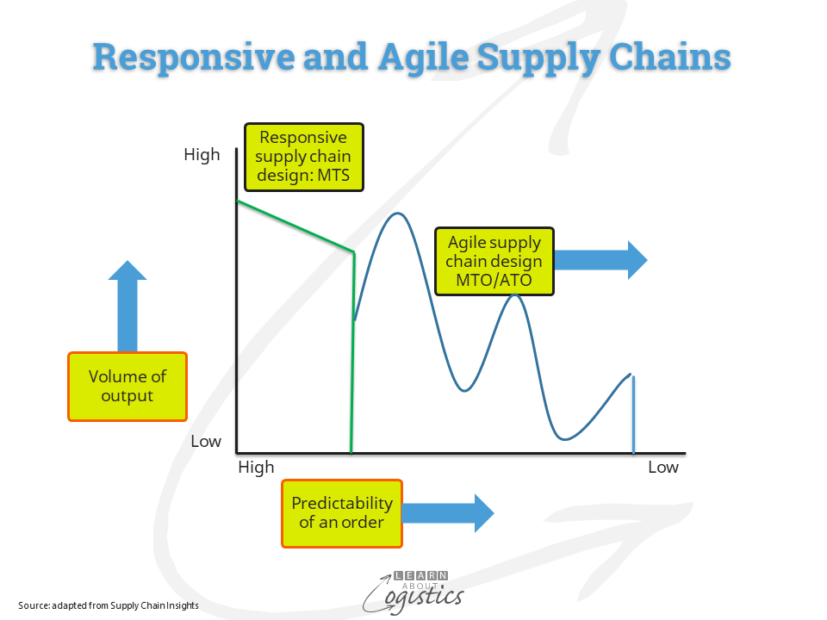 The diagram summarises the differences between Responsive and Agile. Do not be concerned about the titles – if an understanding of the requirements for each approach is achieved, any name can be used.
The analysis of your organisation's logistics model should use a 'Cost to Serve' calculation. This balances customer expectations within each market segment with the total cost of operations, including the landed cost of inbound items and the cost of back-orders, stock-outs and lost-sales.
Sales and Operations Planning
For each logistics model, a planning process is required that establishes a base and goal for people to action against. This is Sales & Operations Planning (S&OP). It is the tactical process methodology that helps an organisation make trade-offs between the Demand and Supply Plans when planning the Value (Demand and Supply) Chains.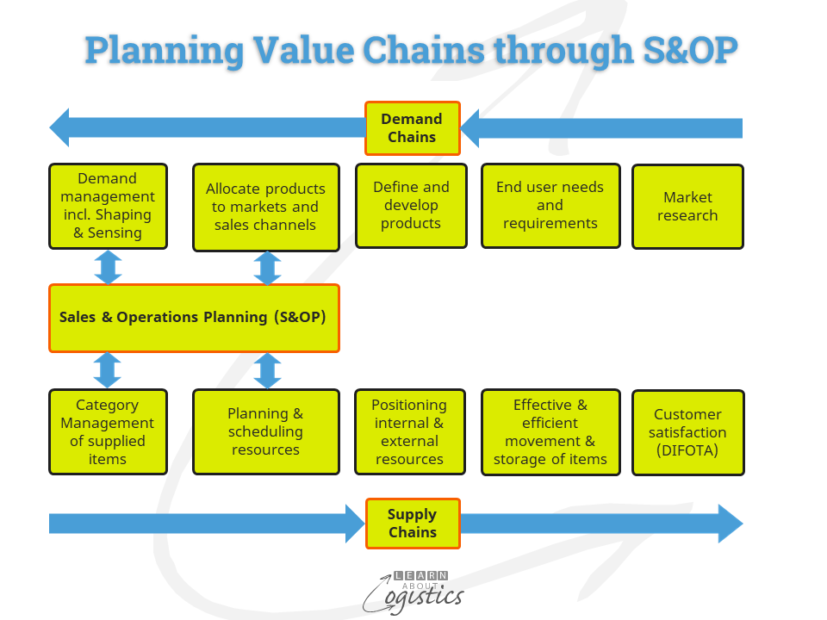 S&OP is the vehicle for an agreed Plan that positions internal and external resources (items, people, equipment and suppliers), to enable the effective movement and storage of items at an acceptable financial contribution to the business. This approach provides Availability of products for customers, which is the Aim of Logistics.