Renewed focus on International Trade Logistics
How will global trade evolve in the future? With current geopolitical manoeuvring between countries, vaccine nationalism and disrupted sea and air trade lanes, it is difficult to forecast. But changes will occur and it is Logisticians that should interpret possible scenarios.
A low technology item, such as apparel, sold in a developed country will have about 15-20 percent of the sale price as the cost to manufacture. For higher technology items, such as mobile phones, the manufacturing cost is between 25 and 35 percent of the retail price. The remaining costs are for design, procurement and delivery, plus internal costs and overheads.
These figures require a renewed focus on cross-border movements, by businesses engaged in international trade. Incorporated in International Trade Logistics (ITL) are three increasingly important roles: Governance, Risk and Compliance (GRC), Global Trade Management (GTM) – the types and flow of documentation (electronic and physical) in ITL and International Trade Finance (ITF).
Because many companies silo the individual ITL capabilities into departments e.g. trade compliance activities separated from purchasing/imports and customer service/exports, they lack an holistic and enterprise-wide view of how international trade can affect their business. The diagram below is the base from which to structure a comprehensive ITL strategy.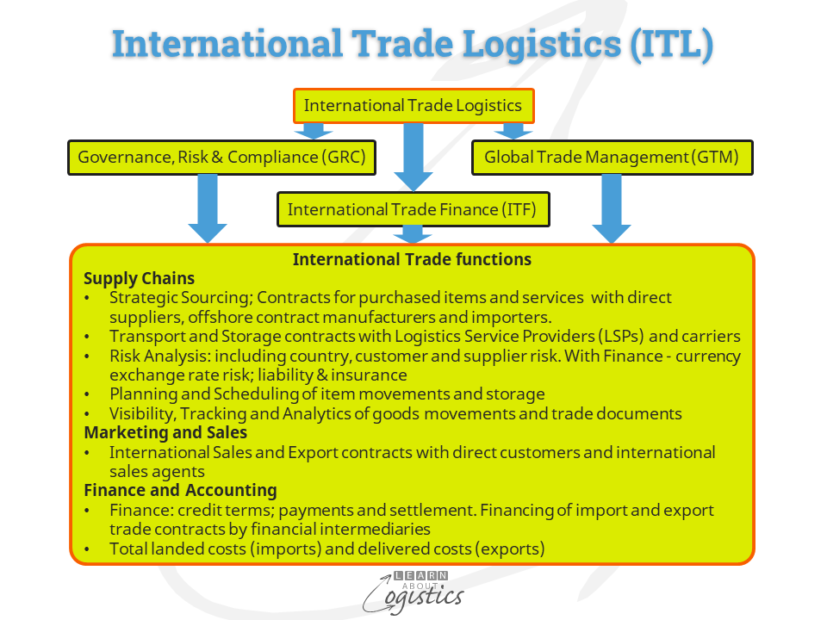 Evaluate the influence of changes
Through 2020, the disruptions to international sea and air transport provided an incentive for Logisticians to re-evaluate the supply chains of their organisations. Within a review is the need to evaluate potential changes and influences that may affect the supply chains. Consider two of these possible influences:
Intra-continental rail links
The Asia-Europe rail link, which commenced in 2013, experienced a more than 50 percent increase in 2020 to over one million containers carried and the trend is increasing, The rail link now accounts for about six percent of the region's total transport capacity (up from one percent capacity in 2016).
The 23 to 25 day delivery time to Europe is attractive for manufactured items that have high value and are not light in weight – engineered parts such as automotive, machinery and electronics, The pandemic disruptions have caused some consumer goods and medical supplies to also use the service. More than half of the trains start the journeys from Xi'an, Chongqing and Chengdu in the west of China, with more than 90 possible stops in over 20 countries.
A North America rail link was announced this week, with the purchase of Kansas City Southern Railroad by Canadian Pacific Railways, to create Canadian Pacific Kansas City (CPKC), based in Calgary, Alberta.
This will be the first direct rail link between Canada-US-Mexico. The two rail networks will join at Kansas City, Missouri, providing customer access to Canada, the US Midwest, Northeast and South Central areas and Mexico.
Over time, the railroad could transport a broad range of items, similar to the Asia-Europe rail link. This could transform North American supply chains. Small towns become intermodal hubs for rail and road and with air if there is a nearby airport. Also, current 'off the map' areas can become region manufacturing centres.
Emission reduction or tariff cost
International conferences and speeches first addressed global warming, then climate change and now the climate emergency. But, all actions to reduce emissions have been based on voluntary targets.
To enforce compliance against the target of net zero carbon emissions by 2050 (or sooner), will require penalties on high emitters that only the two major importers – the US and the EU can impose.
The EU has commenced introduction of its Carbon Border Adjustment Mechanism (CBAM). The main reason for imposing a CBAM is to gain acceptance for emissions policies by domestic industries that employ local people and have political connections,.
The EU started its Emission Trading System in 2005, using a carbon cap and trade program. Over time, it was expected the system would cause European consumers to pay higher prices for products with the most potential to damage the climate. The EU now expects other countries to do the same.
However, countries without a similar approach could unfairly compete with businesses in the EU. Without a safeguard, an incentive would exist for EU businesses to re-locate their operations to lower cost countries, exporting jobs and carbon emissions. This is called 'carbon leakage'.
Scope of CBAM: Developing nations will be given free access. For other countries, the EU currently intends to measure the emissions trading schemes of nations that export to the EU and raise or lower the tariff based on the findings. However, World Trade Organisation (WTO) rules state that a carbon tariff must not target individual countries, but could target the production of goods that have high carbon content from all countries.
Although a CBAM could eventually cover all imports into the EU, initially it is likely to cover a narrow list of energy intensive industrial sectors, such as cement, steel, aluminium, chemicals and fertilisers.
There is also a proposal that developed countries eliminate all tariffs on 'green' goods and services such as wind turbines and solar panels. This could occur alongside the CBAM.
If more industrialised countries join the CBAM, it would help to harmonize emission standards across countries. The increased share of the world economy covered by the CBAM would then create an increased incentive for businesses to invest in low-carbon technologies and so be able to sell into the larger market. Ideally, as more countries join, the world would effectively adopt a global price on carbon.
The CBAM is due to commence in 2023 and the Canadian Pacific Kansas City (CPKC) railroad to gain regulatory approval in 2022. Both are likely have an initial low visibility, but gain influence on supply chains by 2030.
It is the role of supply chain professionals to evaluate the possible effects on supply chains of all future changes in international trade and how they might influence their organisations business decisions.