Capacity in supply chains
Like many aspects of supply chains, capacity should not be considered on its own, but within the three elements that provide Availability for a business – capacity, lead times and inventory.
A business will recognize the attributes of each element and be comfortable with independent actions inside the organisations that are done to 'help' the business:
Sales: delivery dates are promised to customers that Production and Logistics cannot meet
Finance: requires a reduction in finished goods inventory without identify the impact on customer service levels and deliveries
Operations Planning: reduces raw material and component stock levels without considering the impact on manufacturing capacity
Procurement: accepts a lead-time extension for a suppliers in exchange for a reduction in the item price, without considering the impact on production capacity and inventory level of the material
However, few consider that capacity, lead times (and service levels) and inventory are interconnected. This changes after implementing the Sales and Operations Plan (S&OP) process, with the Capacity and Lead-time Plan being an important input.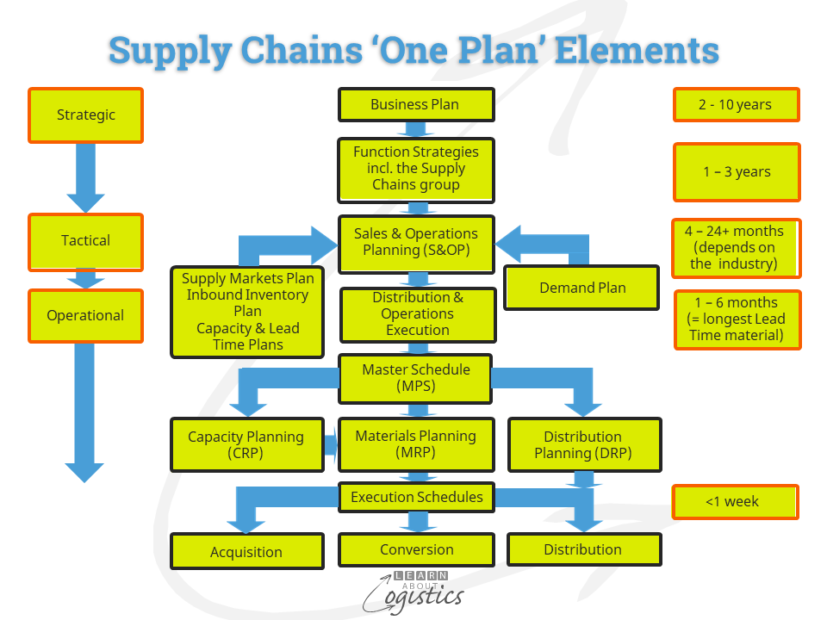 The Capacity Plan identifies the potential capacity at all known nodes and links in your organisation's supply network:
Capacity at suppliers (even at tiers 3 and 4) and in supply markets can affect the capability to import or produce items
Capacity in production – in your own facilities and at contractors, that is affected by variability and constraints
Capacity in transport and cargo handling facilities can influence on-time delivery and service level performance
Capacity in distribution – both storage and throughput in your own facilities or at 3PLs can affect on-time delivery and costs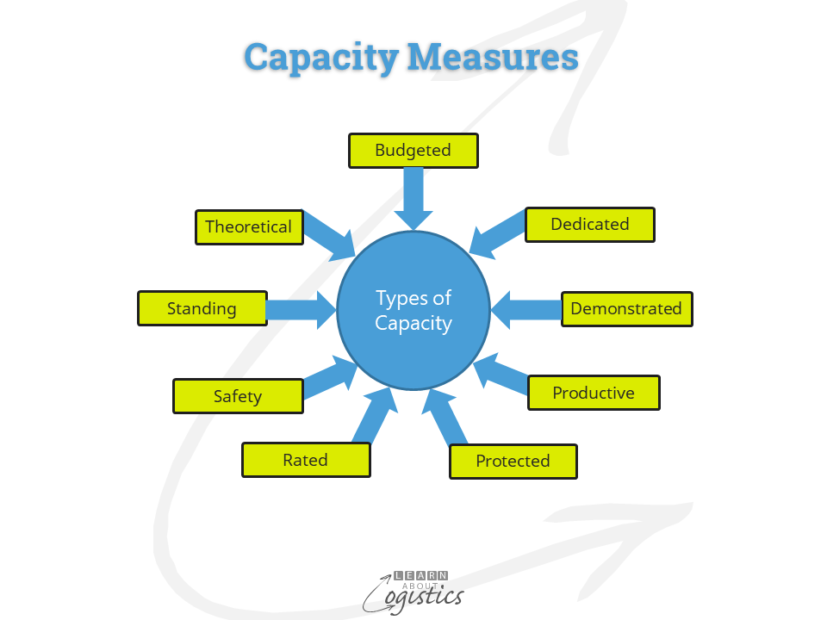 The diagram shows a choice of nine types of capacity, so it is not easy to quantify.  For example, identifying capacity at a family-owned business, making and selling branded consumer goods. The Procurement policy for capital equipment purchases states:
Operating life of about five years – approximately reflecting a 'normal' economic cycle. Only make capital purchases in periods of economic slowdown, therefore obtain lower buy price
Purchase without manufacturer's warranty – equipment will operate for a minimum of 16 hours per day for six days per week and will run faster than the manufacturer's recommended speed, therefore invalidating a warranty. Obtain a discount of between 8 and 13 per cent of the buy price
In this example, the capacity for the piece of equipment could be identified as: standing, rated, productive, demonstrated or budgeted. So, the first thing to do when discussing capacity is to define which measure of capacity is being used.
Capacity can change
The rate at which work flows into an organisation can vary the capacity required due to:
the rate of obtaining new orders
as forecasts become orders
changes in the priority of orders
orders cancelled
orders from sales to stock items against forecasts of demand
The actual capacity through a supply chain is affected by variability, co-dependencies and interrelationships between the elements. Capacity of a supply chain can also experience change due to alterations in product-mix and transport mode, plus improvements to processes, equipment and labour skills. Even at the operational level there are factors which affect capacity:
unreliability of equipment
quality problems
skills shortages
lack of training and therefore flexibility of staff and
inconsistencies with outputs from planning and scheduling applications
As production and deliveries are being made, reductions in capacity occur due to: machine breakdowns, scrap, re-work, long changeover times and employee absence. The options available to increase capacity can include working overtime and sub-contracting or scheduling to split orders into smaller batches and routing around bottlenecks (if possible).
Flexibility of operations is based on the lead time to change (or flex) capacity and the total cost to change. Enterprises using large and inflexible equipment, such as a steel mill, or requiring skills that are in short supply, will be constrained in their ability to flex. Automotive assembly lines can have a flex time of up to six months, with substantial costs to change the output of vehicles per day. When more generic equipment and skills are used, capacity can be more variable, as a business is able to acquire additional equipment, contract out work, work overtime or recruit staff (or contract short-term staff through a labour-hire company). For businesses that experience seasonality in demand, questions can include:
How much rated capacity should be available?
How much capacity should be contracted out?
How much pre-season inventory build is required to meet expected demand?
When must that process begin? 
How much and where located is the owned or contracted storage space and distribution capacity required to deliver the finished product to customers?
Capacity decisions
When decisions are required about capacity through supply chains, the level of demand, short-term volatility of demand and order-to-delivery lead time should be an integral part of planning resources. The type of decisions to be made include:
where capacity should be located across the extended supply chains e.g.at suppliers, in transit, the company, at customers' warehouses, (if finished goods) or as VMI (if an input component)
in what form (capital assets, labour) and for what function or reason
whether to have 'buffers' in the supply chains, to provide a cover against demand and supply uncertainties, but there will be additional costs:

inventory buffer stocks
capacity buffer
lead-time safety allowance
The critical step is to understand the customer's requirements. This includes the 'order to delivery' lead time within the different customer segments and reflects what each customer segment values in terms of delivery, cost, quality and product options. Then balance the capacity, inventory and lead time so that requirements can be met cost effectively.
Capacity issues impact how an organisation operates and can change each year, depending on the product mix, demand levels, production efficiency and distribution effectiveness.  What may start as one question about capacity can develop into a detailed analysis that reacts with all nodes and links of a supply network. This means that whatever the supply and demand situation is for a business, the Capacity Plan needs to be re-evaluated (like the Demand Plan),for each monthly S&OP process.