Industry sectors.
Often, commentators discuss supply chain issues only in the manufacturer/assembler to retail and retail to consumer sectors. But this is a limited view, given the extent of supply chains going back to the mines and farms where input materials start their journey. So, at a strategic level, are the challenges similar? As noted in the previous blog the competitive advantage for your supply chains does not stand-alone, but is tempered by:
Where in a supply chain the business is located
The challenges of transport, handling and storage for the items
The factor(s) on which orders are won and
The essential qualifiers required prior to the sales process
Order winners and qualifiers require a joint effort by marketing/sales and supply chain professionals to address the sales challenges. But, the first two bullet points are the domain of supply chain functions. The diagram illustrates the different industry sectors within a supply chain. In each sector the broader challenges can be similar, but which translate to issues that require specific solutions.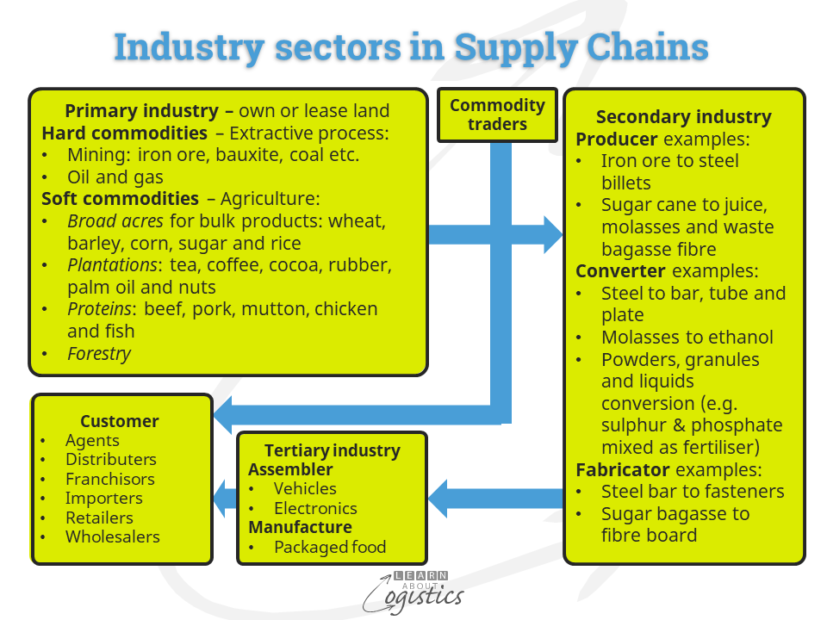 Primary industry to Producer: planning, moving and storing hard and soft commodities in bulk. Aim to be lowest cost operator, through volume efficiencies, in price-taker commodity markets. Procurement focus on operational inputs (fuel, utilities, IT and communications), capital expenditure items and replacement parts for capital equipment
Producer to Converter: planning, moving and storing the output from producers is more likely to be in the form of billets and ingots (discrete items) or first stage refined and processed mineral and agricultural commodities (bulk items). Procurement can be split between technical buying of the commodity inputs and sourcing/buying of business inputs
Converter to Fabricator: Discrete items can be in packed or bundled forms requiring specialist materials handling and storage. Bulk items may require specialist transport.
Fabricator to Manufacturer or Assembler: Deliveries more likely by container load or truckload. Fabricated items can be packaged and palletised, similar to final assembled items. Bulk items require specialist transport and storage
Manufacturer or Assembler to Customer for on-selling in specific end-user markets. Full and less-than truckload deliveries or TEU/FTU container
Customer to End-user: Block and rack stacking of palletised products. May have pick-face collation of end-user orders
Retail and Franchiser to Consumer: Can include eCommerce 'courier, express parcel' (CEP) operators and other delivery options. Specialist retail buyers separate from the sourcing/buying of business inputs
Each sector going upstream from retail is pressured by their customers for deliveries that require less holding of inventory. This is due to retailers and manufacturers responding to a perceived consumer need for more choice within smaller market segments – that is more SKUs. Each breaks the sales of a product group into smaller product lines, with more sales volatility. In turn, pressure is then placed on suppliers (and their suppliers) for smaller order quantities with shorter lead times.
Challenges for Logisticians
The critical factor in all supply chains is providing Availability for customers. As noted in an earlier blog the objectives (and therefore challenges) that Logisticians will be aware in all enterprises are:
Achieve a defined measure of Availability for customers. This requires a structured planning process that is cross-discipline and provides input to the Operations Plan (e.g. the Master Schedule in manufacturing).  To address the likely demands from customers, 'plan for capacity and execute for demand'. High level planning is achieved through implementing Sales & Operations Planning (S&OP). For S&OP to be effective, the minimum planning factors to be addressed are:

Segment supplied items, inventories, suppliers and customers
Calculate the Cost to Serve for customer groups to identify profitability and service level
Identify the true cost (from tier 1 suppliers to tier 1 customers) of the 'long tail' of low volume SKUs
S&OP cannot include 'channel loading' and 'end-of-month/quarter' urgent shipments to meet budgets – these affect performance for the following periods
Identify capacity requirements for base demand and flexible capacity to accommodate the volatile peaks in demand
'execute for demand' is reducing the 'Bullwhip' effect. This requires planning cycles to be further reduced; included in the reduction are

the lead times controlled by your organisation – the receipt of items from suppliers and deliveries to customers and
reductions in operational set-up times and batch quantities

Know the probability of achieving the required delivery performance. The tool is to measure Delivery In Full, On Time, with Accuracy (DIFOTA). Each measure of DIFOTA are linked, so each step in the process affects the outcome on a cumulative basis. Where organisations have access to the required data, DIFOTA probabilities of between 50 and 60 percent are typical, when the objective should be at least 91 percent.
Improve Availability capability. This is achieved, in part, by reducing Uncertainty – complexity, variability and constraints in the Supply Chains. Visibility through supply chains remains largely limited to between tier 1 suppliers and tier 1 customers, so there is an inability to identify and account for uncertainties across the nodes of your supply network.

To reduce Uncertainty requires implementing a structured Risk Management program

If a supply chain requires traceability of items, this will be part of the Risk Management program

To improve Visibility, the S&OP process will improve internal Co-operation, which influences Coordination through implementing data and messaging standards, which enables Collaboration between functions and divisions. Then you have an example to work with suppliers and customers
Due to pressures on supply chains from end users, the challenges in your supply chains are similar (but with differing emphasis), whatever the industry sector in which you work. Addressing the challenges is not a short term exercise, but can be achieved with a structured approach.