A new buzzword.
The 24 hour news cycle lends itself to 'new buzzwords' and unsubstantiated claims and this can happen in articles about Supply Chains. A recent article used the term 'elastic logistics' – flexible solutions that allows logistics infrastructure to meet market fluctuations.
I have not read articles about 'elastic engineering' or 'elastic medicine' – maybe because there is an expectation about the rigour of approach required towards the disciplines. So, what is the underlying meaning of 'elastic logistics'? The initial question to ask is, under what circumstances is the need for 'flexible solutions that allows logistics infrastructure to meet market fluctuations'?
Market fluctuations are more likely to occur when influenced by marketing initiatives between competitors. That means in consumer markets, rather than industrial markets. For example, demand and supply in markets for commodities can change, but over longer periods, except when there is a disruption caused by external forces, such as natural disasters and government policies.
In recent times, the more traditional 'economies of scale' and Make to Stock (MTS) business model for consumer products has become less applicable. This is due, in part, to customer demand for smaller volumes of an expanded product range. Smaller sales per stock keeping unit (SKU) of an expanded product range will result in increased volatility of demand, which requires flexibility by suppliers. But, flexibility and its companion term Agility, can often incur higher costs, because the emphasis is on effectiveness rather than efficiency.
Business models
Two business models lend themselves to flexible/agile solutions for meeting market fluctuations. The diagram shows these are Make to Order (MTO) and Assemble to Order (ATO):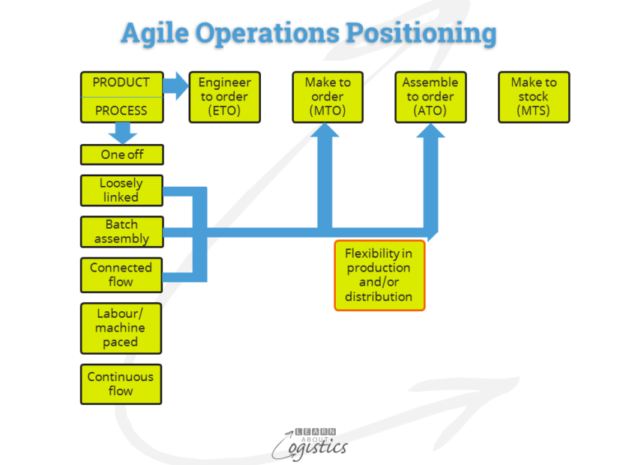 Make to Order (MTO): low volume, high variety. Adaptation of pre-designed products – provide a design and make service for options added to base products
Assemble to Order (ATO): low volume, high variety or high volume, low variety: This is based on quickly delivering specific orders for defined catalogue or recipe products, generated by customers or the internal sales group:
Make or buy discrete components, sub-assemblies, options and packaging to hold in inventory, then quickly assemble to order and deliver
For processed products, hold ingredients in inventory, then 'mix and stir' and deliver, based on customer orders for specific recipes
Note: In the diagram, Engineered to Order (ETO) relates to 'one off' or project based processes. Make to Stock (MTS) relates to 'Labour/machines paced production lines' and 'Continuous flow' processes.
An ATO or MTO configuration is a 'postponement' approach to inventory management. 'Delayed configuration' is based on the principle of products made or assembled from standard parts, components or ingredients, but with the final configuration delayed until a firm order is received. The benefits are that:
As inventory is held further upstream, the total value of inventory is reduced
Forecasting at a generic product level is more accurate than at the product SKU level and
A business is able to more quickly respond to 'outside-in' demand messages (such as obtained through social media) as the range of products is in inventory at the component or material level
Within the Logistics planning process, there is a point in the process to provide flexibility downstream to meet market demands, but also some stability upstream to secure cost effective supply chains. This point is called the Order Penetration Point (OPP), where customer orders are accepted and reserved; final product specifications are defined and the last point from which materials inventory is released. The factors influencing the location of the OPP are demand volume and volatility and the longest of materials, production and distribution lead times.
In a MTO situation, customers and products compete for the available resources. Planning is driven by the rate at which orders are received; therefore to reduce delivery lead times, emphasis is placed on the speed of order acceptance, then planning through to delivery and the willingness to hold option components in inventory. To assist with flexibility, production has more generic equipment and higher skill employees. For ATO situations, Planning has an input of forecasts to establish component and ingredient inventory levels. Production equipment and the workforce are organised around product types.
Flexibility and Agility requires a more flexible (but trained) workforce, to safely undertake the job roles. An earlier blog discussed employment of casual staff in a flexible business environment.
A challenge is that elements of the process (or even the whole process) can be overtaken by a different technology approach. The closer a business is to the ultimate consumer, the more likely this can occur. Conversely, the further away from consumers, the less likely will be dramatic changes. So, the task for a Logistician is to identify the most effective business model for your enterprise and implement each of the elements discussed to ensure an effective flow of items through your Supply Chains.
As identified in this blog, the main elements of 'elastic logistics' are known – it is not a 'new' concept or technique. This is a similar situation for older principles and techniques in Supply Chains – dusted off and given new names. As always, your approach to hearing and reading about 'new' is 'buyer beware'. This is while investigating the underlying principles and techniques surrounding Supply Networks and Supply Chains and which technologies could be of value to your organisation.