The two chains are complementary.
An article I read recently indicated that future developments will move the focus from supply chains to value chains. It read as though one was superior to the other, but this is not the case.
As with many concepts in the world of supply chains and logistics, there is not a single, clear definition of supply chain and value chain. So, executives and writers use the terms interchangeably and, too often value chain. Is this because it sounds more current than supply chain, which has only existed for about 40 years?
However, the concepts are not in competition – they are complementary. The role of Marketing is to look downstream and create value for the end user. Value occurs by identifying, developing and maintaining the sales channels (or value chains) and their products.  The role of Logistics is to ensure availability for the end users within each of the channels, in an effective and efficient manner. This occurs through the supply chains.
Value chains comprise processes that are generally managed within the organisation – establishing customer requirement, defining markets and sales channels, developing products, selling and collecting cash. An organisation's Supply chains depend, in part, on the relationships built with external supplier enterprises, including logistics service providers, such as 3PLs, freight forwarders and transport organisations. Again, these chains are shown as complementary, requiring different skill sets to achieve an overall objective.
In my book A Framework for Supply Chains, value chains and supply chains are illustrated by the example of a brand company that sells packaged free-range chicken (as whole birds, cut pieces and mince). The predominant consumer is time poor urban residents that purchase the type of product at a supermarket, convenience store or specialist chicken shop.
Within a business review, the value chain process commences with the marketing group identifying (maybe using a market research agency) the consumer needs in terms of the type of cuts, frozen or chilled, preferred packaging, added value requirements (included recipe sheets, herb and spice packs and pre-prepared dishes), plus the most appropriate price points. This information is incorporated into products, through product development and sales campaigns.
The supply chain group, comprising Procurement, Conversion and Logistics (source, make and deliver) becomes involved at the time of product development; translating product requirements into supply chain needs. For example, frozen and chilled products have different 'use by' dates and require different handling and control processes. Inbound supply chains will differ, depending on whether the chickens are raised in company owned facilities or at independent suppliers. In turn, this affects the sourcing and delivery of day old chicks, stockfeed, packaging and responsibility for inbound transport.
The outcome is an agreement between the Marketing and Supply Chain groups concerning the product range and its supply into the market. Procurement then sources materials and services, Conversion makes the product and Logistics ensures the movement and storage of inbound, internal and outbound items is achieved in an effective and efficient manner. This meets the corporate objective of providing satisfaction for both customer (the retailers) and consumer.
Value chains and Supply chains might appear to be two parallel lines, one from the customers to suppliers and the other from suppliers to customers. But yes, they do meet; through the integrative planning process of Sales and Operations Planning (S&OP).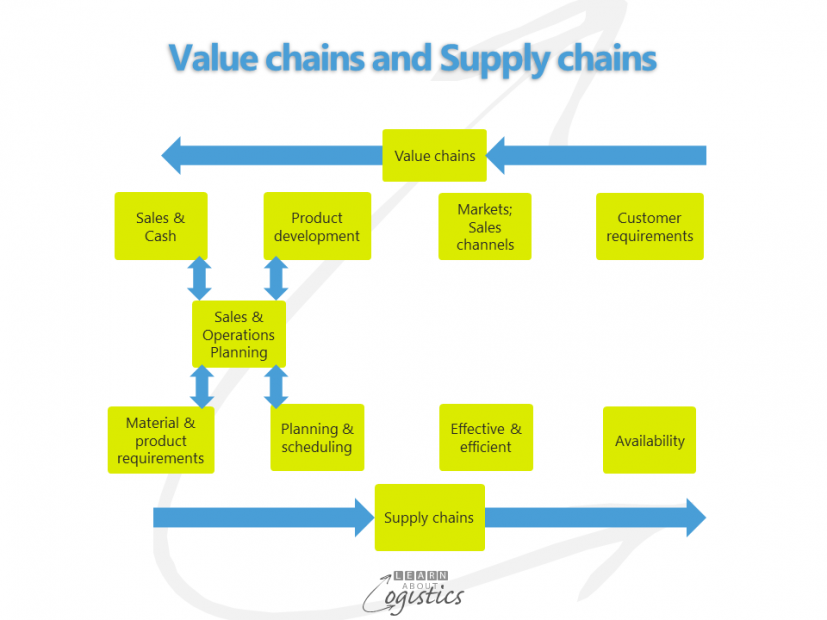 Treat your chains equally
Value chains and Supply chains should receive equal attention – you cannot have one without the other. This is not competition; instead it is parts of the business meeting (with finance) within the S&OP process; here they arrive at a more integrated solution to provide customer satisfaction.
In organisations with internal competition between functional groups, the process is called 'over the wall'. Marketing identify channels and conceptualise products; the technical group receive the specification and develop products, the finished product specification is thrown 'over the wall' to Procurement, Conversion and Logistics (working as three separate departments) for them to figure out how to source, produce and deliver the requirements.
And each group is measured on its efficiency, without reference to how effective is the business in providing availability of product for customers. But, the more that functional efficiency (with bonuses attached) is promoted, the more problems will be encountered concerning co-operation and co-ordination between the competing groups.
Getting 'better' at integrating information and other technologies will not overcome the deficiencies. Enterprise Resource Planning (ERP) systems are backbone transaction applications – a necessary first requirement, but lacking as solutions for improving the integration of commercial, operations and finance groups, or understanding flows between parties in the supply chains concerning items, money and information.
Well implemented transaction applications and operating processes provide a basis the S&OP process to be built. But the value add is the  willingness between groups to co-operate across functions. Co-operation leads to the need for shared data, which requires co-ordination of data and messaging standards. Shared data will facilitate collaboration between functions, through shared information, building relationships and formulating joint policies.
When you have successfully achieved collaboration within your organisation, it is time to do it again through your supply network. Good luck – it will be a long journey.