Things that can go wrong.
Consultants who understand the role of Logistics and its position in Supply Chains are likely to be needed for some time to come. There are people in senior roles with insufficient understanding of these disciplines and concepts. They requires knowledge and application that may not currently feature in the curricula of education establishments.
This was evident recently at a court examination into the collapse of a major electronics retailer in Australia. A recurring theme of the hearing was the amount of money in excess inventory, caused in part by an inflated product range.  The court heard the company stocked 80 different types of cameras, 45 different mice for desktops and laptop computers, had 12 year's sales of own brand AA batteries in inventory and 121 months supply of own brand AAA batteries. This occurred even following the purchase of inventory software to (according to the company's chairman) 'improve the quality of stock-takes'!
In 2016, this situation is sad and even amusing to us on the outside. However, it illustrates unfortunate outcomes from Logistics and Supply Chain education and training programs that may not deliver on the fundamentals. For example, the Diploma of Logistics provided through vocational colleges in Australia does not have inventory as a core (or even elective) unit. Brochures I have read for university programs in 'supply chain management' (it sounds more impressive than logistics) do not contain courses/subjects in critical thinking, systems thinking and modelling and simulation; even though supply networks are complex adaptable systems.
Two parts of a supply chain
In too many articles it is not made clear that Logistics is what we do and Supply Chains are the environment in which Logistics works. In an organisation, Supply Chains of  have two parts – the core and extended.
Core Supply Chains: from Tier 1 suppliers, through the organisation to Tier 1 customers. It comprises the flows of items, money and information handled by the Procurement, Materials conversion/manufacturing and Logistics functions
Extended Supply Chains: the flows of items, money and information from Tier 2 suppliers and customers to Tier 3 and beyond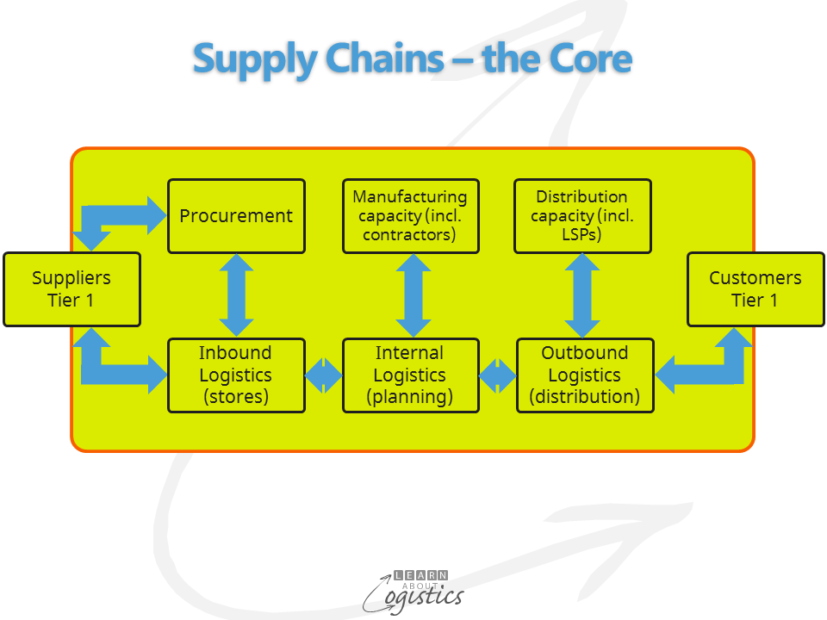 When we talk about 'supply chain management', it is the core that should be referenced; this can be managed with plans, schedules and IT systems. In the diagram, tier 1 suppliers and customers are shown to be only partly within the core. This is because they are independent, agreeing plans with other customers and suppliers – contracts and arrangements that are either not known nor fully understood for their effects.
The planning role of Logistics, within a complex adaptive system, is to co-ordinate the core supply chain processes. This is to ensure availability of the required items, which meets the objective of Logistics – 'to satisfy customer needs by providing availability of goods and services, through the time-related positioning of internal and external resources, at the lowest total cost'.
The extended supply chains from Tier 2 suppliers and customers is unlikely to be 'managed' (except in a few monopoly and duopoly situations). Instead, it is the role of Logisticians to understand how the network system functions using market intelligence, together with available data generated from the four core elements within the system that are concerned with inventory and capacity:
Nodes – each location that holds material items or money. Details of core suppliers and customers at their respective locations
Variables – factors that can change the physical or financial values at a node
Links – transport movements of material items between nodes. Ownership and control of critical links
Flows – transfer of money, data and information between nodes, variables and links. Contractual responsibilities
Your Supply Network is a system
The challenge for a Logistician is that the nodes and links of a supply network organise and adapt without an overriding entity being in control – that is a complex adaptive system. What initially appears to be self evident flows and inventories within your core supply chains, extend to become a complex network of flows, nodes, variables and links that is difficult to comprehend, let alone manage. Therefore, to comprehend what is happening and more importantly what could happen in the future and its possible effects, requires the application of modelling and simulation tools and techniques.
The objective of Network Mapping is to translate unit volume and flow data into a profit 'what-if' analysis; identifying risks, variability and constraints and incorporating sustainability objectives. So, how far through your supply network would the model extend – back to the farm and mine from where the materials commenced? And what are the negatives from not having a comprehensive model?
When the Network Map is complete, from what direction do you interrogate it to identify which intervention will produce the 'best' improvements? An article by Donella Meadows (1999) argued that of twelve interventions, her top five did not include those that intuitively would be selected by Logisticians – constraints, buffer stocks, nodes and links and the flows through their intersections. Instead, Meadows identified the most positive areas for improvement were:
The mindset or paradigm in the organisation out of which the system arises
The goal and objectives of the network system
Distribution of power in the network
The rules of the system – incentives and punishments
The structure of information flows and access in the organisation, its customers and suppliers, to what kinds of information
Whether or not you agree with Meadows observations, they indicate that 'obvious' may not always be the best. But this approach should be discussed and evaluated in the classroom, not in the workplace. If only consultants have the understanding to think past the obvious, then their services will be required to minimise similar events to those discussed at the electronics retailer.